Lamborghini has pulled the covers off its updated and more powerful Huracán, following a number of preview images posted in the past few days.
The new-for-2019 Ferrari 488 rival now adopts the Huracán Evo nameplate, reflecting its changes. The images reveal a number of styling changes designed to offer "aerodynamic superiority", with a new front bumper bringing enlarged intakes and an integrated splitter.
Side-on, there's also revised intakes, but the most notable changes are at the rear, with a new full-width intake echoing that of its recently updated Audi R8 sibling. New twin exhaust outlets are positioned higher up the rear fascia, while a new integrated spoiler better balances downforce and drag. A super-slippery underbody also features.
Following on from the Nurburgring record-holding Huracán Performante launched last year, the standard Huracán now benefits from the same power output from the naturally-aspirated 5.2-litre V10. The 29bhp boost, up to 631bhp, and 600Nm of torque means a 0-62mph time of 2.9sec (down 0.3sec) and 0-124mph in nine seconds. The top speed is unchanged at 201mph.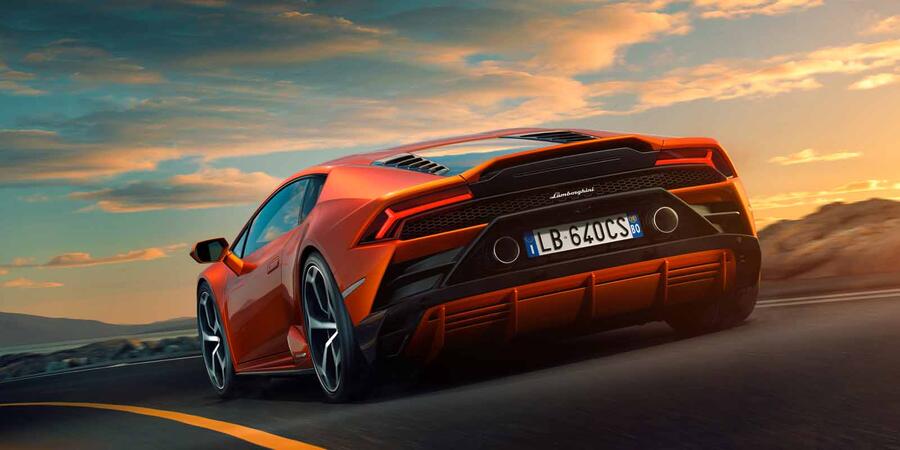 Lamborghini has also focused its efforts on the Huracan's chassis, but instead of messing with the nuts and bolts it has introduced a new chassis control system. Called Lamborghini Dinamica Veicolo Integrata (LDVI) the system is set to control every aspect of the car's dynamics. Sensors constantly monitor the vehicle's acceleration, roll, pitch and yaw rate and can actively predict driver behaviour, while a new generation of magneto rheological adaptive dampers is brought in.
Enhanced torque vectoring in the all-wheel-drive system allows traction to be directed through any of the four wheels, while Lambo has also worked on the dynamic steering system to "provide higher responsiveness in corners whiile requiring the lowest steering angles".