Ford is preparing to pull the wraps off its third-generation Ford Kuga later today ahead of the family SUV's launch towards the end of this year.
UPDATE: The all-new Ford Kuga has been officially revealed. Read the full story now
Teased in a video posted to Ford's Facebook page (below) ahead of the official event on 2 April, the new Kuga will adopt styling influenced by the recently launched Ford Focus and is set to feature a plug-in hybrid powertrain option.
It will make its debut alongside mild hybrid versions of the Fiesta and Focus, which were confirmed by Ford ahead of its Go Further presentation, which will be live streamed from 15:15 BST.
While it's not officially confirmed, sources suggest that a new Fiesta-based crossover will also be unveiled alongside the Kuga next week. Both models, along with the Ford Ecosport, Ford Edge and Explorer SUVs, will play a crucial part in Ford's wide-reaching European restructure formally announced in January.
A more targeted focus on more profitable SUVs, the main growth sector in Europe, is listed as a priority. Ford sold 151,000 Kugas in 2017 across Europe and slightly fewer in 2018 – both years more than double the volume shifted in 2013, when the second-generation car was launched.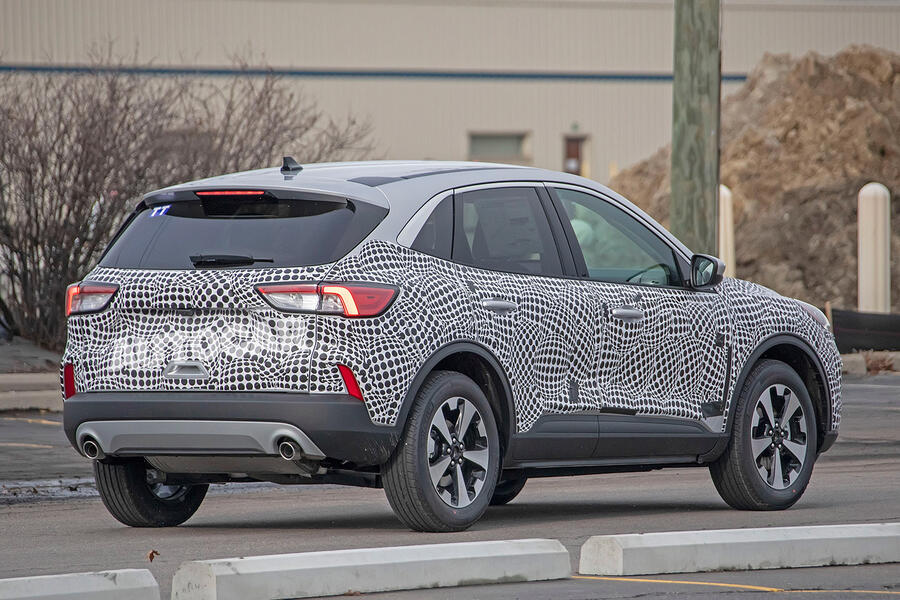 Previous spyshots already revealed the new Kuga will have a curvier shape and wider stance. Inside, we can see the familiar dashtop-mounted touchscreen infotainment system from the brand's latest models, too. Expect similarities in terms of equipment and increased passenger space, along with additional driver assistance technology.
The engine range should largely mimic that of the Focus, too, albeit with only the highest powered variant of Ford's entry-level 1.0-litre Ecoboost unit carried over. A 1.5-litre petrol and 1.5 and 2.0-litre diesels are likely to feature, too. As part of the brand's plan to introduce electrification in some form across all models, more than one hybrid variant is expected. A plug-in hybrid is all but officially confirmed, while a conventional petrol-electric system is also likely to be offered in certain markets.