BMW has revealed the completely re-engineered BMW 1 Series, with the range-topping 302bhp M135i model given all-wheel drive for the first time to directly rival the Volkswagen Golf R and Mercedes-AMG A35.
While the premium hatch has been rear-wheel drive since it was first launched in 2004, BMW has taken the significant step of switching to a front-wheel-drive platform with the new third generation, in order to improve the car's interior space and practicality. The new model is based on the FAAR architecture, also used for the BMW BMW X1 and BMW X2 SUVs, and the Mini Countryman.
Despite the switch, product manager Jochen Schmalholz said BMW was determined to ensure the car offered a dynamic driving experience, especially for the range-topping M135i hot hatch. "We put a lot of effort into producing a car that combined both advantages, and still drove and handled like BMW customers would expect," Schmalholz said.
Key to ensuring the M135i offers maximum performance is the use of BMW's xDrive all-wheel-drive system, which can send up to half the power to the rear axle when needed. The 335bhp 3.0-litre six-cylinder engine used in the previous-generation M140i won't fit in the FAAR platform (which features transverse rather than longitudinal engine mountings), so the M135i features the 302bhp 2.0-litre four-cylinder twin-turbo also to be used in the upcoming M235i Gran Coupe, driven through an eight-speed automatic gearbox.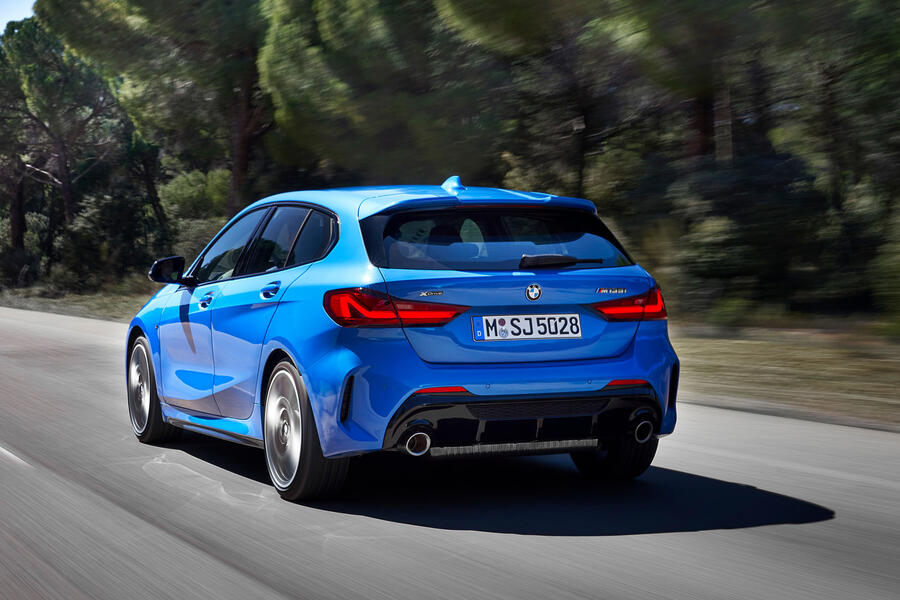 While the engine offers less power and torque – 332lb ft compared with 369lb ft – BMW insists it offers comparable real-world performance, helped by a chassis that is stiffer and 20kg lighter than before. It has a 0-62mph time of 4.8sec, just 0.2sec down on the previous model, and an equal limited top speed of 155mph. It matches the current Golf R Performance for power, while offering substantially more torque.