Jeep will take on the Land Rover Defender with the near-600bhp Jeep Recon electric off-roader as part of a big push to reinvigorate itself in Europe.
Launching in 2025 with a range of around 373 miles, the Recon will arrive as an unofficial electric sibling to the famed Jeep Wrangler.
Sharing underpinning with the also 2025-bound Jeep Wagoneer S, the pair – along with the already released compact Jeep Avenger – will swell the brand's UK range to seven models by the middle of the decade.
This includes a fourth EV that CEO Christian Meunier has described as a look into the future of the brand. Covered teaser pictures indicate this will sit at the lower end of the lineup.
The Stellantis-owned American brand will go electric car-only in Europe in 2030.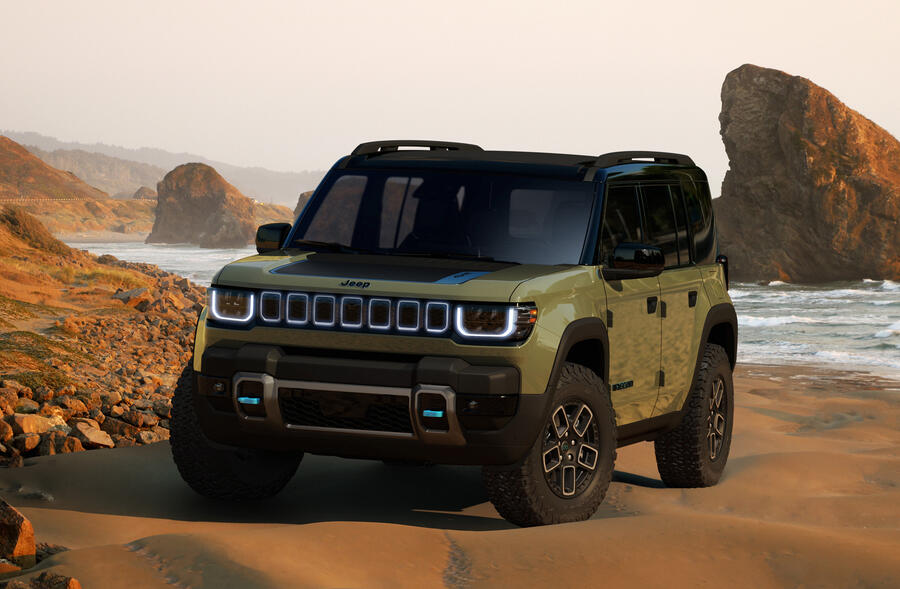 One of the most anticipated of those new models, the Defender-challenging Recon, will, like the range-topping Wagoneer S, be based on Stellantis's new STLA Large architecture – making them some of the first models to be so.
Although further technical details have yet to be released, a 0-60mph time of 3.5sec for both models has been confirmed.
Built in the US and released there first, the Recon will be offered and positioned as a raw take on off-road Jeeps of old, with options including removable doors and an open-top design, as on the Wrangler.
The Recon will sit alongside the Wrangler, confirmed Jeep's European boss, Antonella Bruno, but the two cars will have slightly different sizes and positions in the range.
"The Recon in Europe will be a white-space car," said Bruno. "It's a unique car, very boxy and very capable. It will sit in a lower part of the [market] segment to the Wrangler."