For Hyundai, alternative powertrains and new technology present a massive opportunity. The firm has risen rapidly from upstart budget competitor to established global force.
Doing so has meant catching up with rivals who have long-established brand names and decades more experience at building cars. But the new technology that is disrupting the industry is resetting the field, giving firms such as Hyundai an opportunity to prove they can outsmart and out-engineer their rivals.
The Hyundai Ioniq is a multi-faced demonstration of that. It's available with three different powertrains – electric, plug-in hybrid and hydrogen fuel cell – all of which are pushing a still-developing technology. And it's the Ioniq (in Hybrid form) which Hyundai has chosen to test its autonomous technology in.
At Hyundai Motor Company's sprawling 3,470,000-m2 Research and Development Centre in Namyang, Korea, more than 13,000 staff are focused on developing future models for Hyundai and sister firm Kia – and the new technology that underpins them.
It was on the busy roads of that test centre that we were given a short ride in an early development version of a self-driving Ioniq.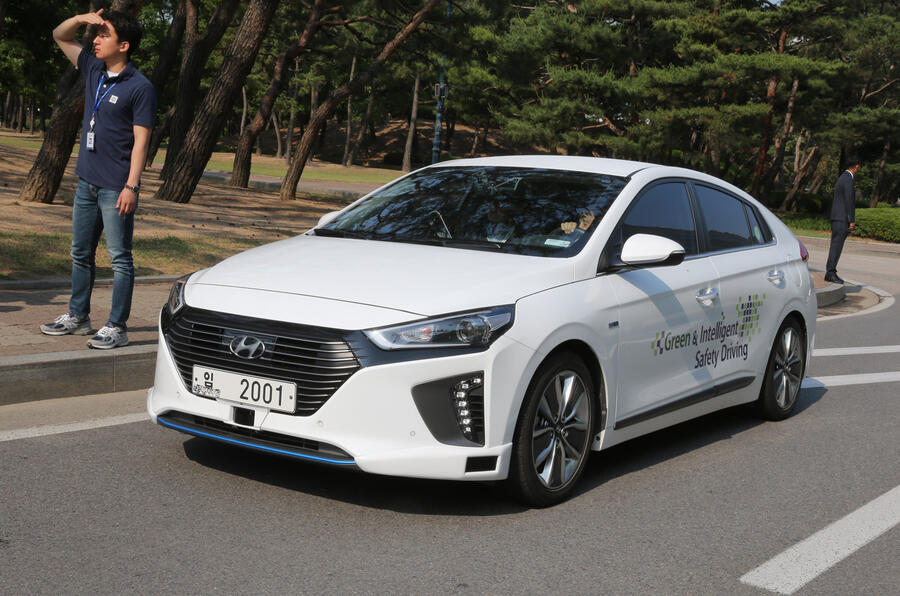 The technology in the autonomous Ioniq
The only sign that this Ioniq hybrid was different from any other was the monitor fixed to the passenger side of the dashboard, which displayed a 'virtual view' of the road, as perceived by the car's on-board computer.
While the autonomous Ioniq was first shown to the public at last year's Los Angeles Motor Show, Hyundai has been developing the system since 2010. Unlike some other car companies, which have partnered with specialist IT firms, most of the software that powers the Ioniq's artificial intelligence has been developed in house. The software developer sitting behind the wheel for our test outing reckoned 90% of the code is Hyundai's own.
That developer declined to say how many sensors were fitted to the car, or their exact arrangement. The first version Hyundai tested used seven sensors – three Radar, three LiDAR and one camera - and the new system has 'several more'. The firm previously revealed that the system had been designed to utilise sensors already on the car for systems such as cruise control in order to keep costs down.