Audi's RS brand has been deeply rooted into the hearts of petrolheads for some time now, having solidified its reputation as equal company for the likes of BMW's M and Mercedes-Benz's AMG divisions. But where did it all begin?
After the success of Audi's S2 coupé and the original 'C4'-derived S4 saloon from 1991, the German car maker decided to push the envelope further when, in 1994, Audi's high-performance Quattro GmbH division spawned a new 'halo' performance sub-brand called RS – standing for RennSport, literally translating to 'racing sport'.
Later that year, Quattro GmbH gave birth to the first two-lettered badge Audi in the form of the RS2 Avant. A brawny variation of the Audi 80 'B4' model, the RS2 Avant (only available in estate form) was co-developed with Porsche – adopting the 993-generation 911's wheels, foglights and exterior mirrors and Porsche-designed brakes and suspension.
A highly potent car in its day, the RS2 Avant was powered by a 2.2-litre five-cylinder 20-valve turbocharged engine, producing 311bhp and hooked up to a six-speed manual, shooting the car from 0-62mph in 5.4sec and on to a top speed of 163mph. The first RS-badged Audi proved a trendsetter in its day, with room for five adults, luggage and the ability to keep pace with the likes of the Honda NSX and Porsche 993 Carrera.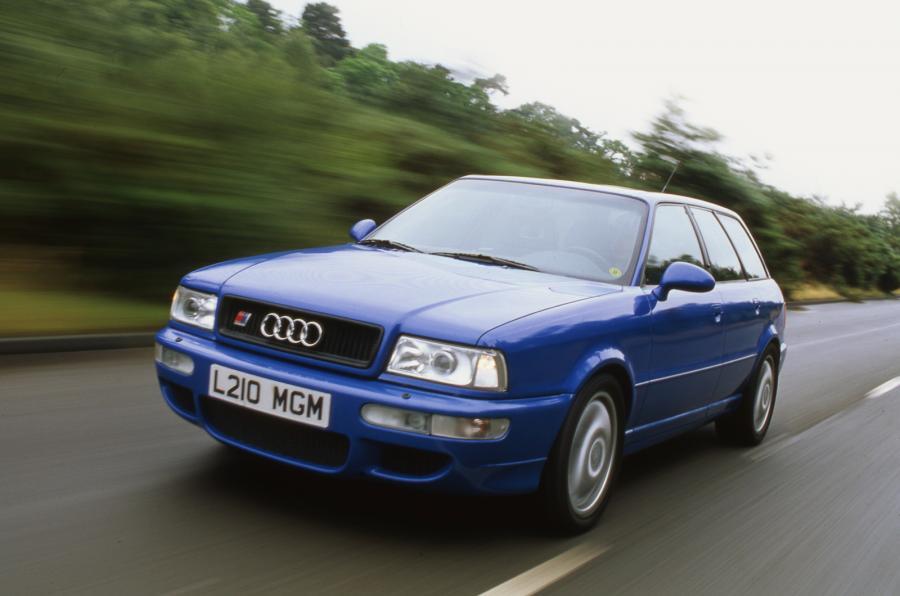 Fast forward six years and a new mid-size platform of the 'B5' Audi A4 laid the foundations for the next S and RS derivatives, the halo model becoming the RS4 Avant – again only in estate form. The B5 RS4 Avant came propelled with a Cosworth-fettled 2.7-litre V6 twin-turbocharged unit, making 382bhp.
Engine aside, the B5 RS4 was Audi's own project, having severed its ties with Porsche. The 0-62mph sprint was now dispatched in 4.9sec and the estate would accelerate on to a limited top speed of 155mph. Demand for the B5 RS4 Avant was so high that Audi doubled its production volumes. Production ceased after only a year in 2001, with over 6000 examples made.