Ford has announced a new, limited-edition Carbon Series version of its GT supercar, providing a middle ground between the standard GT and the hardcore Competition Series.
The Carbon Series is 18kg lighter than the standard GT, which was already a featherweight at 1385kg, by installing a titanium exhaust and lightweight polycarbonate rear hatch with extra ventilation for the car's 3.5-litre V6 powerplant. In addition, the wheels have been upgraded to carbonfibre and the standard wheel nuts exchanged for titanium ones.
The lower body panels, A-pillars and signature stripes are all finished in bare carbonfibre, as are the sills and centre console inside. Customers can customise their car with a choice of silver, orange, red and blue accents for the mirror caps, centre stripe and brake callipers. Anodised paddle shifters and a unique, silver-stitched pattern on the seats and steering wheel further distinguish the Carbon Series.
Unlike the US-only Competition Series, the Carbon Series retains some creature comforts, such as air conditioning, a stereo and Ford's Sync infotainment system. However, stowage bins and cupholders have been sacrificed in the name of weight-saving.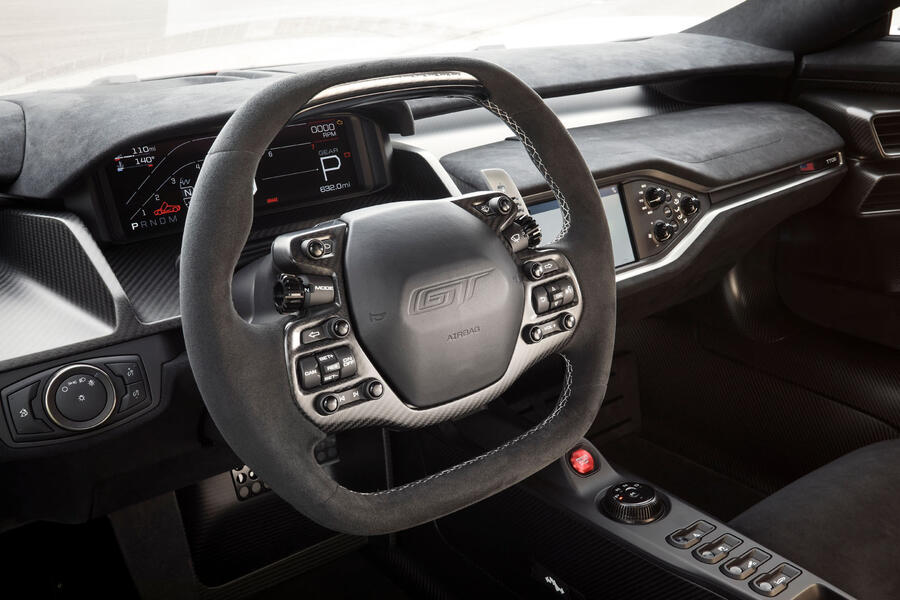 "This is an example of how we listen to our customers," Ford Performance marketing manager Lance Mosley said. "While the Ford GT Competition model appeals to hardcore racing enthusiasts, we found more customers asking for more exposed carbonfibre with the air conditioning and radio still intact. So we developed the Carbon Series to satisfy that need, while providing a distinct look."
No changes have been made to the GT's turbocharged 3.5-litre V6, which produces 657bhp and 550lb ft of torque.
When it launched last year, the GT was due to have a production run limited to 1000 cars, but Ford recently announced that it was extending that run to 1350 in order to better meet demand. The Carbon Series will be part of that total, with customers now offered the choice of models once they get through Ford's approval process.