From a distance, there's nothing to suggest Moritz Burmester's Mini is anything other than a well-preserved classic.
The Solar Red Cooper's flared arches, two-tone livery and 13in wheels? Part of the factory-fitted Sports Pack. It's the electric plug decals adorning the alloys and body panels that give a hint at the one-off nature of this project.
In case you haven't seen a Countryman Cooper S E lately, or didn't see the fleet of experimental Mini Es back in 2008, the logos let you know this Mini sips electricity, not petrol. The original motor has been stripped out and replaced with a 38bhp electric powertrain.
Burmester's old-meets-new project was built in just six days and revealed at this year's New York motor show as a reminder of Mini's past, but also looking forward to its future - one where, a year from now, the company will release its first battery-powered production model.
The aim of the build was to keep as close to the standard car as possible, so while the engine has been replaced, and the exhaust and petrol tank stripped, it still weighs around 770kg - the same as an original 1998 Cooper.
With the near-instant power delivery of an electric motor, that makes it even more of a go-kart to drive than ever.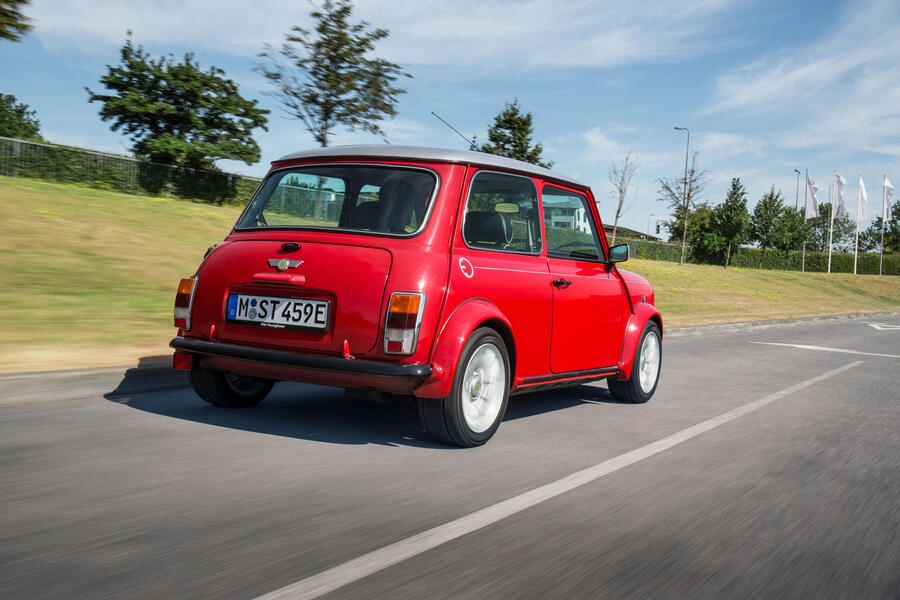 How does the Classic Mini Electric drive?
Replacing the donor car's 1.3-litre four-pot with an electric motor might sound like sacrilege to Mini purists, but it stays true to the marque's heritage. The motor only powers the front wheels, just like it should, while the unforgivingly firm suspension and unassisted steering remain unchanged.
The four-speed transmission stays in place, too, which is unusual for an EV. According to Burmester, an automatic conversion wouldn't be possible without custom-building parts, because there's no off-the-shelf differential small enough to fit the car.