The automotive future will start next year, when the Volkswagen Group begins in earnest its plan to make the battery electric car a mainstream choice.
Not that it has much choice in the matter. After the battering from Dieselgate (which is still ongoing four years later), it, like all car makers selling into the European market, has to dramatically reduce the average CO2 output of its fleet of cars. What was a tricky task was made massively more difficult by the destruction of diesel's credibility as a fuel.
Volkswagen has the advantage of holding a number of automotive brands, which should allow it to shift more electric vehicles than rivals, even if that means differentiating between, say, a Volkswagen and a Skoda is more important than it's ever been.
With that in mind, perhaps I shouldn't have been surprised by my first view of Skoda's first production model, the Vision iV, in the flesh - albeit in concept form. Despite being based on the same MEB electric 'skateboard' as the recently unveiled Volkswagen ID 3, it's a significantly different vehicle.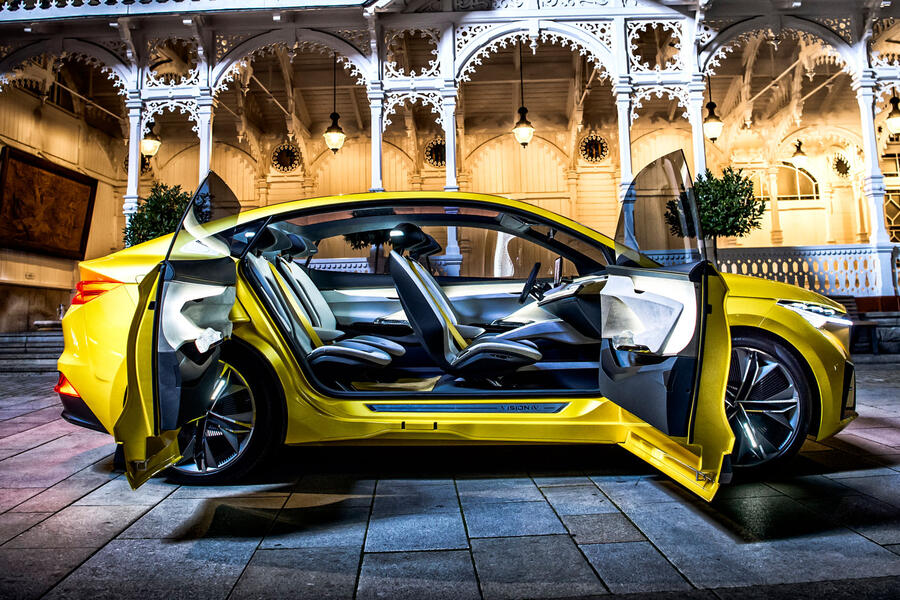 It's especially odd to view something so self-consciously futuristic at night in front of an elaborately decorated Victorian entrance to a natural hot water spa. But the location in this noted Czech town is a perfect foil for the Vision iV, which Skoda described as being '90%-plus' the final production car.
Skoda might not welcome the comparison, but this car has the look of the Tesla Model X. It's rather taller than its ID 3 stablemate, and it's distinguished by a deep and substantial nose and hooped roofline. Skoda describes it as a 'four-door crossover coupé', and it might be that the aerodynamic demands of EVs mean this is as tall as an electrically powered SUV can be. Company insiders say that exterior features such as the continuous light bar running across the nose should make it into the car that will go on sale late next year.