The first example of the ultra-exclusive, mega-powered Bugatti Centodieci has been delivered to its owner, two years on from its unveiling.
The first example of the 1577bhp hypercar - which is based on the Bugatti Chiron - is finished in EB110 Blue, paying tribute to the signature colour of the 1990s supercar that inspired it, while also matching with the owner's own Bugatti EB110 GT.
The interior - which took 16 weeks to build - also harks back to the EB110, with chessboard patterns on the seats, roof liner and door panels, as well as on the centre console and floormats.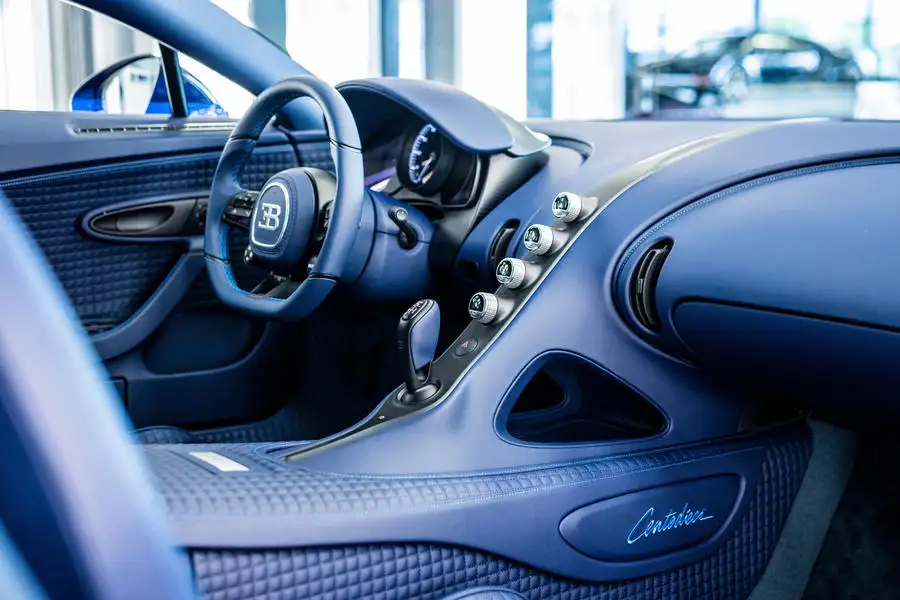 Nine more Centodiecis will be produced, with all 10 cars having been sold immediately after its unveiling at Pebble Beach last year for £7.4 million each.
The limited-edition model uses the same quad-turbocharged 8.0-litre W16 engine as the Chiron for 1577bhp and a 0-62mph time of 2.4sec. However, it's limited to 236mph, whereas the Chiron tops out at 261mph.
Bugatti president Christophe Piochon said: "The Centodieci builds upon Ettore Bugatti's successful 110-year lineage of exceptional design and performance while reviving the memory of the brand's recent history.
"The EB110, built by Romano Artioli in Italy, was a critical path to the re-establishment of Bugatti in 1998.
"After two years of relentless development, we have refined the Centodieci to the standard our customers expect of all Bugatti models.
"Our designers and engineers pour the very same passion and desire for perfection into the marque's few-off models as they do for Bugatti's series-production units."