Audi is readying for another bumper year of new car launches and the latest addition spotted is a mid-life refresh for the Audi Q7 SUV.
The Volvo XC90 rival has been on sale since 2015 and an updated version will arrive not long after the A4 facelift in June 2019. New spyshots show the seven-seater in light disguise undergoing cold weather testing.
The images reveal that the Q7's exterior design will be brought into line with Audi's latest large models, including the Audi A6, Audi A7, Audi A8 and Audi Q8. As such, it's possible to see a new front fascia with a wider grille, larger lower intakes and reprofiled LED headlights. At the rear, it adopts new tail-lights inspired by the Audi E-tron electric SUV, but it doesn't appear to feature that car's full-width light bar.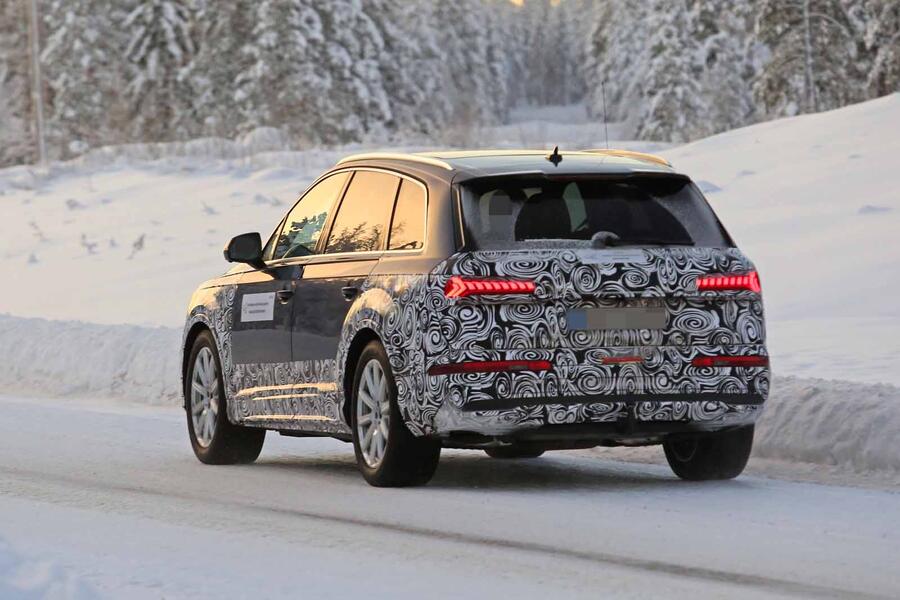 Major changes are expected inside. The Q7 currently features one of Audi's older interior designs, with a free-standing infotainment screen and button-heavy layout. Audi is rumoured to be investing heavily to transplant its new-style dashboard, with its minimalist look and dual-screen infotainment system - necessary to extend the Q7's life into early next decade.
Powertrain changes will include the adoption of 48V mild-hybrid tech across most variants, increasing efficiency. It's not clear yet whether the diesel-electric Q7 E-tron plug-in hybrid will make a return after going off sale due to WLTP emissions testing delays and the same goes for the Audi SQ7. Intel coming out of Germany suggests Audi might switch to a six-cylinder petrol powertrain to bring it into line with the Audi SQ5.
Read more: