Audi's A4 range received a minor update earlier this year, but the firm is now readying a more extensive facelift package for the 2020 model year.
Spied winter testing ahead of a reveal in the first half of 2019, this A4 Avant prototype sports some light disguise, but visual changes already obvious include a set of reprofiled lights and bumpers, a wider and lower grille and, at the rear, a new diffuser design. The changes have been conceived to bring the A4 into line with the newer models in Audi's range, such as the A6.
More extensive changes are expected inside, with the A4 likely to move to Audi's latest dashboard design demonstrated by the latest A6. This will ditch the current car's rotary dial control for the infotainment system in favour of a dual-touchscreen layout, splitting the climate controls into a lower touch capacitive display, with the multimedia and navigation functions operated by a larger upper screen.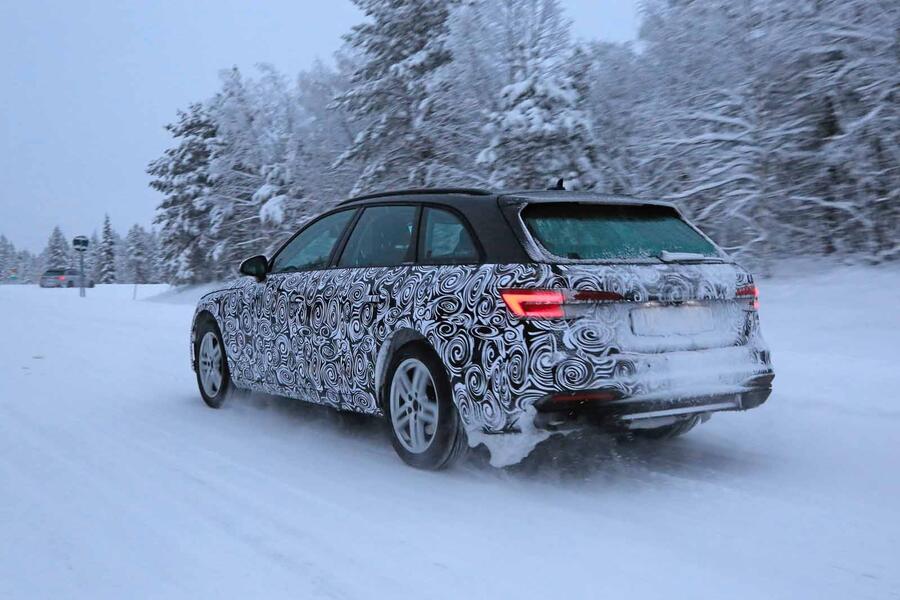 Details of what changes we'll see under the engine bay are still under wraps, but it's almost certain Audi will introduce a range of mild-hybrid powertrains to the A4 to allow the car to meet more stringent fleet emissions legislation, coming into force for 2021.
Like the A6, base 2.0-litre four-cylinder petrol and diesel engines will feature a simple 12v set-up that will bring incremental improvements to efficiency, but the six-cylinder variants will utilise a more advanced 48v system, allowing the engine to be switched off during coasting and decelerating. Expect both engines to claim better fuel consumption, though it's not yet clear if performance will increase.
The current A4 was introduced to the UK in autumn 2015, so is now behind the curve compared to its main rivals, the recently facelift Mercedes C-Class and the BMW 3 Series, which has moved into a new generation. Audi also has more challenges on its hands in the shape of the facelifted Jaguar XE, also due next year around the same time as the A4.