Order books for the all-new Audi Q2 have officially opened in Britain, with the car costing from £22,380.
Two of the model's five confirmed UK engine options are available to order at launch: a 148bhp 1.4-litre TFSI petrol and a 114bhp 1.6-litre TDI diesel. The petrol unit is the current entry-level engine; it features cylinder-on-demand technology, offers up to 54.3mpg combined fuel economy, and provides a 0-62mph time of 8.5sec. The diesel engine returns a combined 64.2mpg and can complete the same sprint in 10.3sec.
Read our Audi Q2 1.0 TFSI review
Later this year, Audi will add a 1.0-litre TFSI engine that produces 113bhp and features cylinder-on-demand technology to the bottom of the Q2 range, reducing the car's entry-level price to £20,230. Added above that engine will be a 2.0-litre TDI diesel, which produces 148bhp.
From mid-2017, the final and most potent engine, a 187bhp 2.0-litre TFSI petrol, will join the ranks, exclusively with Audi's quattro all-wheel drive system and an S tronic automatic gearbox.
All other engines are offered in two-wheel-drive with a six-speed manual as standard. Quattro will be offered as an option with the rest of the TFSI engines and the 148bhp diesel from mid-2017. The system uses Haldex-clutch technology to enable torque vectoring and decoupling.
Read our Audi Q2 1.4 TFSI Sport review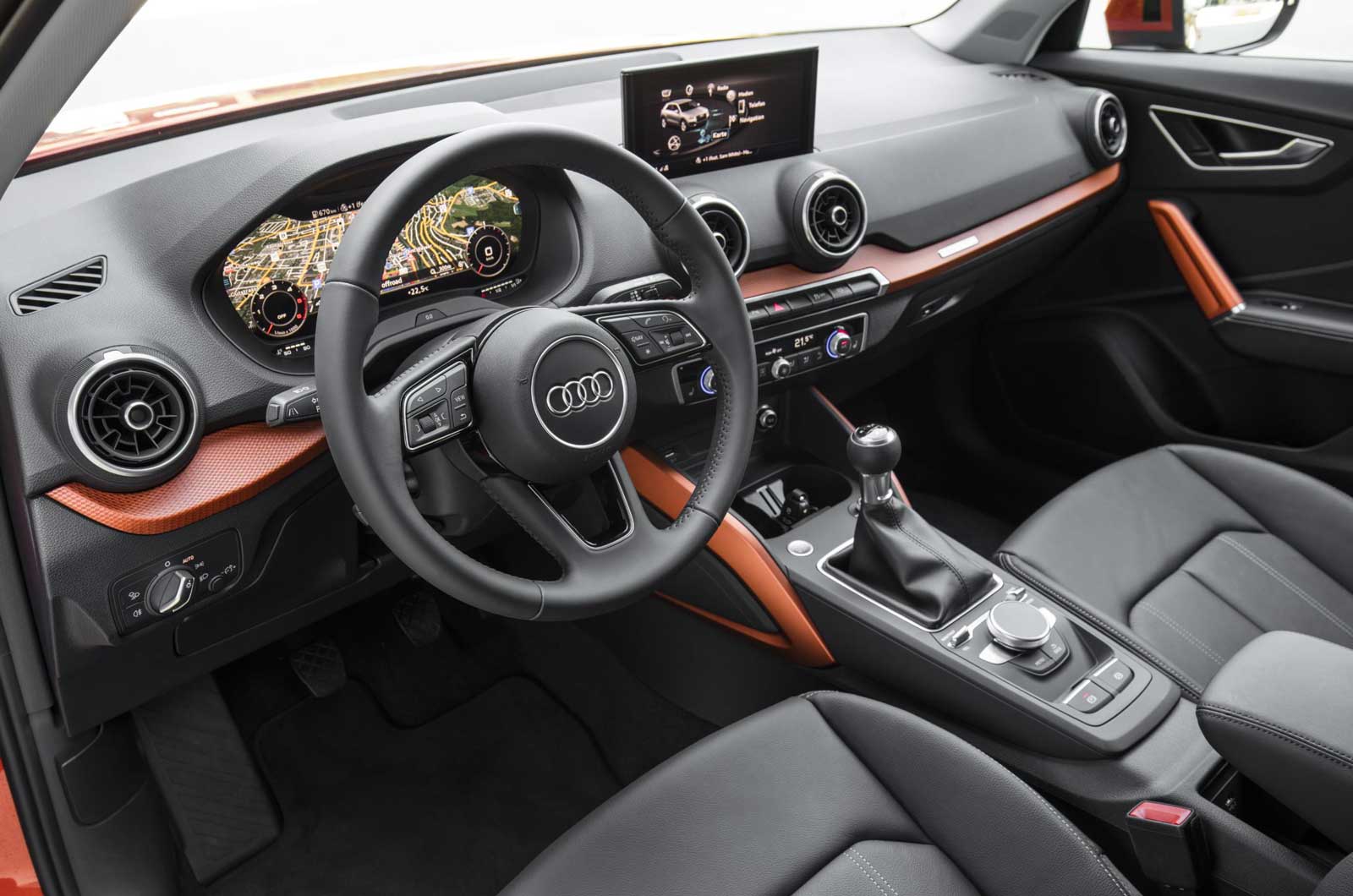 Read our 2016 Audi Q2 1.4 TFSI 150 S tronic review here
Three trim levels
The Q2 is on sale in the UK with three standard trim levels: SE, Sport and S line.
Entry-level SE trim Q2s has 16in alloys, a 7.0in infotainment screen and variable damper settings, while mid-range Sport models come with 17in alloys and Ice Silver C-pillar side blades.
Q2s in S line trim get 18in alloys, LED headlights and cloth and leather upholstery, plus a no-cost option to upgrade to sports suspension.