Audi has revealed the first sketches of its Q4 e-tron concept ahead of the car's debut at next month's Geneva motor show.
UPDATED: Audi reveals Q4 E-tron electric SUV ahead of 2020 on sale date
It isn't yet clear if this concept is a direct preview of the Q4, which is due to launch later this year and has already been spotted in camouflage undergoing winter testing. However, it does provide an insight into the next generation of electric Audis following the E-tron SUV and E-tron GT sports saloon.
The sketches reveal a compact SUV with coupé-like styling, an expansive front grille and illuminated e-tron branding on the front bumper and side sills.
It seems to have traditional door mirrors, instead of the digital cameras and interior touchscreens offered on the E-tron SUV. Audi's Matrix LED headlights also appear to feature.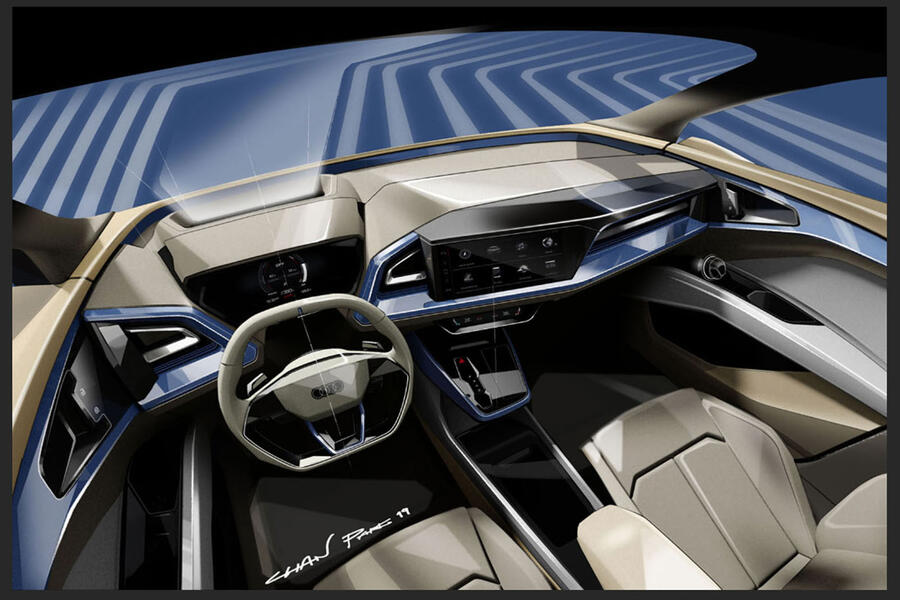 An interior sketch shows a driver-focused dashboard that borrows elements from the recently launched new Q3, with buttons largely removed in favour of touch-sensitive screens and panels.
The Q4 e-tron is expected to make production in early 2021, a year after the standard Q4 is due on sale.
READ MORE
Audi reveals Q4 E-tron electric SUV ahead of 2020 on sale date​
Audi E-tron one of twelve electric Audis to launch by 2025
Audi E-tron GT concept: first drive of electric sports saloon