The new pure electric coupé you see here started life as a computer-generated design, just one of 20 or so created by Audi's in-house design team over the past two years.
The original idea was to use the car as a purely virtual entity to boost Audi's presence in the latest version of the Gran Turismo video game on the Sony PlayStation 4. However, Audi bosses liked the e-tron Vision Gran Turismo so much they decided to build it as a rolling prototype to star at Formula E races as part of a marketing campaign surrounding the new e-tron electric car sub-brand.
I first see the new coupé up close at the end of a row of garages at Audi's Neuburg test track facility on the outskirts of Ingolstadt. Low and wide and with a generous front splitter, it looks like it means business and its carbonfibre body sports a livery that evokes the company's 90 quattro IMSA GTO of 1989. Size-wise, it's around A6 dimensions.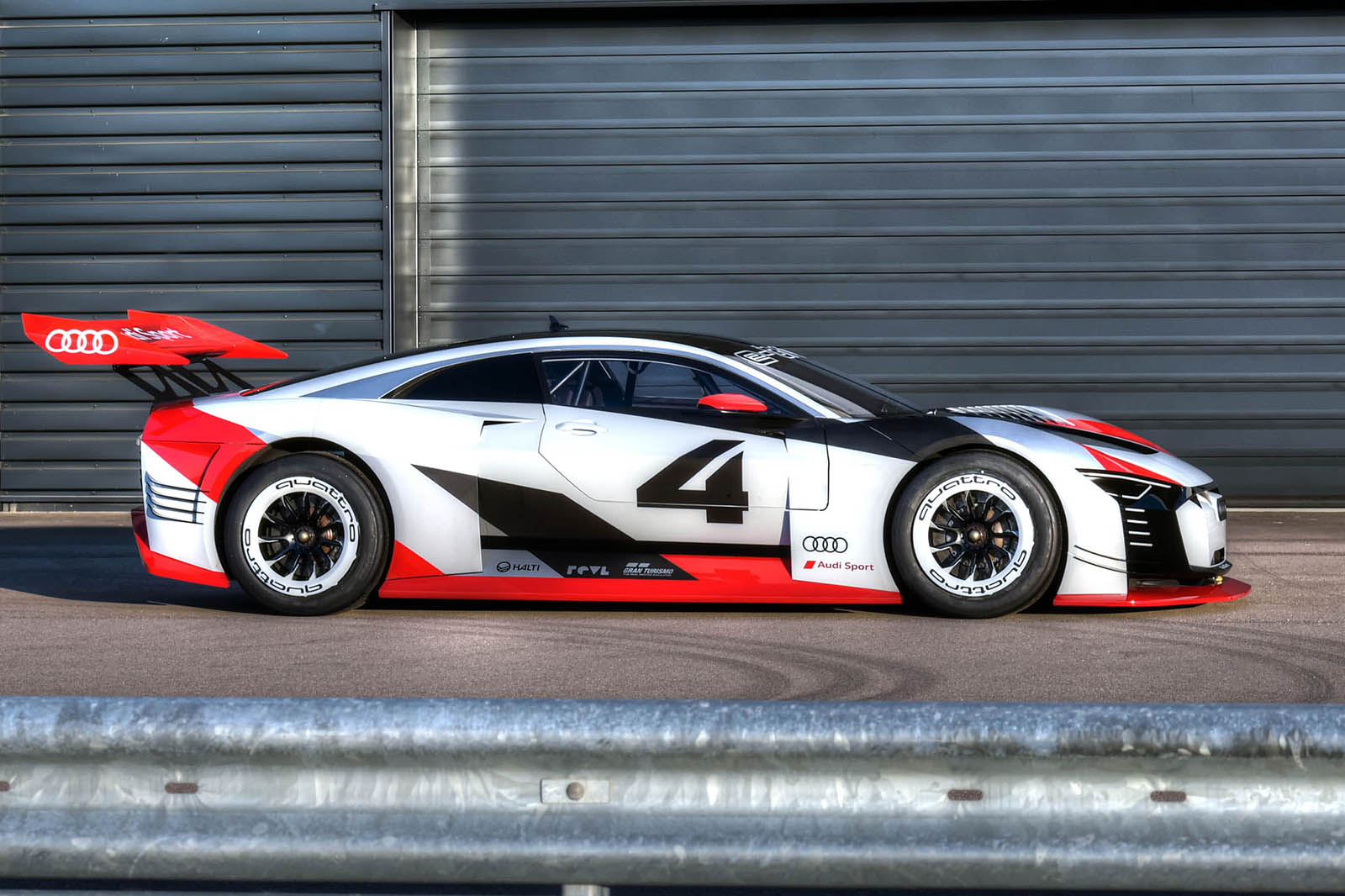 Former DTM driver Rahel Frey will pilot the car at Formula E events, but today she has been asked to ride shotgun with me. Encouragingly, she's smiling when she hands me a crash helmet.
The basis for the car is a tubular frame chassis to which Audi's motorsport division has combined various elements from its 2018 A4 DTM race car, including double wishbone suspension and electric steering and braking systems.
Drawing on technology used by the upcoming e-tron production models, its powertrain consists of three electric motors: one sited up front providing drive to both front wheels and two at the rear, each driving a wheel. With a combined 805bhp, they provide the 1450kg coupé with a power- to-weight ratio of 555bhp per tonne. Audi hasn't revealed an official torque figure, but it is said to deliver more than 737lb ft in total. With a quattro four- wheel-drive system providing variable drive distribution between the front and rear axles as well as the individual rear wheels, the car is claimed to accelerate from 0-62mph in 2.5sec and reach a restricted 140mph.