The first 1000 customer Aston Martin DB11s will be personally inspected by company CEO Andy Palmer.
We've now driven the 2016 Aston Martin DB11. Read the review here.
In a Tweet released yesterday (shown below), the Aston Martin boss said a plaque with his signature would be mounted on the V12 engines of cars 1 to 1000 following his approval at the end of the production line.
The rest of the DB11 production run will be checked over by Aston Martin's regular team of inspectors.
Insiders say the decision for Palmer to inspect the early cars was taken because the DB11 is the first all-new Aston Martin to arrive under his leadership.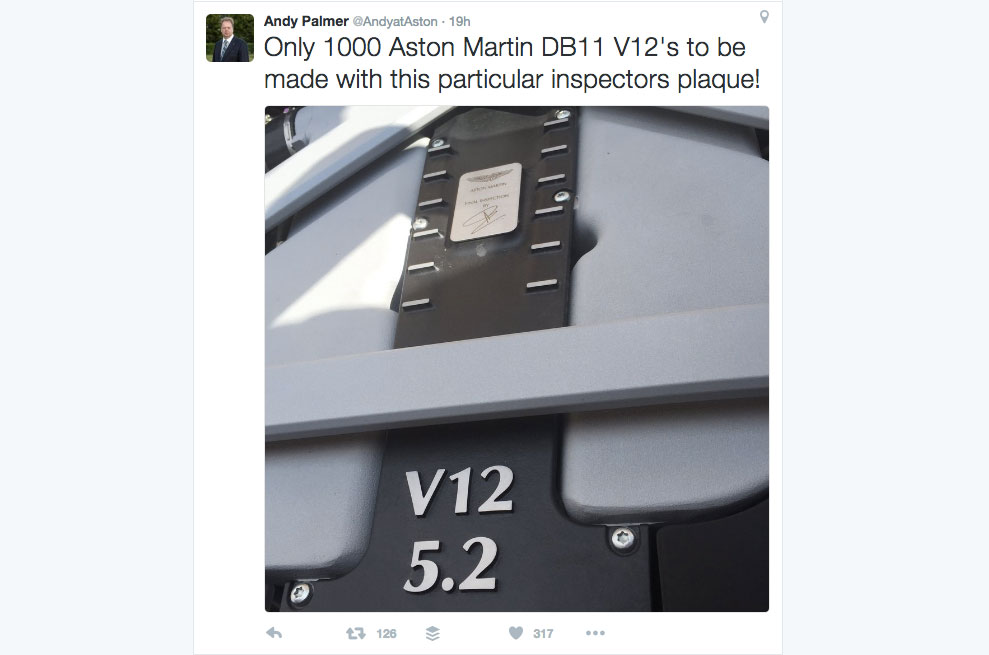 It's also the first Aston Martin to feature the brand's new twin-turbocharged V12 engine, which is expected to make its way into models such as the next-generation Vanquish and V12 Vantage over an anticipated 15-year lifespan.
In the DB11, the 5.2-litre unit produces 600bhp and 516lb ft of torque. It replaces the discontinued DB9's naturally aspirated 6.0-litre V12.
The first customer DB11s are due to be delivered late this year, before Christmas. Prices for the all-new model start at £154,900.
Read more about the Aston Martin DB11 here