The Alpine A290 is set to kickstart the French firm's push into the mainstream market next year with an electric hot hatch based on the Renault 5.
Previewed here in 'Beta' concept form, it promises to be a more usable accompaniment to the widely-acclaimed – but highly impractical – A110, without compromising its sporting character.
Although the A290 Beta features an FIA-approved racing chassis and two motors mounted on the front axle, the production car will share the 5's CMF-BEV platform. Renault has already touted the dynamic potential of the architecture, which mounts the battery pack under the car to lower its centre of mass and improve handling. It also features Independent multi-link suspension features at the rear.
Alpine has further fettled the platform to ensure it's playful at low speeds and becomes more stable with acceleration. "The main thing is agility," said design director Antony Villain. "And we know when we switched to EV, we have heavy batteries, but we want to find exactly the same driving philosophy: agility and pure pleasure."
To this end, Alpine has added hydraulic bump-stops to the Renault 5's suspension set-up, improving the A290's ride and enhancing handling adjustability. Similarly, the torque vectoring on the production car's single front motor has been set up to simulate a mechanical differential, boosting stability under braking and traction as you accelerate out of a corner.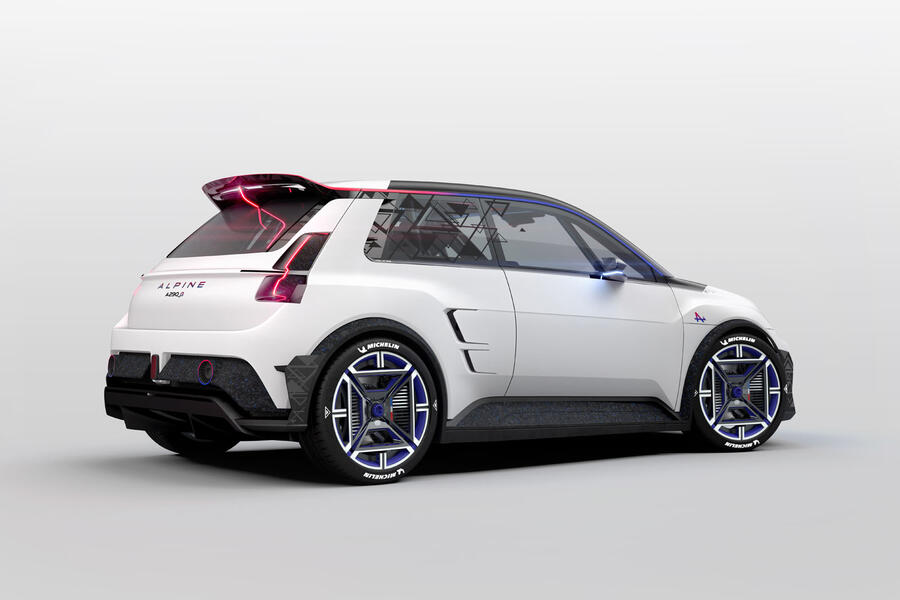 The A290's short wheelbase and wide track – the whole car measures 4.05m long and 1.85m across – make it inherently stable and agile, according to product boss Charlie Biardeau.
He added that A290 uses the same four-piston brakes as the A110, albeit tuned to blend naturally with the regeneration of the production car's single front motor.
Biardeau explained Alpine is targeting a feeling of "transparency" through the brake pedal, with various strengths of regeneration. These may include a 'one-pedal' drive mode, maximising the motor braking so you can drive the car solely on the accelerator pedal – a boon in urban traffic jams.