The dieselgate scandal will have to run on for a long time yet, in this tester's opinion, before it starts to seriously dent the appeal of either the Alpina D3 Biturbo or Audi A7 BiTDI Black Edition.
Fully loaded luxury executive cars are rarely more tempting, in my book, than when they're packing large diesel engines that combine instant, easy pace with strong fuel economy and relatively low company car tax liability.
And none strikes that bargain in more compelling terms than these two: near-50mpg real-world cruising efficiency, sports-saloon-level performance and CO2 emissions you can report to your accountant without so much as a hint of sheepishness. It's all here. And – besides BBC Panorama presenters and ostracised and embittered former Volkswagen Group executives, perhaps – who wouldn't want it?
Some will say that now's the wrong time to be spending big on a performance diesel. Let them say it. My reply is that the uncertainty only strengthens your bargaining position.
Act quickly and you could probably get an eyebrow-raising discount on a range-topping diesel A7 if you found a dealer with a car in stock and a need to get it off his books. Enough to bring this £60k car down to the price of, say, an ultra-rare, discount-proof, handbuilt Alpina D3? I'd imagine so.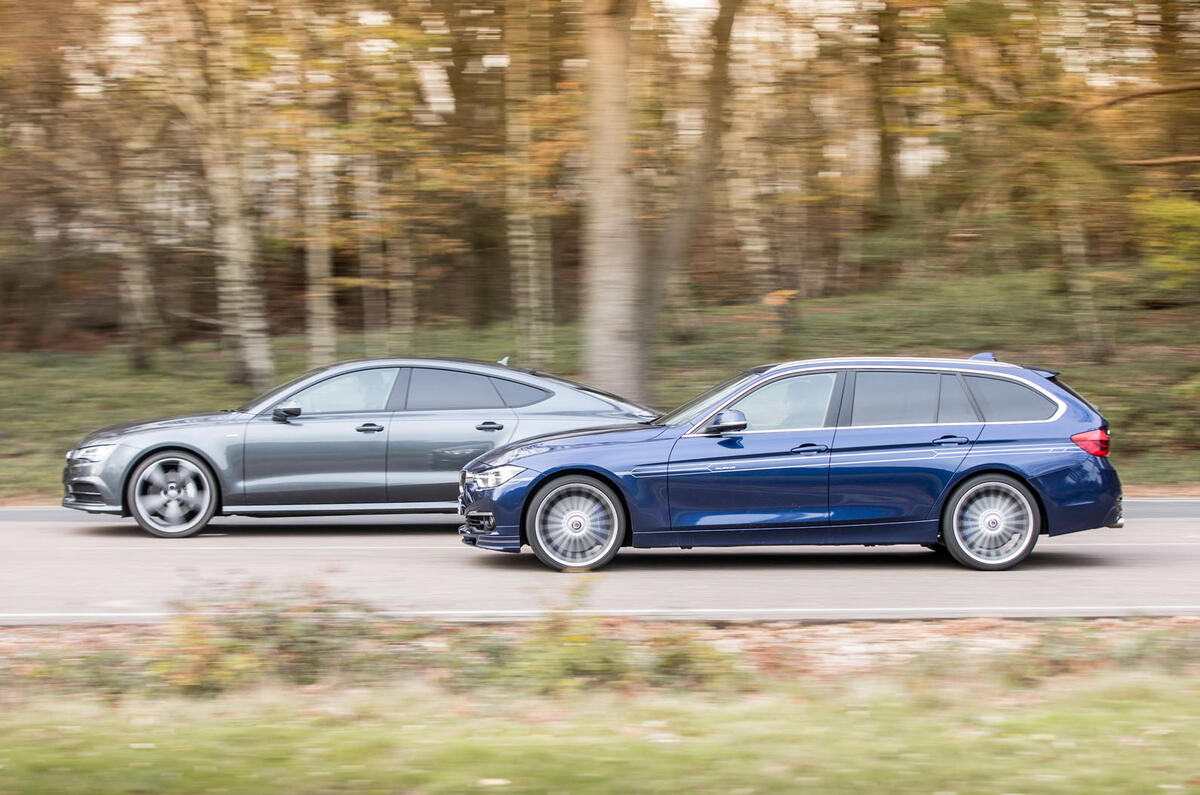 So, assuming you're willing to take an educated gamble, which way should you jump? It wasn't very long ago that the decision would have been made for you. BMW had the fast diesel niche largely sewn up for a decade or more. That was until three years ago, when Audi started ushering its 3.0-litre, 300bhp-plus BiTDI V6 diesel into its Audi A6, A7 and Audi Q5, giving people an alternative to BMW's 35d models for the first time.
Renowned BMW tuner Alpina subsequently leaped to the defence of Munich's honour, fitting an overhauled 345bhp twin-turbo 3.0-litre straight six into its D5 Biturbo in 2012, and then into the current F30-generation 3 Series-based D3 Biturbo in 2013. The D3 Biturbo was cracked up as the fastest diesel production car in the world and, along with the rest of the 3 Series, has just been facelifted.