Tuesday, 12.26pm: M4 westbound - The weatherman on the radio is making the most of his extra two minutes. As the nose of the Aston Martin V12 Vantage S I'm driving sweeps west over the Severn bridge, our man is warning of driving rain and 80mph winds ahead; fallen trees, flooded roads and downed power lines, possibly. South Wales will get it worse than anywhere. Jolly good.
If photographer Lacey is hearing this, he'll be sobbing into his waterproof underpants – but I'm not. Idyllic conditions would have been all wrong for the exercise we're about to undertake, and so would wide, smooth European roads.
Right now, as Storm Barney brews up over the Atlantic, four super-sports cars are making their way towards the Rhondda Valley. One of them, we already know, won't be too affected by the wind and rain: it's the original everyday-use supercar-slayer in its current guise, Porsche 's legendary 911 Turbo S.
But how will that car's newly swollen band of rivals manage in the Welsh murk – among them the aforementioned Aston Martin, Audi's brand-new R8 V10 Plus, and the much-anticipated McLaren 570S? Is lip service being paid to refinement and usability by the makers of the R8 V10 Plus and 570S – or has Porsche's ultra-pragmatic performance hero finally come up against some equally usable competition?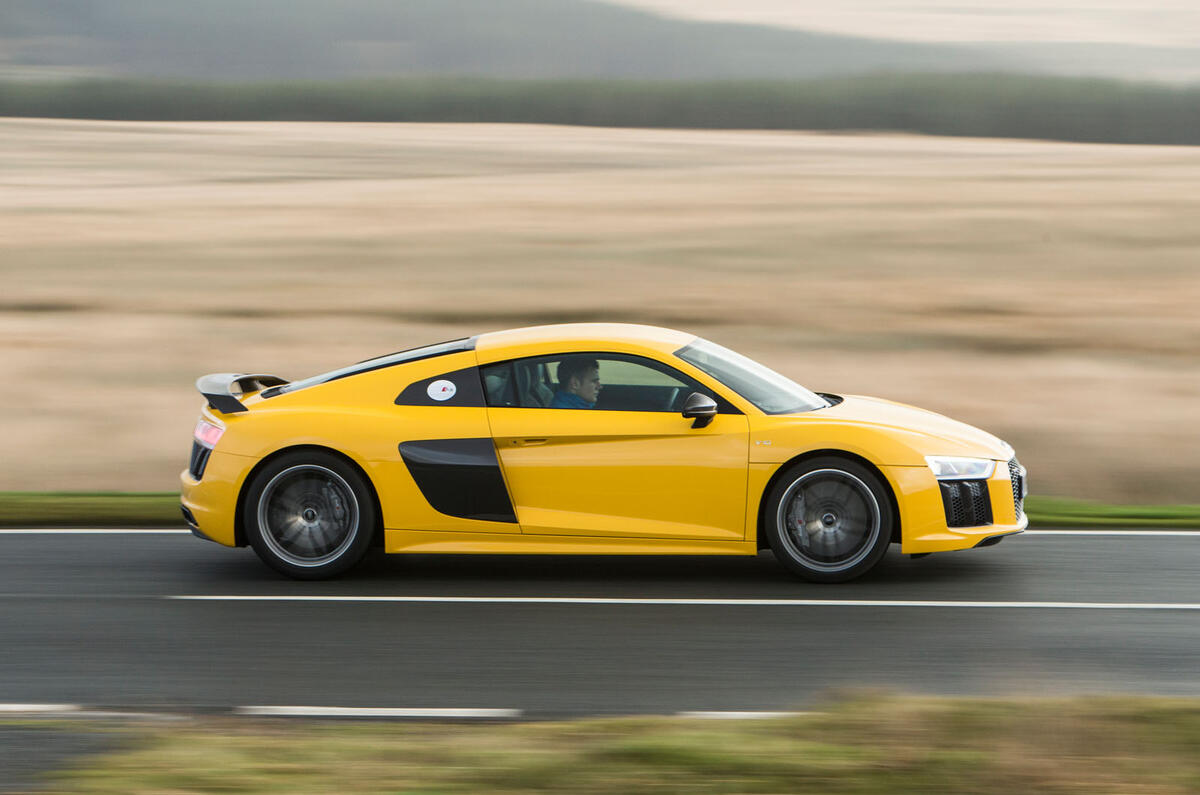 The first thing slowly becoming clear at this early stage, besides the thick, foreboding clouds gathering overhead, is that the most obliging, impervious car in our foursome may still not necessarily win this test, even in these conditions. Prolonged and repeated exposure to every 911 Turbo since the '996' generation has taught this tester that – beyond a certain point, admittedly – usability may be overrated in a great sports car. Misapplied, even, if it comes at the cost of handling precision, driver engagement or dramatic charm.
Without so much as turning a wheel in any of the other three cars involved, I can tell that the V12 Vantage S is going to have to plough its own furrow all the way to success here. It doesn't have the mid-range torque necessary to be effortlessly fast; it's the heaviest car here; it has only one driven axle and its hefty 6.0-litre engine is at the wrong end of the car to generate the best traction from that axle.