Fifteen years ago, we'd have stood on a Welsh hillside waiting to compare two low-slung cars of purely sporting pretensions.
Today, it's sports utility vehicles that need to tick numerous ownership boxes beyond merely that of being a decent steer. How times have changed, eh? And yet the fact that we're here shows change is still upon us – and for the better. We've sought worthy Tarmac for this test because we know these particular beasts of high-riding automotive leisure can deliver an unusual level of driving pleasure. The question is: which does it better?
Our subjects are the Porsche Macan Turbo Performance Package – current class leader – and Alfa Romeo's new Stelvio Quadrifoglio. The same purists who rejoiced at the return of a seriously potent rear-driven Alfa saloon in the form of the Giulia Quadrifoglio must have serious misgivings about the existence of this car, but even they have to admit that encouraging similarities exist.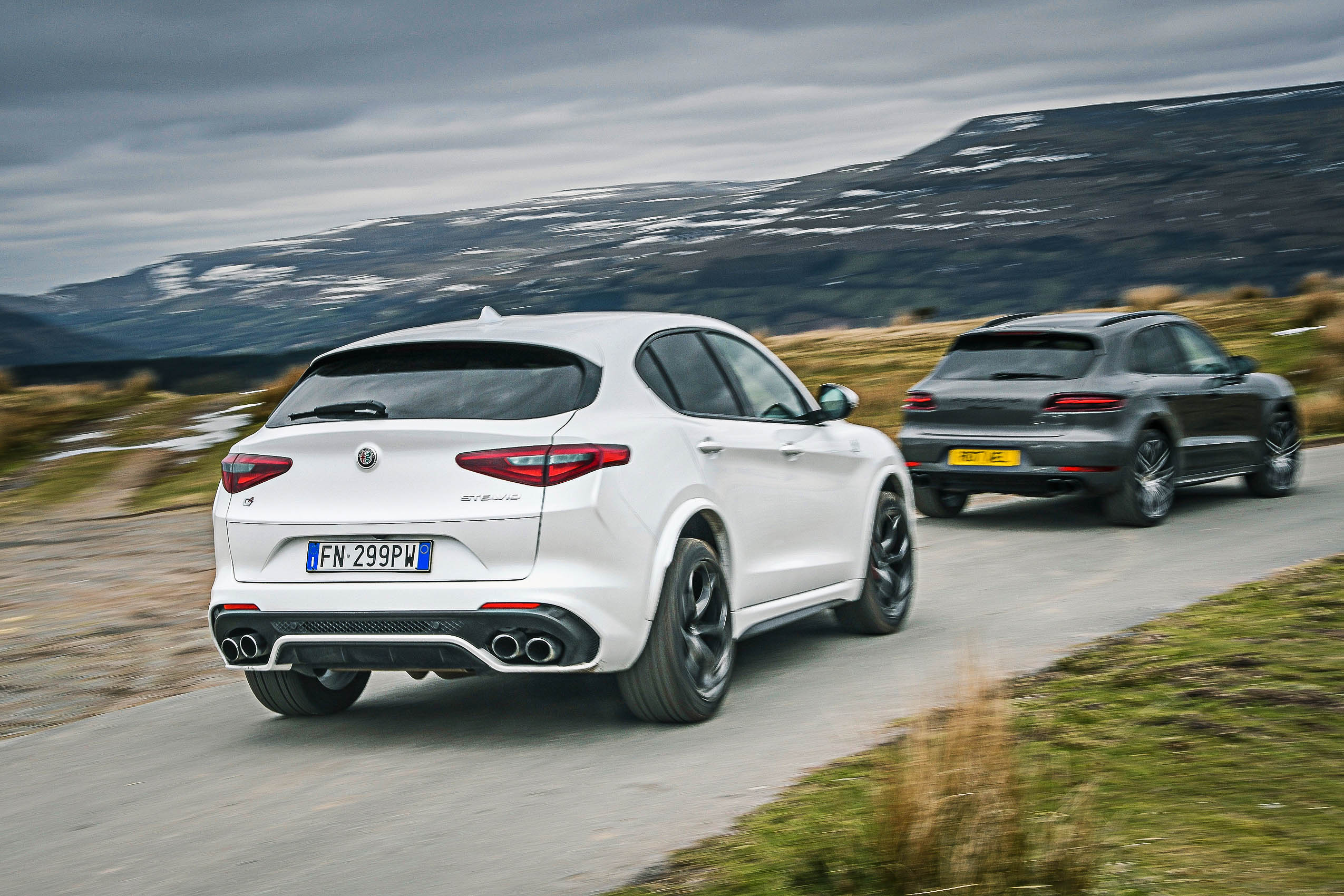 The platform – designated 'Giorgio' and the fruit of a billion-euro investment – is common to both and was always destined to underpin an Alfa Romeo SUV. Crucially, the 2.9-litre twin-turbo V6 engine, whose roots are easily traceable to Ferrari's F154 V8, is also identical. Maranello's influence on this unusual car doesn't end there, either.
You may remember Philippe Krief. He is the ex-Ferrari engineer who led the stellar chassis work on the 458 Speciale and is largely responsible for the fact that a Giulia Quadrifoglio will out-handle BMW's M3 Competition Pack. Krief has overseen the transition to four-wheel drive and centre of gravity somewhat higher than he no doubt would like, but his continued involvement in Alfa's resurgence bodes well.
Tack the price of a London pint onto the Stelvio's £69,500 list price and you could put the Macan on your drive instead. It would have the Performance Package, too, which turns up the wick on the 3.6-litre twin-turbo V6 and drops the ride height 15mm if you stick with the standard springs or 10mm with the air springs on our car here today.