Mercedes-Benz has unveiled the EQ Silver Arrow, a 738bhp figurehead for its new EQ electric sub-brand that is inspired by the firm's streamlined high-speed record breakers from the 1930s.
The spectacular 5300mm-long single seater, revealed at the Pebble Beach Concourse d'Elegance in the USA, officially acts as a homage to the 80-year-old W125 Rekordwagen – a teardrop-shaped prototype powered by a 725bhp 5.6-litre V12 petrol engine that was driven to a public road record speed of 269mph in Germany back in 1938.
The concept is also a pointer to current stylistic and aerodynamic developments at the German car maker, and to future performance models from the EQ brand. The firm's range of electric production cars will start with the EQ C in 2019.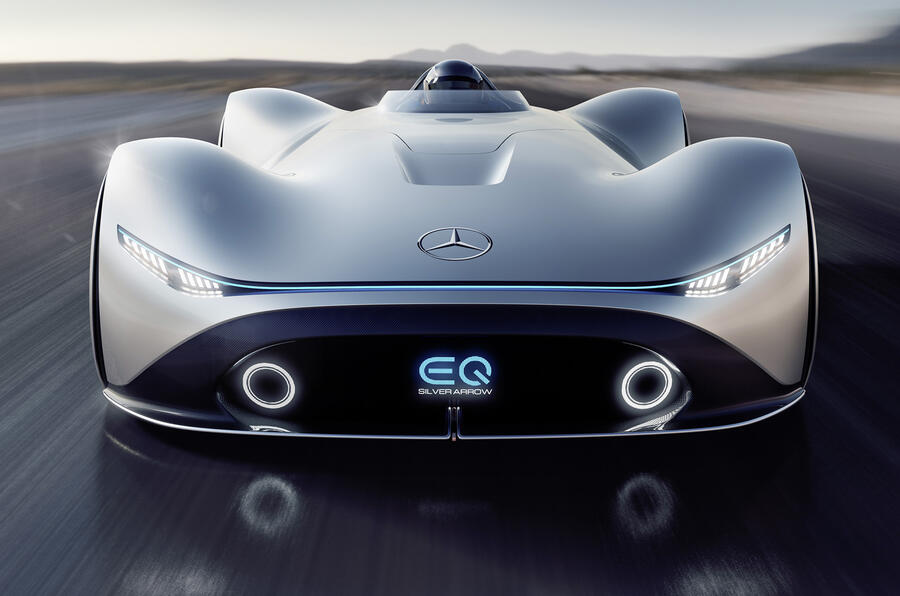 Intended as a one-off, the EQ Silver Arrow is based around an extended version of Mercedes-Benz's new MEA (modular electric architecture) platform that uses a flat floor to house battery modules. Its body structure, painted silver in recognition of the W125, is made of carbon fibre.
While the design of the low slung concept is credited to Mathias Schenker, who works at the brand's North American design studio, the flamboyant appearance of the EQ Silver Arrow was finalised under a team headed by Mercedes-Benz's Chief Design Officer, Gorden Wagener, in Sindelfingen, Germany.
Various design elements, including the blue light band between the front headlamps and red light band at the rear, are similar to those that will be seem on EQ production models.
The cars features a series of active aerodynamic elements, including spoilers that extend out of the rear bodywork at speed, designed to act as an air brake by generating downforce during hard braking.