The Vision Mercedes-Maybach 6 has been revealed as a 738bhp electric-powered, luxury coupé that's almost six metres long and features gullwing doors.
Unveiled at Monterey Car Week in California, the concept pays homage to the extravagantly styled aero coupés of the early 1900s while also showcasing a modern vision for the German car maker.
The Vision Maybach 6 hints at plans by Mercedes to build on its upmarket Maybach range with a new Rolls-Royce Wraith-rivalling coupé. Insiders suggest that such a car could be assembled by a new bespoke coach-building operation to provide customers of its higher-end models with greater freedom in customising their cars.  
The one-off coupé also showcases a powerful electric drive system being developed by Mercedes for use in a range of new zero-emission models.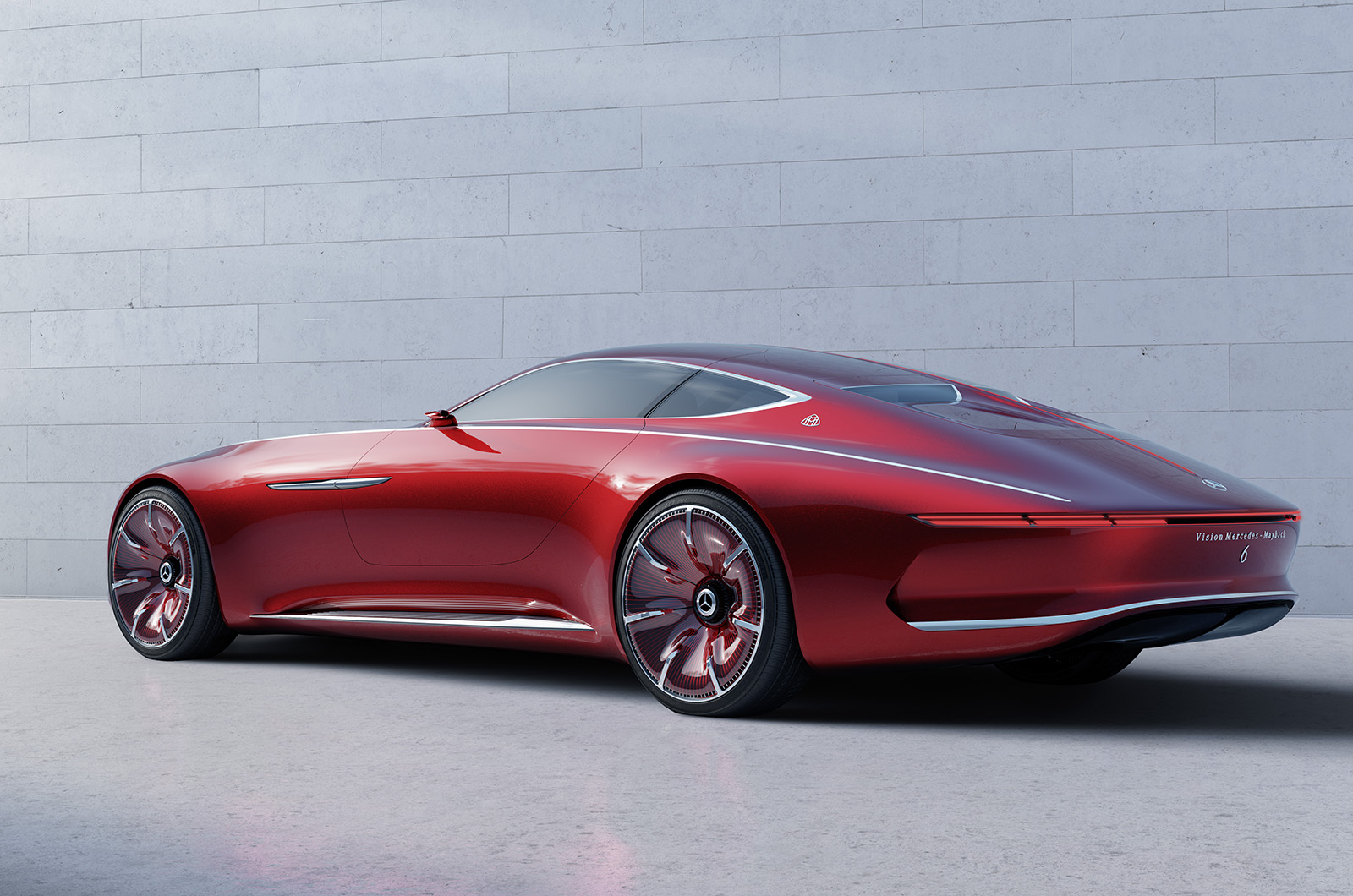 The Vision Maybach 6 has been styled at Mercedes' main studio in Stuttgart under the company's head of design, Gorden Wagener. It reinterprets many classic Maybach design themes while incorporating elements of the brand's latest design lineage, as first previewed on the IAA (Intelligent Aerodynamic Automobile) at last year's Frankfurt motor show.
The Vision Maybach 6's striking chrome grille is modelled on past Maybach models and features 25 vertical struts that Mercedes describes as "a display of precision assembly". The grille is set to appear on future Maybach models in a bid to further distinguish them from their Mercedes siblings. On the Vision Maybach 6, it is incorporated into a large front bumper that also houses distinctive thin-lined LED headlights and a heavily contoured lower section with blade-like air ducts that feed cooling air to the front brakes. 
The long bonnet features Mercedes-Benz's traditional three-pointed star emblem and the concept also has gullwing doors, hinging upwards from the roof, to provide easy access to the interior.  
At the rear is a boat-tail design, similar to that of the Mercedes IAA concept. It aims to provide the coupé with excellent aerodynamic properties without the need for an additional spoiler. 
Described by Wagener as recalling the look of a yacht, the rear features a shallow rear window, plunging boot line and narrow horizontally mounted LED tail-lights. It also has vertical ducts to extract air from the rear wheel arches and an integrated diffuser used as a venturi to increase overall downforce at speed.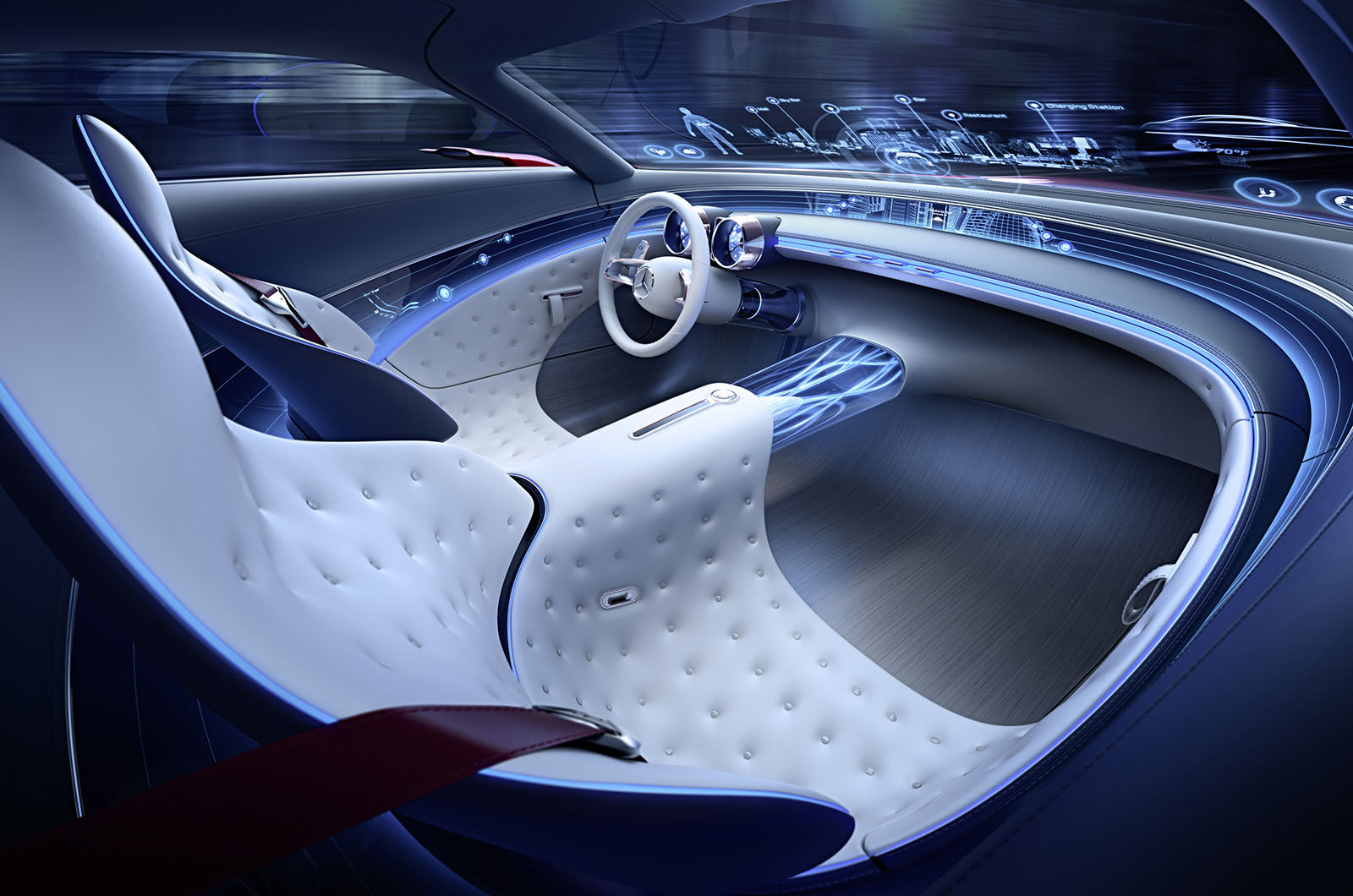 Further emphasising its size, the concept car rolls on 24in wheels that feature transparent body-coloured covers to smooth airflow across the large wheel houses.
Recalling the generous dimensions of Maybach models of yesteryear, the Vision Maybach 6 stretches to 5700mm in length, 2100mm in width and 1328mm in height.
As with the rival Rolls-Royce Vision 100 concept unveiled in London earlier this year, the Vision Maybach 6 incorporates a luggage compartment underneath its long bonnet. 
The starting point for Mercedes' bold new concept is a new electric vehicle platform to be revealed at next month's Paris motor show. Known internally as the MEA (Modular Electric Architecture) structure, it features a flat floor to house a large battery.
Mercedes Generation EQ concept revealed at Paris motor show
The Vision Maybach 6's electric drive system is "currently under development" for use in a range of upcoming zero-emission models, according to the company. 
The big coupé is powered by an 80kWh lithium ion battery mounted within a shallow floor and it employs a quartet of synchronous electric motors. Two motors up front act on the front wheels and another pair are sited at the rear to drive the rear wheels. Together, they provide the four-wheel-drive concept car with a 738bhp.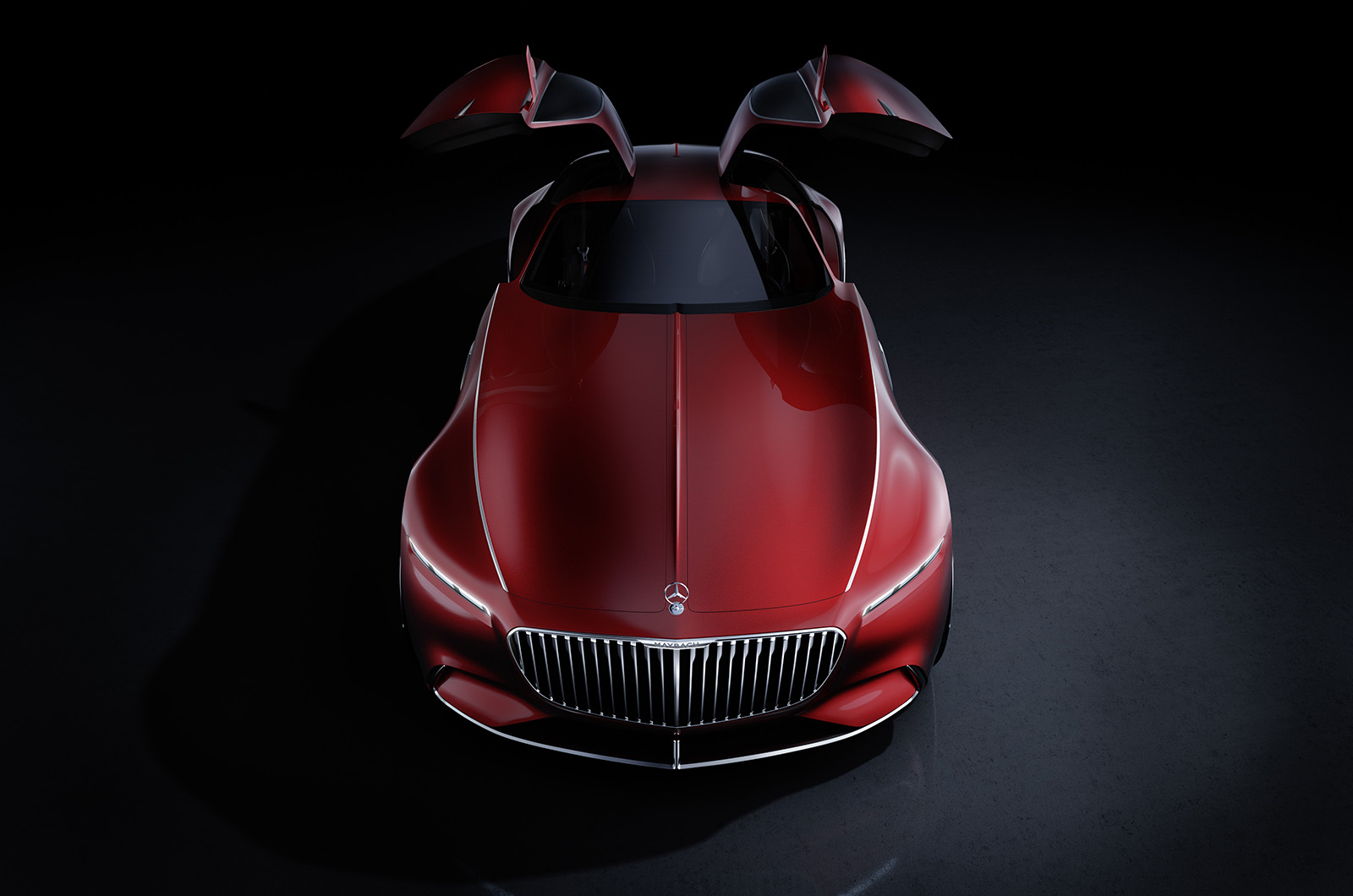 That's 215bhp more than the most powerful Mercedes-Maybach model in production today, the 600L, which is powered by a twin-turbocharged 6.0-litre V12 petrol engine. It's also just 2bhp shy of Mercedes' most powerful electric car to date, the SLS AMG Electric Drive. 
The concept is claimed to have an overall range of up to 310 miles on the European test procedure, or 200 miles on the more strenuous US test. 
The sending of electrical energy to each of the motors is visualised in a so-called energy flow display incorporated in the front section of a semi-transparent centre tunnel.
Mercedes won't be drawn on a theoretical kerb weight for the Vision Maybach 6. However, computer simulations suggest a production version would be capable of achieving 0-60mph in less than 4.0sec and a top speed limited to 155mph. Officials have already suggested that these figures will be mirrored by a future luxury Mercedes electric car currently under development as a Tesla Model S rival.
Inside, the Vision Maybach 6 has a wraparound dashboard and seats that monitor the vital functions of their occupants. Mercedes describes it as a 360deg lounge that provides accommodation for up to four in a 2+2 layout.
The concept also allows the driver to switch between manual and fully autonomous driving modes, but no further details on this have been revealed yet.
The Vision Maybach 6 is the second modern-day Maybach concept to appear since Mercedes resurrected the marque in 2002. In 2004, Mercedes unveiled the Exelero, a one-off coupé that was commissioned by German tyre company Fulda.
Video: