The new Vauxhall Mokka has gone on sale in the UK, with prices starting from £20,735 and the electric Mokka-e priced from £30,840.
The radically restyled crossover is based on the PSA Group's Common Modular Platform (CMP), which can accommodate both combustion and electric powertrains, and will be available with the same choice of three engines - two petrol and one diesel - as its Peugeot 2008 sibling.
The Mokka-e uses the same 134bhp motor and 50kWh battery as the e-2008. It promises a 201-mile WLTP range and offers 100kW DC rapid-charging to replenish 80% battery capacity in half an hour. It can also accept single-phase and 11kW three-phase charging. It will be offered in SE Nav Premium trim in the UK, with the £30,840 price including the government's plug-in car grant.
The entry-level petrol option, a 1.2-litre turbocharged three-cylinder engine, produces 99bhp and 151lb ft. Paired exclusively with a six-speed manual gearbox, it manages between 49.6 and 51.4mpg on the WLTP cycle, while emitting 124-128g/km of CO2, according to preliminary figures.
The more potent petrol option, using the same 1.2-litre block, pushes out 134bhp and 170lb ft for a 0-62mph time of 9.2sec – 1.8sec faster than the base motor. It can be optionally specified with an eight-speed automatic gearbox and achieves between 50.4 and 51.4mpg while emitting 123-126g/km of CO2.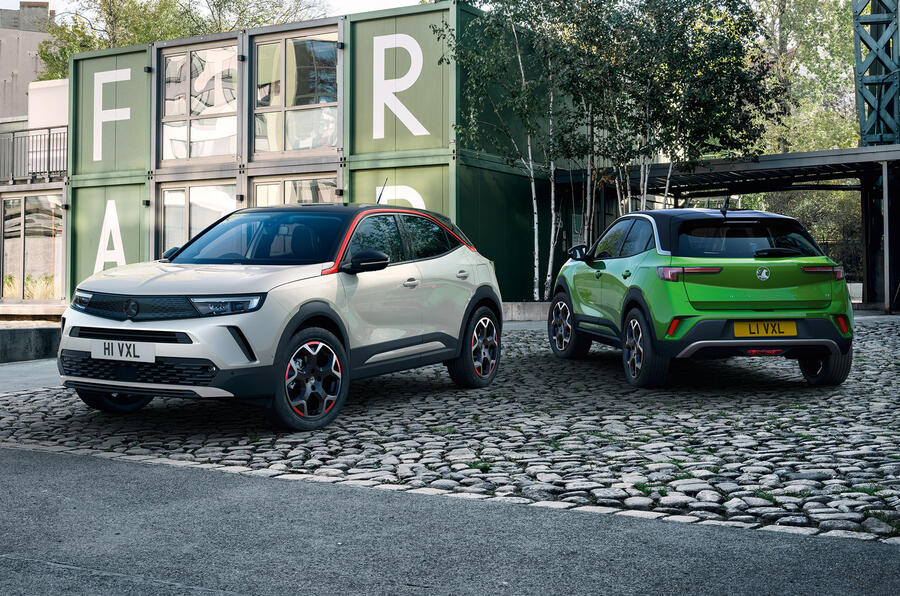 Both petrol engines are said to offer "high efficiency and lively performance", courtesy of their low-friction design and quick-reacting turbocharger, which boosts torque from low revs.
The Mokka also receives a 1.5-litre diesel option with 109bhp and 184lb ft. This is available with the six-speed manual gearbox and manages 62.8-65.7mpg while emitting 114-117g/km.