You're about to drive a very storied car," says John Gaw, managing director of Aston Martin Racing (AMR).
In addition to earning the Banbury-based team the FIA World Endurance Championship (WEC) LMGTE Pro titles for teams and drivers last year, the exact V8 Vantage GTE I'll be driving around the Algarve International Circuit in Portugal also won both the LMGTE Am title in 2014 and its class in the Le Mans 24 Hours in the same year.
"That car, as it sits, needs to be on the Geneva show stand in two weeks," adds Gaw. No pressure then.
New Aston Martin models herald hardcore sub-brand
As I survey the Aston in the garage, it's the details that impress. Yes, this race version clearly relates to the road-going Vantage, but these top-spec GTs are made using nearprototype levels of engineering. There's carbonfibre everywhere, most apparently on the giant rear diffuser, which was a fresh addition for last season;intricate door mirrors are another lovely aero detail. Sensors and wiring snake throughout, with a plethora of computers in what would be the passenger space in a road car.
But it's the driver's seat that awaits, after the team has disconnected the cords and hoses used to warm up the production-based 4.5-litre V8.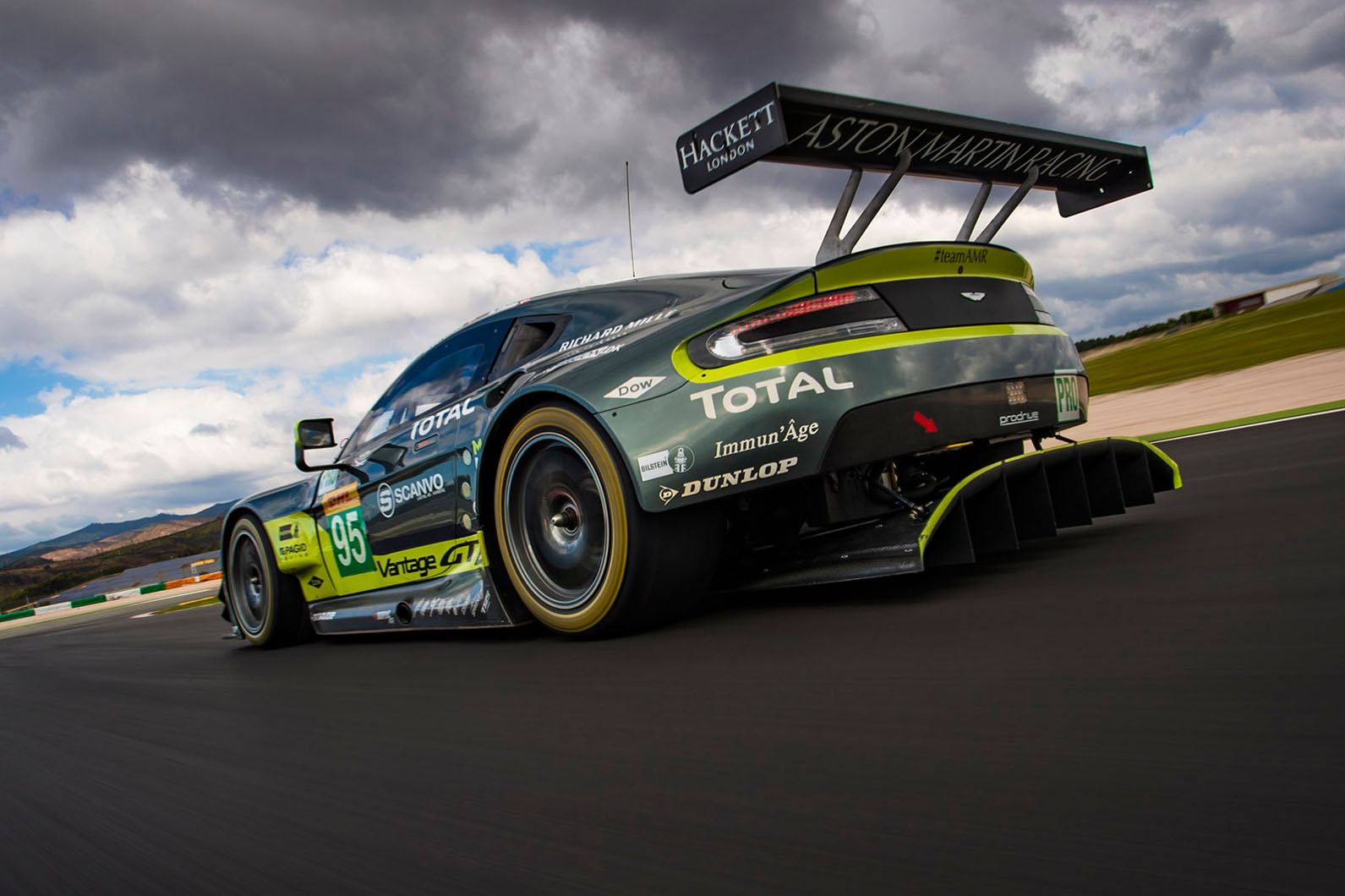 That's right, no V12. "The V8 is lighter," says Dan Sayers, technical director at AMR. "We constantly evaluate whether we should switch to the V12, but in terms of efficiency, mass and packaging, the V8 is a better race engine."
I slide in while the Aston still sits on its air jacks, minus magnesium wheels and Dunlop tyres. The Racetech seat is set far back, with the rectangular steering wheel nice and close. The pedals are set up for either right or left-foot braking, because works driver Darren Turner – like this writer – prefers the more Luddite deceleration method.
Development engineerJohn Ogden gives me a run-down of the controls. He tells me not to fiddle and simply drive the car. This is a good thing, because my brief sighting laps have been in a VW Polo hire car.
The crew secure the centre-lock wheels and drop the Aston noisily onto the asphalt before I fire the engine. The clutch is relatively friendly and only needed when exiting the pits. As I head onto the track, my mind returns to a comment from Sayers: "We targeted making this car easy to drive. It's not too aerodynamically sensitive. We spend a lot of time on having a car that a professional driver can exploit but is easy for an amateur to drive."