Ahead of next weekend's British Grand Prix at Silverstone, a number of drivers on the grid found themselves together in rather more relaxed circumstances at the Goodwood Festival of Speed.
It's one of the few opportunities for today's Formula 1 giants to drive the older crop of racing models, in the public eye, on a circuit alongside each other. This year, Daniel Ricciardo, fresh into his contract at Renault, had a chance to drive everything (in anger) from the firm's hardcore new Mégane Trophy-R to the race-winning 2012 Renault-powered E20 F1 car.
In between his time at the wheel and being physically mobbed by fans of all ages, Autocar grabbed five minutes with Ricciardo to talk shop.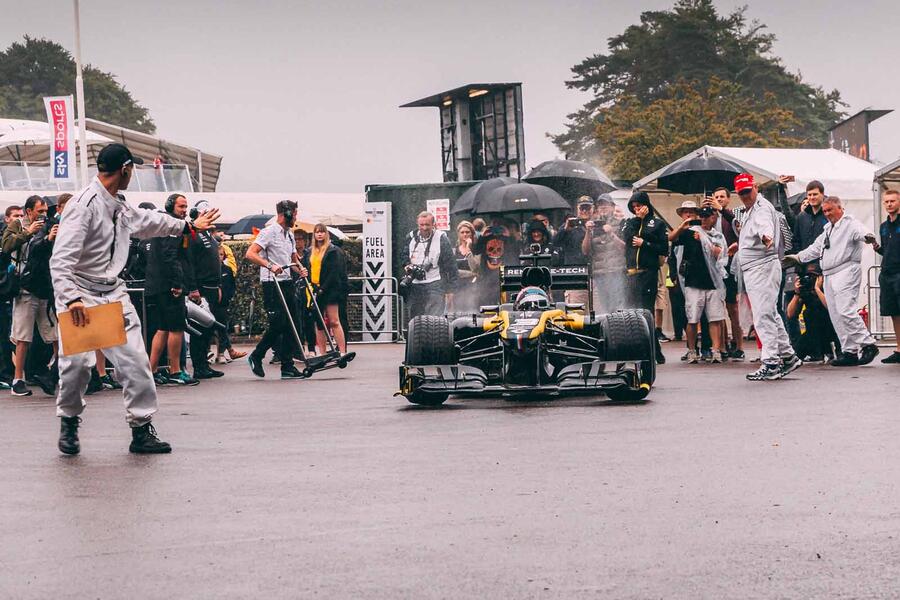 How are you feeling about tackling the hillclimb, in the rain, in a car you're not that familiar with (the 2012 F1 car)?
"It's actually easier now! I'd probably be more nervous if it was dry as I was going to put pressure on myself - I was tempted to scare myself a bit and go all out, so it's probably safer this way."
It's been a less-than-perfect season so far for Renault. Are you now thinking ahead to 2020, or do you have an idea of how to improve things now?
"I have not thought one bit about 2020. The season for me still feels like it's starting - I know we've done a lot of races now, but there's still so much more for me and the team to deliver. To already think next year seems premature.
"We've definitely got an idea of what we need to be improving; unfortunately, when we tried to address those things with the upgrade in France, it didn't seem to tackle all of them. We know what we've gotta do. Myself and Nico [Hülkenberg] are giving the same feedback on where we feel the car can be stronger and where the weaknesses lie. I think we've pinpointed it but executing it is taking a bit of time."
Are you looking forward to Silverstone this weekend?
"I really like Silverstone – hopefully it's not this weather. I don't think I've actually turned a lap in the Renault F1 car in the rain yet. But Silverstone's cool, I love the atmosphere. It's a high-speed circuit so you really feel the downforce - that and Suzuka, those are the two tracks where you feel the aero most. And it's like a festival atmosphere: rain, hail or shine, everyone seems to show up."
This year is your eighth in F1. Are you still in love with the sport despite everything?
"Absolutely. Like everything you have your days – especially in the last year [at Red Bull] some days I did hate it – but I do love it I'm still very motivated and optimistic. That hasn't wavered over time."