Andrew Jordan secured the first Kwik Fit British Touring Car Championship win for the new BMW 3 Series in its first race weekend – but Honda Civic Type R driver Josh Cook left Brands Hatch leading the points after a superb victory in the opening race.
Rory Butcher claimed glory in the final race of the day, after on-the-road victor Tom Chilton (Ford Focus RS) was penalised for contact with a rival.
Former champion Ash Sutton started the opening race of the day at the 1.2-mile Kent track from pole position in his BMR Racing Subaru Levorg and, along with the eight drivers behind him on the grid, opted for wet tyres on a damp track. Cook started tenth, and was the first driver to gamble on running dry slick tyres.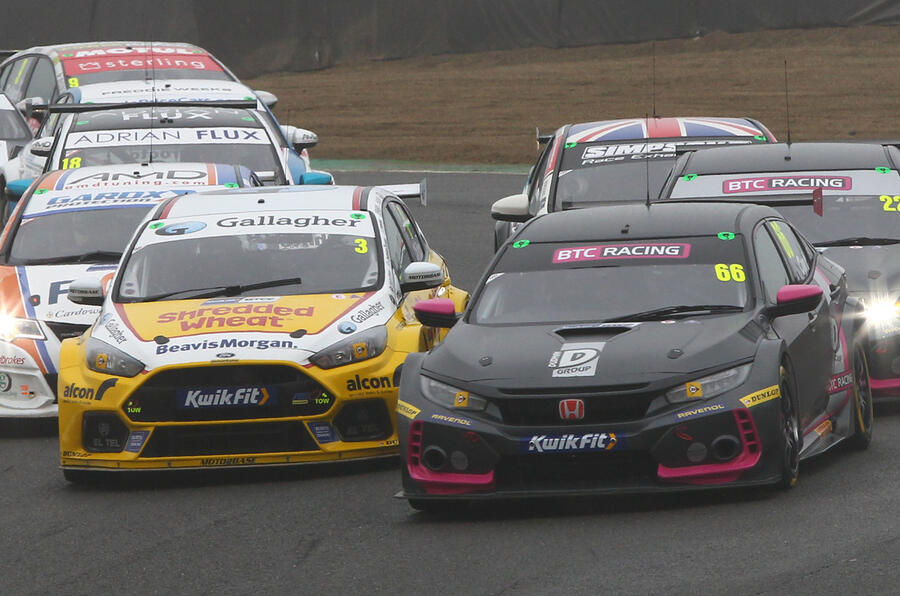 Sutton built a big early lead over Colin Turkington (Team BMW 3 Series), but once the track dried slightly the drivers on wets offered little opposition to their slick-shod rivals.
Cook charged up the order and easily took the lead, quickly building a huge gap. Jake Hill fought his way to second in his Trade Price Racing Audi S3 ahead of Chilton. Sutton fell to ninth, with Jordan finishing 15th after also struggling on wets.
BTCC EXCLUSIVE | VIDEO: Race 1 in 60 seconds

Adam Morgan fought his way up to third in his Mercedes A-Class, with Cook eventually slipping to seventh.

BTCC EXCLUSIVE | VIDEO: Round 2 in 60 seconds BMW 1 Series to quickly grab the lead.

Neal fought back past Jelley on lap seven, with Chilton following through a lap later. When Neal's tyres began to fade Chilton battled his way past, before Neal and Jelley both lost ground with a late-race clash, allowing Butcher into second in his old-shape Civic Type R.