The Skoda Vision E concept, which previews a 300bhp all-electric crossover that's due to go on sale in 2020, has been revealed ahead of its official unveiling at next month's Shanghai motor show, along with sketches of the car's interior.
The Skoda Vision E has now been officially revealed - get full details here
The concept is based on the Volkswagen Group's new MEB 'skateboard' platform and is set to offer a value-for-money alternative to the Tesla Model X when it makes production in two years' time. It could earn the name Aratan, which was recently trademarked by Skoda.
At 4.64m long and 1.92m wide, the Vision E is a little shorter and wider than Skoda's new Skoda Kodiaq SUV and features a modern interior with four rotatable seats. The production car is likely to feature five seats - Skoda highlights the lack of transmission tunnel for passenger space - and it's already confirmed to have a large boot.
Inside, Skoda's designers have created a new interior architecture with a sweeping dashboard centred on a 12in touchscreen, which is centrally mounted and arranged in conventional 'landscape' format.
New to Skoda is dash architecture designed with a prominent step on which the driver can steady their hand as functions are selected on the move, and a two-spoke, multi-function wheel and a second flat screen for basic driving functions also feature. Rear passengers also get infotainment touchscreens, built into the backs of the front seats. An inductive phone charging boxes are built into each door.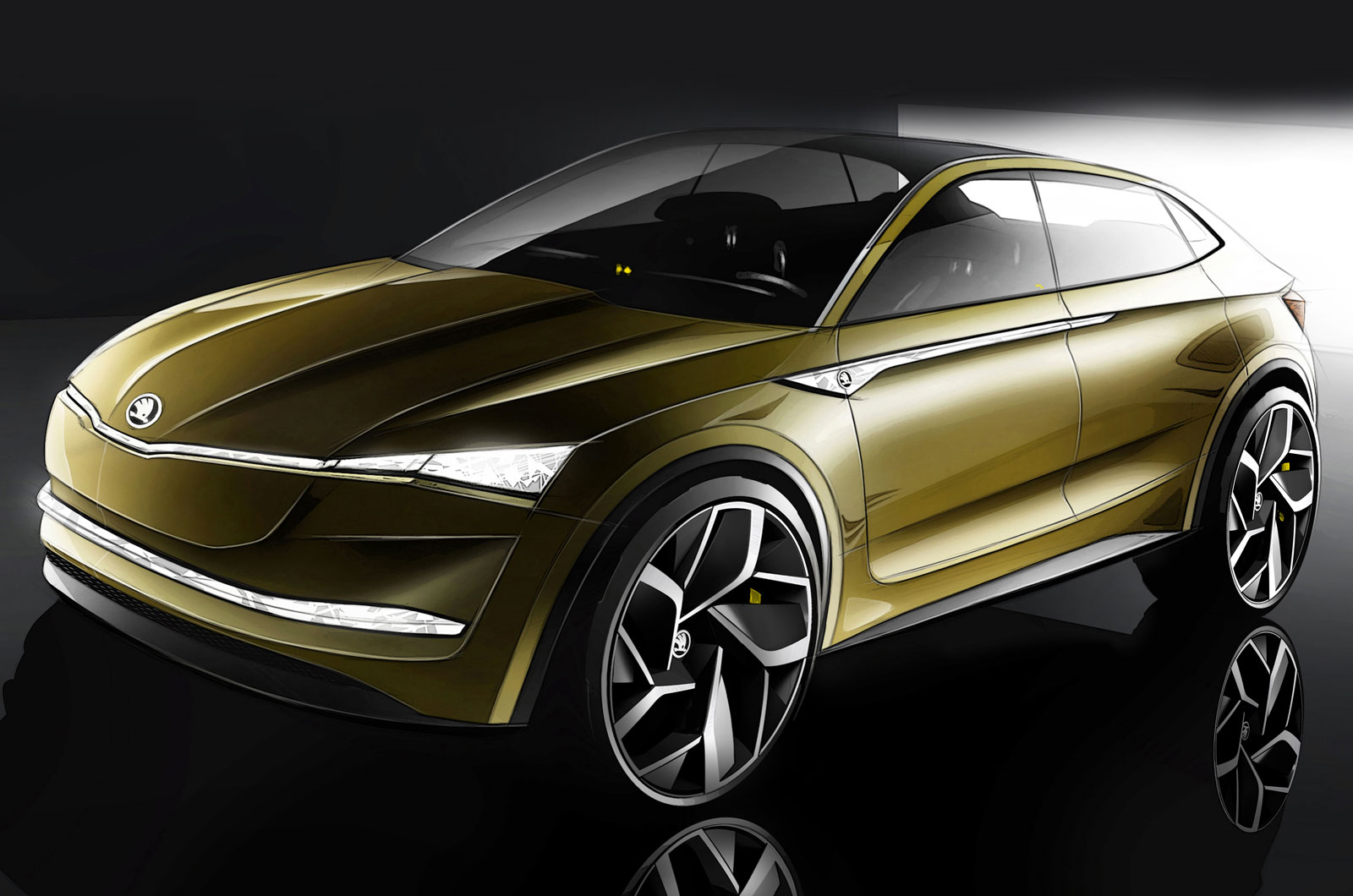 Sitting on the same platform as Volkswagen's ID concept, which we have driven, the Vision E previews Skoda's first-ever electric production car and catapults the Czech car maker into the world of all-electric powertrains.
"Our Strategy 2025 has electrification at its heart," said Skoda CEO Bernhard Maier. "The Vision E shows our intent and how our design language will evolve." The concept has rear-hinged rear doors and front-hinged front doors, eliminating the need for a B-pillar.