The Mercedes Generation EQ concept, a 402bhp four-wheel-drive electrically powered SUV concept, has been unveiled at the Paris motor show.
The concept reveals the contemporary styling, zero-emission drivetrain technology, heady performance targets and naming of the German car maker's first dedicated electric vehicle.
Mercedes-Benz unveils electric EQA hatchback concept
Called the Generation EQ, the high-riding SUV is planned to go into production in 2019 as an electric rival to the likes of the Audi e-tron quattro, Jaguar E-Pace and Tesla Model X, boasting a lithium ion battery that is claimed to provide it with a range of up to 310 miles between recharging. As with AMG, Smart and Maybach, EQ is set to become a sub-brand within the Mercedes-Benz group.
As well as previewing Mercedes-Benz's first uniquely styled series production electric vehicle, the concept also provides an insight into new electric vehicle platform structure, autonomous driving technology, connectivity solutions and safety features developed for a range of electric vehicles that will be sold under the EQ name – a play on the term IQ and standing for 'Electrical Intelligence'.
Mercedes boss Dieter Zetsche confirmed the model for production, saying: "We'll see this car out on the road within three years from now - at the price range of a reasonably equipped Mercedes-Benz GLC". He also confirmed that the model would spearhead the EQ electric sub-brand created by Mercedes-Benz: "By 2025 we'll have more than 10 fully electric vehicles on the market. We are developing a entirely new vehicle architecture. Our goal is to have electric vehicles make up between 15 and 25 per cent of our global sales by 2025."
"We are investing 1 billion Euros in our global battery production - this includes 500 million Euros in our second battery plant in Germany"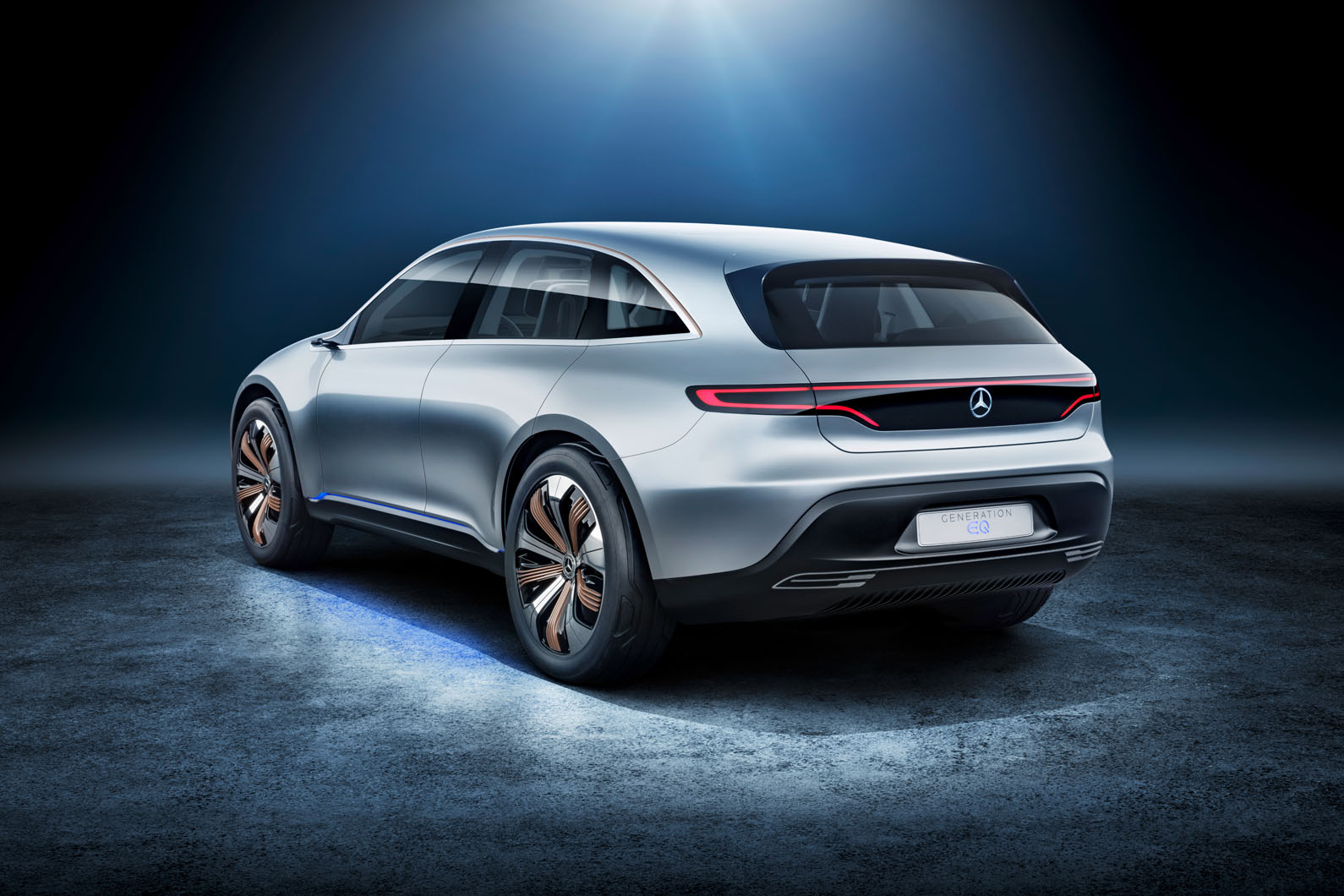 Zetsche said: "The mobility of the future at Mercedes-Benz is supported by four 'pillars': Connected, Autonomous, Shared and Electric. The Generation EQ brings all of these together on a brand new vehicle architecture for battery powered vehicles."
The new five-door SUV adopts traditional proportions with a pronounced bonnet line and tall glasshouse that runs back to an angled tailgate. There are certain similarities to the GLC Coupé in the overall silhouette and dimensions, but unique exterior detailing, including an illuminated panel incorporating the headlights and three-pointed star emblem and a similar treatment housing the tail-lights at the rear, ensures the Generation EQ stands out from Mercedes' more conventional offerings.