You are looking at Porsche's new mid-engined 718 GTS models, which are on display at the LA motor show as the most driver-focused variants of Stuttgart's current Cayman and Boxster line-ups.
First revealed in the series of photographs shown here, the new roadster and coupé pairing's boxer engine receives a new intake system and changes to its turbocharger. Power output duly climbs by 15bhp beyond the less heavily tuned version of the engine used by the 718 Boxster S and 718 Cayman S at 361bhp.
This provides the new 718 Boxster GTS with 35bhp more and the new 718 Cayman GTS with 25bhp more than their predecessor models launched in 2014, both of which ran the same naturally aspirated 3.5-litre flat six-cylinder but with respective outputs of 325bhp and 335bhp. Torque is also up 37lb ft over the old Boxster GTS and Cayman GTS at 317lb ft on a band of revs between 1900 and 5000rpm.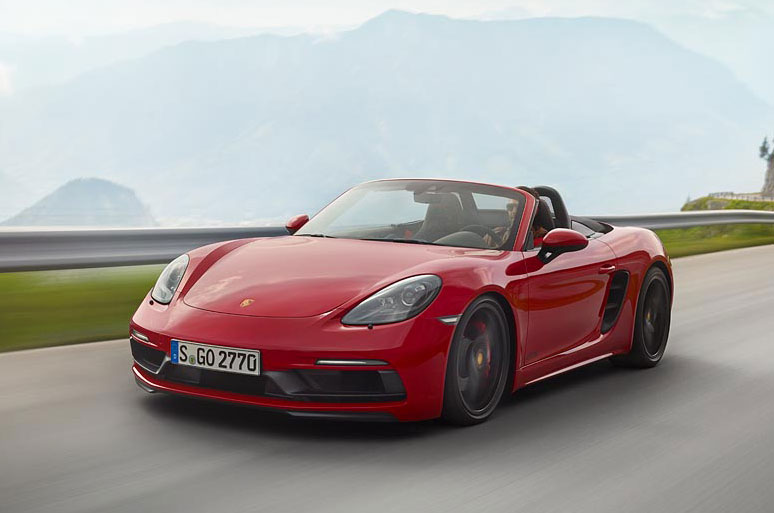 The increased reserves are channelled through a standard six-speed manual gearbox or optional seven-speed dual clutch automatic via a mechanical rear differential and electronically controlled torque vectoring function to the rear wheels.
In combination with the dual clutch automatic gearbox, which features a launch control function, and standard Sport Chrono Package, Porsche claims the new 718 Boxster GTS and 718 Cayman GTS are capable of reaching 62mph from standstill in 4.1sec and a top speed of 180mph – a respective 0.2sec quicker and 4mph faster than predecessor models.
The adoption of a smaller capacity engine with forced induction has allowed Porsche to boost performance without any significant change in fuel consumption and CO2 emissions over the old Boxster GTS and Cayman GTS at 34.4mpg and 186g/km.
Distinguishing the new 718 Boxster GTS and 718 Cayman GTS from their less powerful siblings are a series of subtle styling changes, including a lightly altered front bumper, black tinted headlights and tail-lights, a more prominent diffuser element within the rear bumper and centrally mounted black tailpipes as part of a standard sport exhaust system. There are also black GTS badges at the base of the doors, standard 20in alloy wheels painted in a black satin finish and a 10mm reduction in ride height as part of the chassis changes brought on by the adoption of Porsche's Active Suspension Management system as standard equipment.