Morgan has unveiled a new £80,000 roadster, called Plus Six, as the first of a planned series of models to use the company's brand-new 'wide body' aluminium chassis.
The Plus Six, shown for the first time at Geneva and making its dynamic debut at the 2019 Goodwood Festival of Speed, retains the distinguishing features of the outgoing Plus 8 – flowing front wings, running boards, round headlights and the famous 'waterfall' grille – but is a new design in every detail.
All the news from the Goodwood Festival of Speed 2019
The Plus Six is the first all-new Morgan since the Aero 8, revealed 19 years ago. It is powered by BMW's latest B58 in-line petrol turbo six, producing 335bhp and driving through an eight-speed ZF paddle-shift automatic. There is new Morgan-designed suspension, all independent by double wishbones in the front and a five-link system in the rear.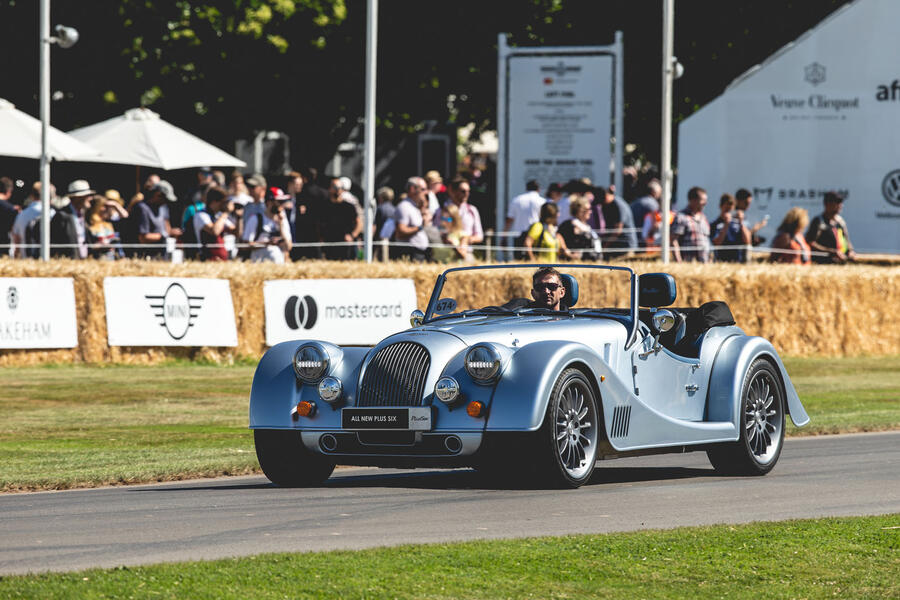 The new car is very light: its extra equipment and crash structure add almost nothing to the 1075kg kerb weight of the outgoing V8-powered Plus 8. This should make the Plus Six the fastest production Morgan in history, pushing the top speed into the 170mph bracket. Despite this, the CO2 output is an impressively low 170g/km.
Morgan has named its new chassis CX, Roman numerals that mark the firm's 110-year anniversary. The new structure uses the same bonded aluminium construction principles as its predecessor but includes more sophisticated crash structures front and rear, and integrated rather than bolt-on suspension mountings for rigidity and weight saving.
The new CX chassis provides around 20cm more cockpit length to accommodate bigger drivers, allows bigger doors and leaves decent luggage space. The car's length and width are almost identical to a Plus 8's, but the wheelbase is 18mm longer. The body is supported, according to Morgan tradition, by an English-grown ash wood frame.