Pininfarina celebrated its 90th anniversary by introducing a limited-edition variant of the electric Battista, named Anniversario. The Mahindra-owned design house-turned-carmaker also revealed key details about how it plans to bring its electric hypercar to production and deliver the first examples in 2020.
Luca Borgogno, the company's chief design officer, explained his team created the Anniversario's two-tone livery after browsing Pininfarina's vast catalogue of past designs. "It takes three weeks to complete the paint. It's painted entirely by hand, even the blue pinstripe that separates the grey and the white," he told Autocar. The Battista's body notably needs to be disassembled after each coat of paint, which partially explains why Anniversario production is strictly limited to five not-inexpensive examples.
The Anniversario inaugurates a package named Furiosa that adds a front splitter, side blades, and a wider air diffuser. The carbonfibre add-ons make the car quicker around corners by creating downforce, according to Borgogno. The package is standard on the Anniversario and optional on the standard Battista, though its price hasn't been set yet. Edition-specific logos add a finishing touch to the look.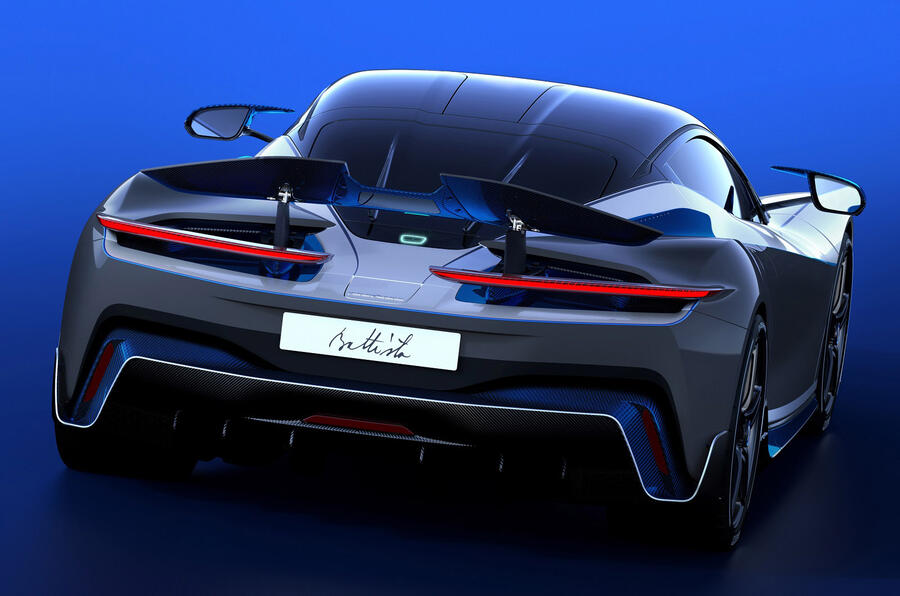 Centre-locking forged aluminium wheels wrapped by Pirelli P-Zero tyres reduce unsprung weight by 10kg. They'll join the body kit on the Battista's list of options. The cabin receives redesigned seats, which will also be available on the standard Battista, and blue accents that match the exterior pinstripe.
Looking beyond the commemorative, colour-coded modifications, the Anniversario model illustrates the subtle changes Pininfarina made to the hypercar since publicly unveiling it as a close-to-production concept at the 2019 edition of the Geneva motor show. They include a more ergonomic steering wheel made taller and narrower as well as a relocated charging port surrounded by LED lights.
"We want our cars to be recognisable, to have kind of a trademark. You're familiar with Apple computers; you've seen how the logo glows on the back. We wanted to offer something similar to our customers. The charging port lights up when the car is plugged in so you'll be able to recognise a Pininfarina from a distance. This will be on every car we produce in the future," Borgogno pointed out.