Alpine has shown two racing versions of its A110 sports car at the Goodwood Festival of Speed.
The Alpine A110 GT4 (pictured, top) can race in any series that allows cars conforming to the FIA GT4 rulebook, the lowest level of the GT classes. That means it can race in British GT but not at the Le Mans 24 Hours. The GT4 variant joins the previously revealed A110 Cup, which will be used for a one-make Alpine Europa Cup.
Building on the base of the regular A110, the racing models feature more powerful engines, lightened chassis and slick competition tyres. Both versions have been engineered with input from Signatech, Alpine's World Endurance Championship racing partner, and Renault Sport. The GT4 is marked out most obviously by of a large fixed rear wing.
Alpine has yet to confirm performance figures for the GT4 racer, but the company revealed last year that the Cup used the A110's turbocharged 1.8-litre engine in retuned form to produce 266bhp, 18bhp more than the road car. This is 10bhp short of the Renault Mégane RS that uses the same unit. But thanks to the A110 Cup's lighter 1050kg weight, the power to weight ratio is 253bhp per tonne. It's likely that the GT4 will exceed this number.
The final figures will be subject to the GT4 'balance of performance' system, in which the FIA tests every eligible car and then modifies its performance levels to ensure relative parity. 
The A110 Cup sends drive to its rear wheels via a six-speed sequential gearbox, specifically developed for this application by Signatech and French engineering firm 3MO, which specialises in sequential gearboxes for competition cars. The car features paddle shifters mounted behind the steering wheel, as well as adjustable controls for the engine mapping, traction control and ABS.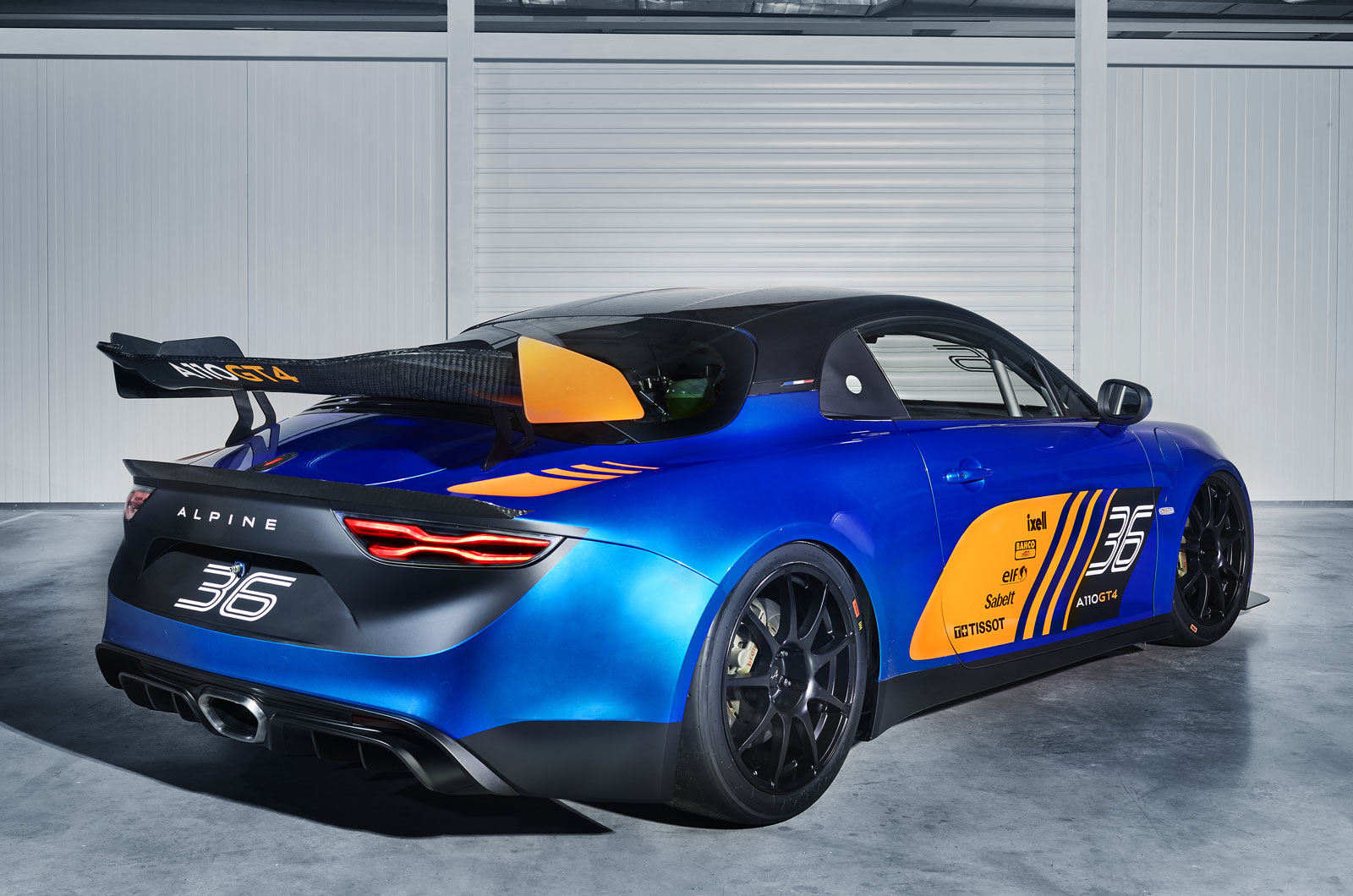 As part of its racing makeover, the A110 Cup's interior has been completely stripped and fitted with a custom roll cage. Its monocoque chassis has also been adapted, with strengthened mounting points for the car's Öhlins adjustable suspension to bolt onto.
The chassis hardware has been beefed up in order to handle the additional load generated by the car's Michelin slick tyres. Treaded rubber is also available for wet conditions. Braking is handled by six-piston Brembo calipers that work with 355mm (front) and 330mm (rear) discs.
Alpine says the car's set-up and geometry have been fine-tuned with input from engineers at Signatech, which runs Alpine A470 LMP2 cars in the WEC, and Renault Sport. Signatech racing drivers Nicolas Lapierre and Nelson Panciatici have also been on hand during the car's development. Alpine said the objective for the car was to make it fast yet forgiving to drive.