Ginetta, the Leeds-based sports and racing car manufacturer, is launching a shock new 200mph Ferrari-priced supercar in the most spectacular way it can think of – by unveiling a fully finished, ready-to-drive version at Geneva's Palexpo, scene of the world's most popular motor show.
Car makers routinely leak news and images before they have much to show, to build anticipation. But Ginetta has ignored the window dressing and built its new Akula supercar to completion in total secrecy, depending on impressive technical capability developed over a decade, and sustained by the sense of destiny of its owner Lawrence Tomlinson, former Le Mans class winner and incorrigible lover of fast cars.
The £340,000 Akula is a low, aggressively styled but essentially practical front/mid-engined coupé. It has a bespoke, all-carbonfibre tub chassis built alongside the company's race cars and clad with carbonfibre body panels. It is shaped for an aerodynamic performance normally not possible in road cars and powered by an extremely light and compact Ginetta-designed 90deg V8 engine of just over 6.0 litres, producing around 600bhp and 520lb ft of torque. The gearbox is a unique Ginetta-developed creation, a six-speed sequential paddle-shift unit with the diff connected to the engine (and multi-plate clutch) by a short carbonfibre tailshaft.
The engine, dry sumped and fuelled by Ginetta's own throttle bodies, has its block milled entirely from billet aluminium for extreme lightness and strength. The very compact unit is normally aspirated for instant throttle response. Ginetta's codename for it was BB6 (the '6' standing for 600bhp) and Tomlinson admits he's already considered a BB10. With the engine in place, the car weighs just 1150kg, undercutting mid-engined rivals by at least 150kg and the heaviest by 350kg.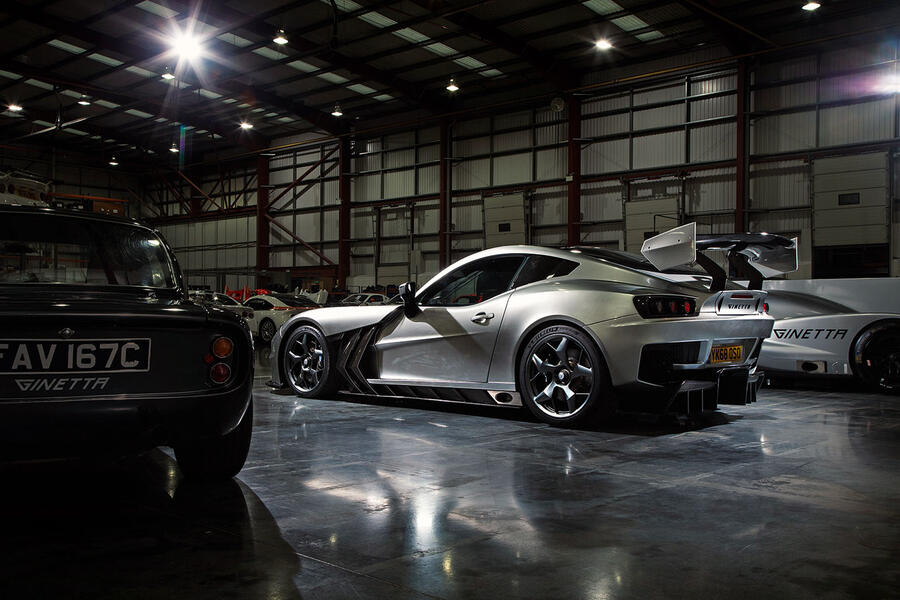 Tomlinson cheerfully admits his supercar project is completely new territory for the company he bought 13 years ago as something of a sports car underachiever (after failing to buy TVR) and has built it up into a race-minded technology powerhouse. An engineer by training, and one who designs and develops his own car, Tomlinson has already driven the new supercar in anger at Blyton Park, a test and sprint track he owns, and will start on the fine-tuning as soon as he gets back from Geneva.