The Toyota Yaris GRMN hot hatch produces a peak of 209bhp at 6800rpm, the brand's performance arm Gazoo Racing has confirmed in Frankfurt.
Powered by a 1.8-litre supercharged engine, the Yaris outpunches rivals such as the 197bhp Ford Fiesta ST200 and 205bhp Peugeot 208 GTi.
The car's highly strung four-pot also makes a peak of 184lb ft, enabling it to accelerate from 0-62mph in a claimed 6.3sec and reach an electronically limited 143mph top speed.
Toyota says its car weighs 1135kg, making it one of the lightest models in the segment. It sits on 17in BBS alloy wheels and Sachs performance shock absorbers.
Toyota Yaris GRMN prototype driven
Despite other cars in the class turning to five-door only bodystyles and the regular Yaris coming in both three and five-door forms, the hot Yaris will be offered as a three-door only.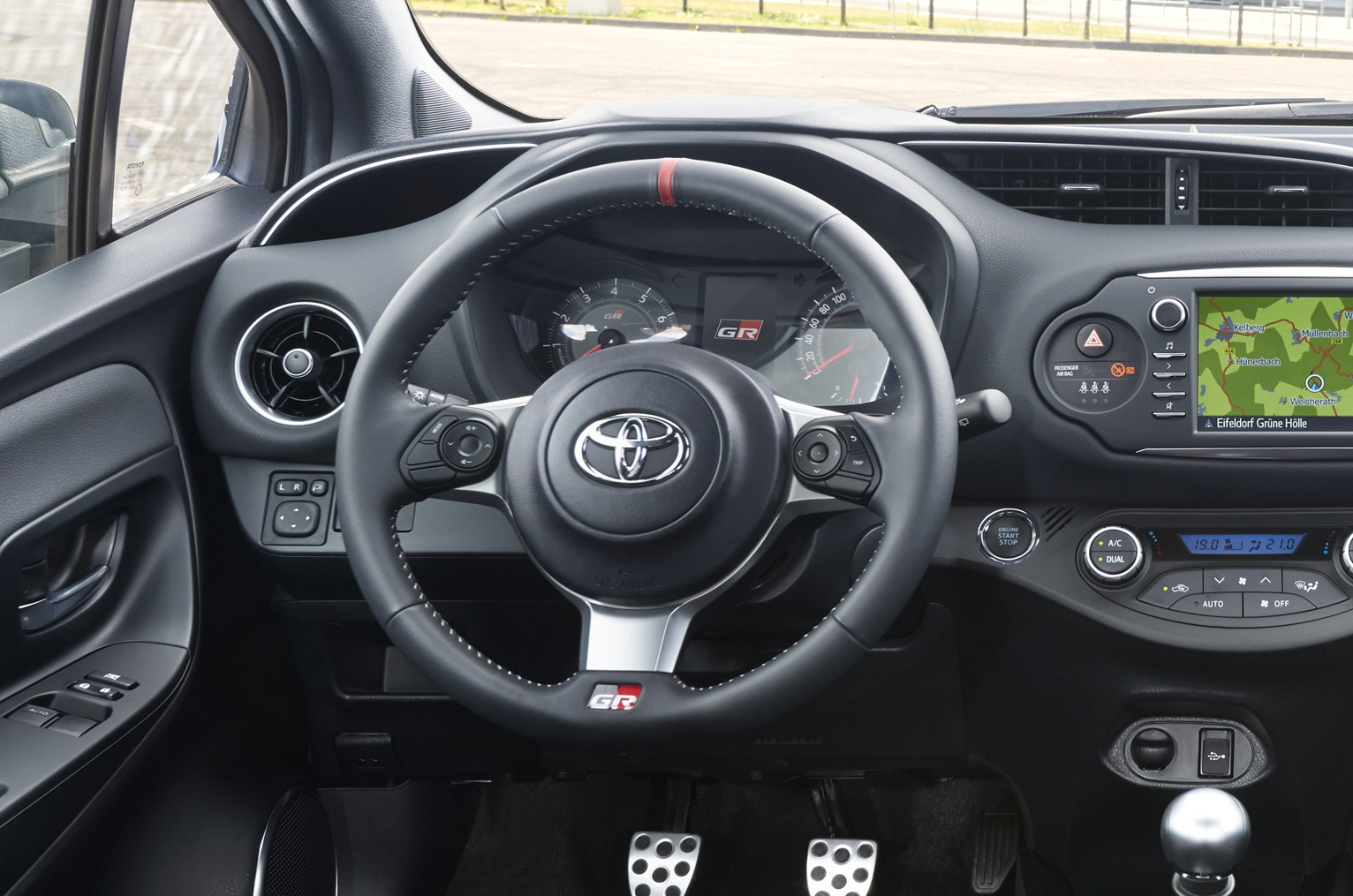 Just 400 examples of the Yaris GRMN are destined for Europe. Buyers can pre-order now, with prices starting from £26,295.
Toyota's hot hatch takes the GRMN name of Toyota's Gazoo rallying outfit's special edition Toyota road cars. Previous GRMN models, including the GT86, 2013-spec Yaris (Vitz) and the iQ, were sold exclusively in Japan.
More content:
Read more: What does 'Gazoo' mean?
The new standard Toyota Yaris has been revealed - see it here
used Toyota Yaris 2013-2020 cars for sale
Toyota YARIS 1.5 VVT-h Design E-CVT Euro 6 (s/s) 5dr
Toyota Yaris 1.5 VVT-h Y20 E-CVT Euro 6 (s/s) 5dr
Toyota YARIS 1.33 Dual VVT-i Sport Euro 5 5dr Euro 5
Toyota Yaris 1.33 Dual VVT-i Icon Multidrive S Euro 5 5dr Euro 5
Toyota Yaris 1.5 VVT-h Icon Tech E-CVT Euro 6 (s/s) 5dr
Toyota Yaris 1.5 VVT-h Icon Tech E-CVT Euro 6 (s/s) 5dr
Toyota Yaris 1.5 VVT-h Icon E-CVT Euro 6 5dr
Toyota Yaris 1.5 VVT-i Y20 Bi-tone Euro 6 5dr
Toyota Yaris 1.33 Dual VVT-i Icon Euro 5 5dr Euro 5
Powered By