For the past 20 years, car manufacturers competing in the World Rally Championship haven't really known how to draw a tangible link between their road cars and their mud-splattered competition machines.
Not since the late 1990s have they been required by the rules to build road-going versions of their special stage weapons, which has meant that, for the most part, rally cars and road cars have shared scarcely any DNA.
The Yaris GRMN has been revealed
The Toyota Yaris GRMN is Toyota's attempt to make the bewinged beasts that fly over Finnish crests at 100mph seem more closely related to the showroom models. Unlike its rallying sibling, however, the Yaris GRMN isn't four-wheel drive, it doesn't have bundles of power and it isn't particularly fast.
To you and me, GRMN is as unfamiliar as it is clumsy to say aloud. It has actually been around in Japan for several years already, but now Toyota is launching the performance brand in Europe. The badge will be reserved for its sportiest, range-topping models. Toyota won't confirm anything for the time being, but GRMN versions of the GT86 and forthcoming Supra might well be on their way to Europe.
Those four letters stand for Gazoo Racing Meister of Nürburgring, which probably sounds more poetic to a native Japanese speaker than it does to the rest of us. Gazoo Racing is the in-house division that runs Toyota's LMP1 programme, while 'Meister of Nürburgring' refers to the Nordschleife wizards who will test and develop the cars, working partly out of the company's permanent facility near to the 'Ring.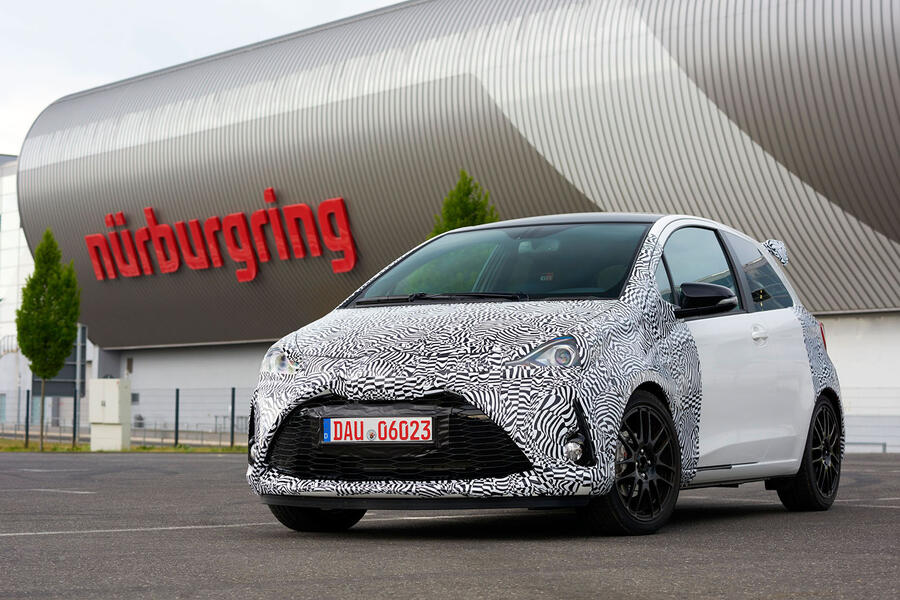 The Yaris GRMN will be limited to just 400 units in Europe, with no more than 100 coming to the UK. It will cost £26,295 and uses a 1.8-litre supercharged four-cylinder that will develop about 210bhp. Toyota's stated objective for the Yaris GRMN is bold: for it to be the lightest, fastest and most powerful car in its class. It remains front-wheel drive, although the body structure has been stiffened and the springs and dampers are bespoke. There is even a Torsen limited-slip differential.