The new third-generation Porsche Cayenne Turbo has been revealed at the Frankfurt motor show.
Following on the from the new 335bhp turbocharged 3.0-litre V6 powered Cayenne and 434bhp turbocharged 2.9-litre V6 Cayenne S revealed in Stuttgart in late August, the new range topping Porsche SUV receives a new turbocharged 4.0-litre V8 developing 29bhp and 15lb ft more than the earlier second-generation model's turbocharged 4.8-litre V8 at 534bhp and 568lb ft.
The boosted reserves are channelled through a new eight-speed torque converter equipped automatic gearbox and electro-hydraulic four-wheel drive system, with Porsche claiming a 0-62mph time of just 3.9sec in combination with the new SUV's optional Sport Chrono Package. That's 0.4sec faster than its predecessor and 0.2sec faster than the previous Cayenne Turbo S.
Without the Sport Chrono Package, the new Cayenne Turbo matches the 0-62mph time of the earlier Cayenne Turbo S at 4.1sec.
An active aerodynamic package featuring a spoiler that deploys from atop the tail gate also provides the new Porsche model with a claimed top speed of 178mph. This is up by 7mph on the previous generation Cayenne Turbo.
Fuel consumption and CO2 emissions are put at 24.1mpg and 267g/km respectively. This compares to the previous model's 25.2mpg and 261g/km.
The active spoiler, a first for the Cayenne, acts as both a spoiler to increase downforce and an airbrake under braking, stopping the car two metres sooner from 155mph, Porsche claims, as well as optimising efficiency in everyday driving.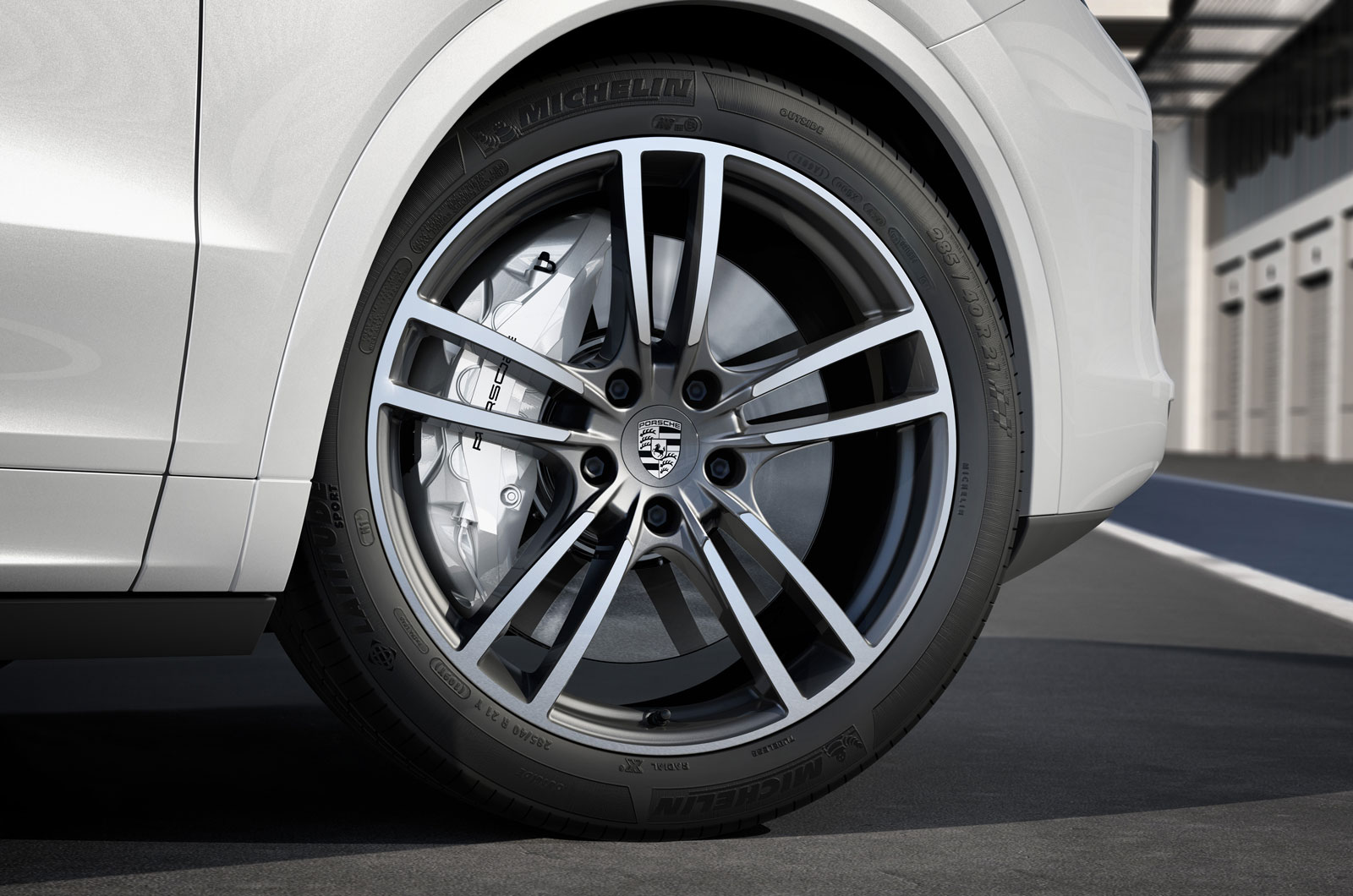 The steel disc brakes have been coated in tungsten carbide, which reduces brake dust, increases performance and decreases wear, although ceramic composite brakes are available as an option.
The new Cayenne Turbo receives the same new exterior styling as other new Cayenne models but with a more aggressively styled front end, widened wheel arches housing standard 21-inch wheels shod with 285/40 front and 315/35 rear tyres and trapezoidal tailpipes.