In most London taxis, the intercom microphone to talk to the driver is located in the roof of the car. But in the new London Electric Vehicle Company (LEVC) TX taxi, the microphones are in the window pillars in front of the rear seats.
A trivial change? Not at all, because when most passengers talk to the driver, they lean forward – lining up almost perfectly with that pillar-mounted microphone.
German version of LEVC TX shown at Frankfurt
Sure, there are bigger things to admire about the TX taxi, such as the powertrain, which features a 145bhp electric motor alongside a range-extending petrol engine. By default, that 1.3-litre engine (which doesn't recharge the battery, so it doesn't encourage inefficient driving) only kicks in when the 70 miles or so of electric power is depleted. However, it can also be deployed manually, allowing cabbies who live in the suburbs to drive in under petrol power before switching to electric when they reach zero-emissions zones. (From the start of 2018, all new London taxis must be capable of zero-emissions running.) In total, the TX offers around 400 miles of range, around 80 more than the current, diesel-powered TX4.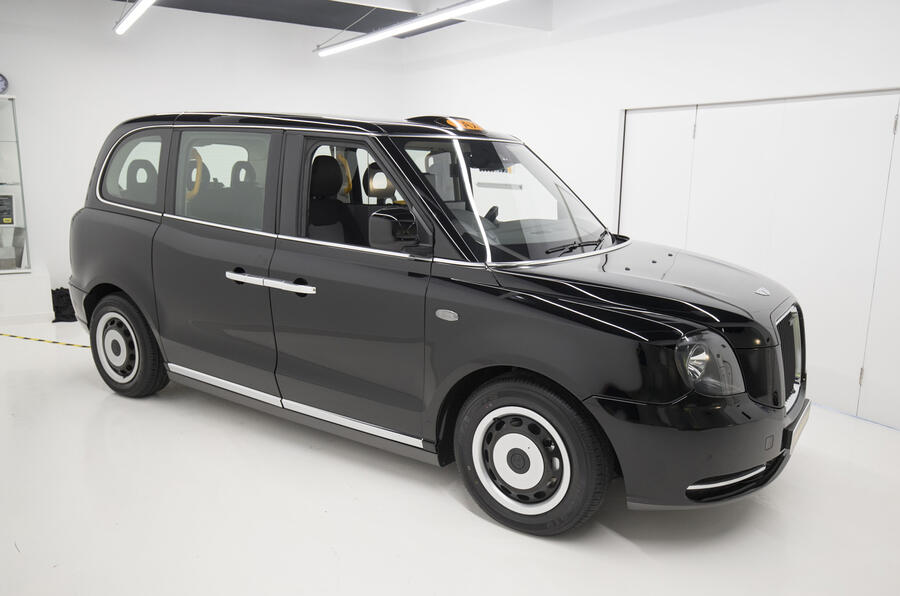 You could also admire the TX's bonded-aluminium architecture, which helps offset the weight of the powertrain. Then there's that famously tight turning circle (8.535m, since you asked), which requires front wheels that turn up to 68deg. By comparison, the wheels of a typical SUV turn 38deg.
So there are plenty of big things to admire about the TX. But from where I'm sitting, it's the small details that stand out. Such as the microphone. Or the four USB ports, 230V power point and on-board Wi-Fi. That's because where I'm sitting is the back of a prototype TX cab, which is negotiating the tight streets of Highgate in north London.