Infiniti will launch a standalone electric model in 2019, which will be shown in concept form at next year's Detroit motor show.
Design boss Alfonsa Albaisa confirmed the electric model would not be a derivative of an existing model and would instead be an all-new vehicle, following in the footsteps of brands such as Volkswagen and Mercedes who are choosing to create electric-only models.
Albaisa was talking at the Quail, part of Monterey car week, where Infiniti was showing its Prototype 9 heritage-inspired race car, which uses an electric motor. Albaisa said that we would see "parts of the car in a difference context" on the electric concept at Detroit.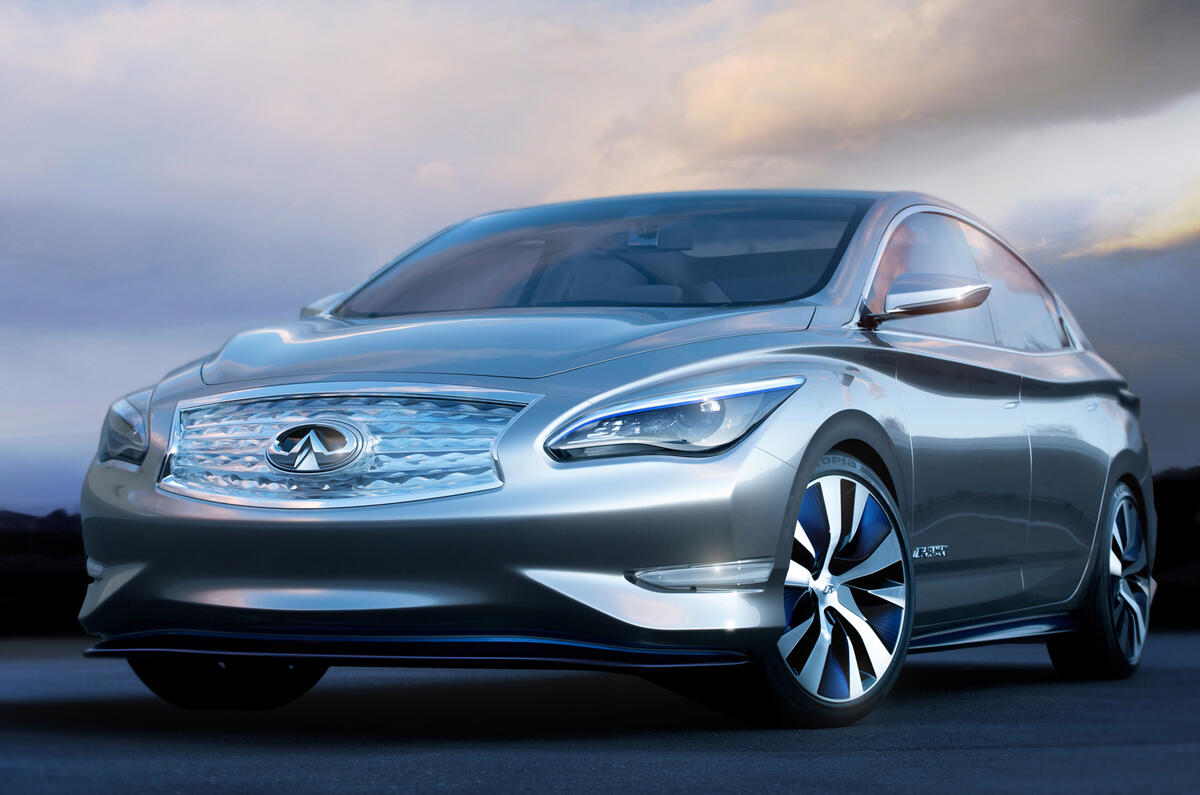 Albaisa also confirmed the electric car would be on a new platform, rather than sharing a platform with the Nissan Leaf, its parent company's electric offering.
Earlier this year, Infiniti boss Roland Krueger told Autocar an electric model was coming and that he had already driven an early prototype, describing it as "very good".
Krueger added that it was important that an electric vehicle maintained Infiniti's values of performance and handling - a forte of its hybrid offerings, he said. "We want it to have a unique Infiniti driving experience."
Krueger also referred to parent company Nissan's expertise in electric vehicles. "There are lots of engineering competencies we can tap into and utilise."
Infiniti's last foray into full electrification was a concept revealed in 2012. Called LE (pictured above), it used a 134hp electric motor with 240 lb ft of torque and a 24kWH lithium-ion battery.
Infiniti and Mercedes-Benz end small car platform co-operation
used Hyundai i30 cars for sale
Hyundai I30 2.0 T-GDi N Performance Euro 6 (s/s) 5dr
Hyundai I30 1.4 Active Euro 5 5dr
Hyundai I30 2.0 T-GDi N Performance Euro 6 (s/s) 5dr
Hyundai I30 1.6 CRDi Comfort Euro 4 5dr
Hyundai I30 1.0 T-GDi N Line Euro 6 (s/s) 5dr
Hyundai I30 1.4 Active Euro 5 5dr
Hyundai I30 1.0 T-GDi SE Nav Tourer Euro 6 (s/s) 5dr
Hyundai I30 1.4 Classic Euro 5 5dr
Hyundai I30 1.4 T-GDi Blue Drive Premium DCT Euro 6 (s/s) 5dr
Powered By