Elon Musk has sent his Tesla Roadster into space in the nose of his new SpaceX Falcon Heavy rocket.
The car, Musk's own example of his car company's first model, is mounted in the tip of the new rocket and is being thrust into an orbit around the Sun.
During the launch this evening, the car was captured on camera playing David Bowie's Space Oddity through its sound system. It features a copy of The Hitchhiker's Guide to the Galaxy and a towel with 'Don't Panic' (from the story) on it in the glovebox. A dummy wearing a SpaceX suit is sat in the driver's seat (see gallery).
The Roadster has first entered a Low Earth Orbit attached to the rocket, but after passing through the Van Allen radiation belt (a potentially dangerous region held in place by our planet's magnetic field) it will head towards Mars. The car will then be released from the rocket and pass close to the red planet on its own.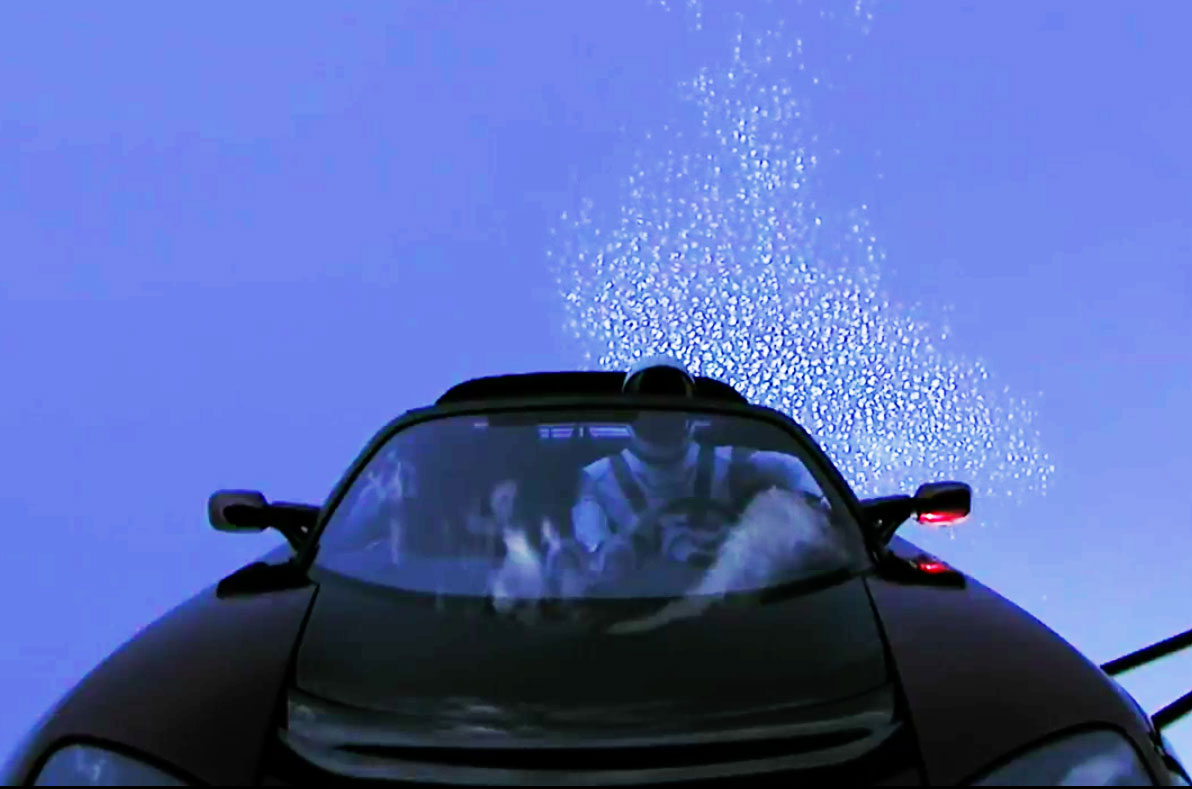 SpaceX mounted cameras to the Roadster to capture the journey as it unfolds. The Roadster is the first consumer car to be sent into space and the fourth car overall, following the Moon buggies of the Apollo missions.
SpaceX, which Musk also owns, is using the car to demonstrate the Falcon Heavy's ability to carry large payloads into space. The rocket is claimed to be capable of holding up to 63.8 tonnes of cargo – the equivalent of 49 Roadsters – for a journey into Low Earth Orbit. It can carry 16.8 tonnes to Mars.
The Falcon Heavy is powered by 27 Merlin engines spread across three main structures. All three are planned to return and land on Earth - the first two are already down - once the mission is complete. This would be the first time all three segments have been recovered.
Musk's plan is providing both of his brands with extensive global coverage. The Mk1 Roadster's successor was revealed late last year with bold claims that it can race from 0-62mph in 1.9sec and has a 620-mile range, thanks to a 200kWh battery pack.
Like the Roadster, the Falcon Heavy comes with claims of class-leading specifications. Its maximum payload is more than 2.5 times what NASA's now-retired Shuttle could carry and it is claimed to be capable of taking 3.5-tonnes of cargo to Pluto.
More content:
Tesla Semi launched with 5sec 0-60mph time
Will the Model 3 make or break Tesla?