It's Stig of the Dump meets Don Johnson - a chop-top Ferrari Testarossa crudely stiffened and finished in primer; the antidote to all those gleaming Rosso Corsa Ferraris piloted once a year by meticulously groomed squillionaires, dressed to impress in prancing horse regalia. It belongs to Scott Chivers, a man with interesting views on Ferraris and owning them...
"I have red Ferraris but it's not my favourite colour and I don't drive the cars to be seen," he says. "My daily driver is a black 360 Challenge Stradale. I've owned it for eight years and done 50,000 miles in it. I go to the shops and take my kids to school in it. I love the fact it's used – and looks it."
His Testarossa, or Ratarossa as he calls it (a name inspired by the term 'rat', short for 'recycled automotive transport' exemplified by superficially rusty split-screen Type 2 Volkswagens), is the ultimate expression of Scott's Ferrari philosophy. Its grey body is rough and rippled, the engine cover is barely secure, the slender metal stiffening beams are visible between the sills and seats, the door cards flap around and the leather trim around the A-posts and behind the seats is as neat as my gift wrapping...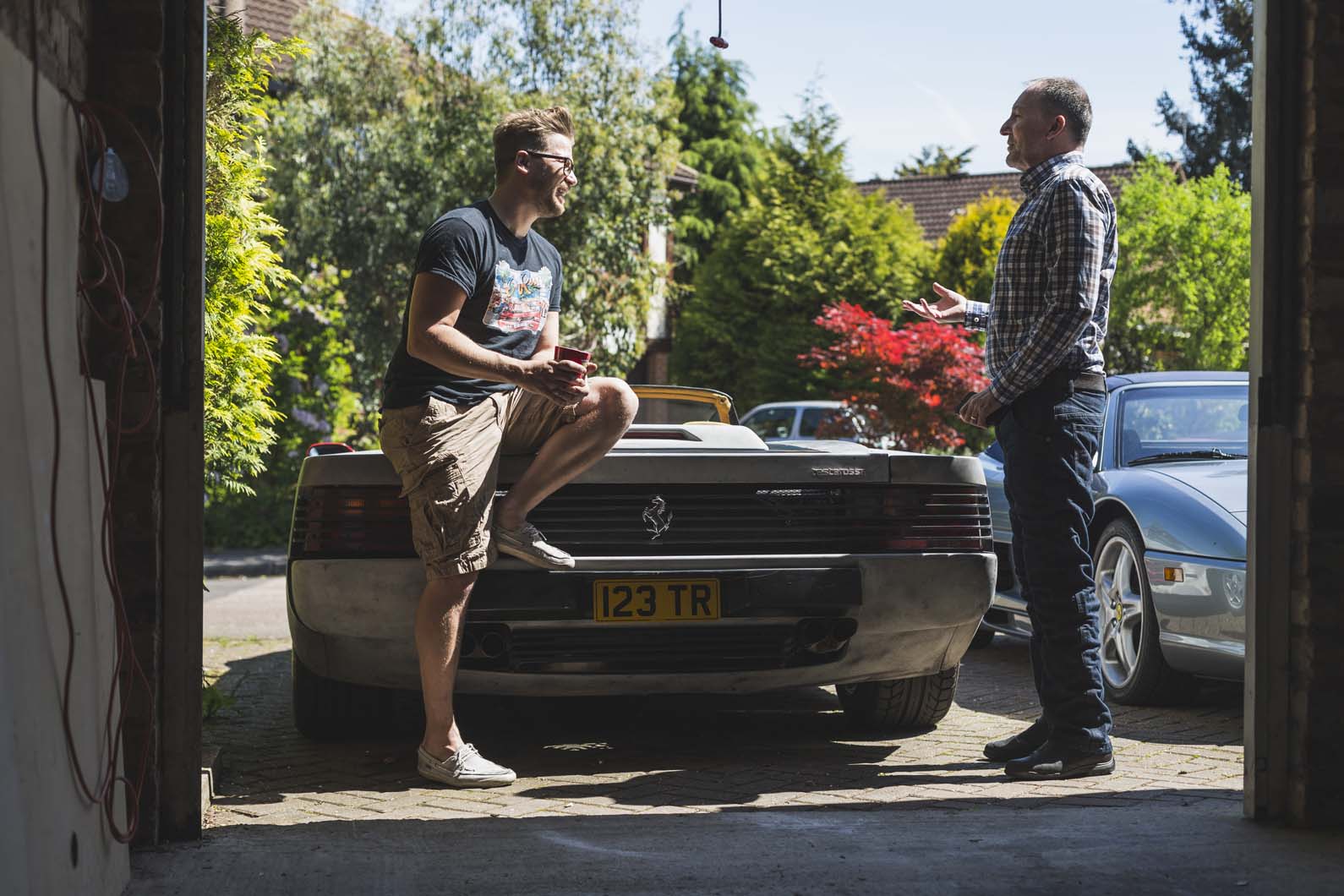 Does it look low to you? That's because it sits on lowering springs. The weight of the strengthening beams forced the car down at the back. Scott says he ripped out the old suspension and ordered three sets of front springs of different specs so he could play around with the ride height to equalise front and rear. Next thing, he'll be saying there's an old Vauxhall four-pot under that rear cover. Not a chance: Scott props it open with a piece of 4x2 to reveal the car's original, and suitably grimy, flat-12 engine. Somewhere in there is the original five-speed manual transmission, too, as evidenced by the dull alloy transmission gate downstream in the cabin.
Scott bought the car from a bloke in California. At the time, he was looking for an engine cover for his 1990 Testarossa coupeÃ, a left-hand-drive car he'd bought from the Netherlands. (Seven of his Ferraris are left-hookers.) There he was, surfing the web, when up pops this four-year-old ad for an unfinished Testarossa spider project car.