Volkswagen has released new onboard footage of its ID R electric racer setting a record time on China's Big Gate Road.
Filmed from the cockpit, the video shows driver Romain Dumas taking the record-breaking EV through the mountain road's 99 turns, and emphasises how quickly it accelerates out of each. Watch it below, then read what it was like to watch the run take place.
How it happened
The Volkswagen ID R was always going to set a new hill record on Tianmen Mountain's Big Gate Road. Of course it was. For one thing, it was the first official timed run up the 6.776-mile ribbon of concrete, which features 99 tortuous turns as it winds 3609 feet up the spectacular mountain known as the Gateway to Heaven in China's Hunan province, at an average gradient of 10.14%.
The road was built in 2006 to reach the amazing Heaven's Gate natural arch and other sights atop the mountain. A mammoth project, it snakes and winds up the steep, rocky peak, carved by ingenuity and sheer force of will at angles a road has no place being built. It's normally only used by a fleet of tourist buses – but even the most committed driver of a Golden Dragon XML6700 would struggle to match Romain Dumas in VW's 671bhp electric record breaker. A few cars have previously tackled the road in anger. Land Rover brought a 567bhp Range Rover Sport to the mountain, with Jaguar's Formula E reserve driver Ho-Pin Tung summiting the hill in 9min 51sec. But that time was unofficial, and set on a slightly longer course.
Volkswagen ID R establishes record on Chinese hillclimb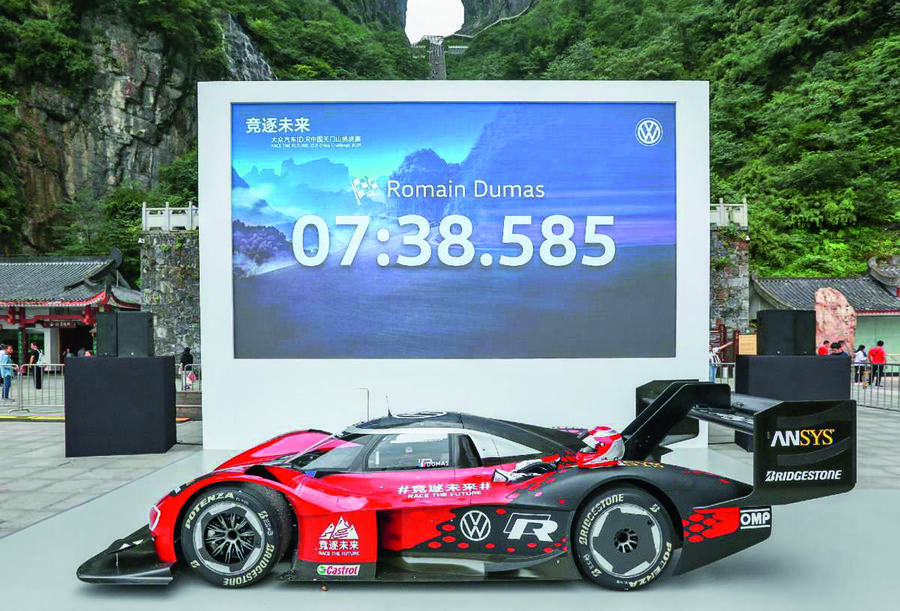 So what does Dumas' new official time of 7min 38.585sec, at an average speed of 53.07mph, actually prove? The ID R's previous record-breaking runs – an outright hill record on Pikes Peak; an electric Nürburgring Nordschleife lap record and an outright Goodwood Hillclimb course record – were set on famous, historic motorsport venues, allowing for direct comparison with a huge variety of proven machinery. People know what it means to lap the Nordschleife in 6min 05.336sec.