It's beginning to sound like Monty Python's Four Yorkshiremen sketch. But instead of recalling his days sucking tea from a damp cloth, John Kershaw, 56, a master technician who works at Volvo Cars Shrewsbury, is holding forth on one of this favourite cars, a Volvo P1800, an example of which is parked alongside a shiny new Volvo XC40 here at the firm's high-tech training centre in Daventry.
"Back in the day, when a car was sick, you used your eyes and ears to tell you what the problem was, rather than relying on an ECU and a computer to tell you," he says somewhat wistfully.
"There were no fancy electronics and no fuel injection," he continues. "Balancing the carbs, for example, was an art. You'd do each in turn, listening like a hawk to the beat of the engine. You had to do that every 3000 miles. You had to change the points and plugs at the same service, too; then, every 25,000 miles, you changed the gearbox and diff oils.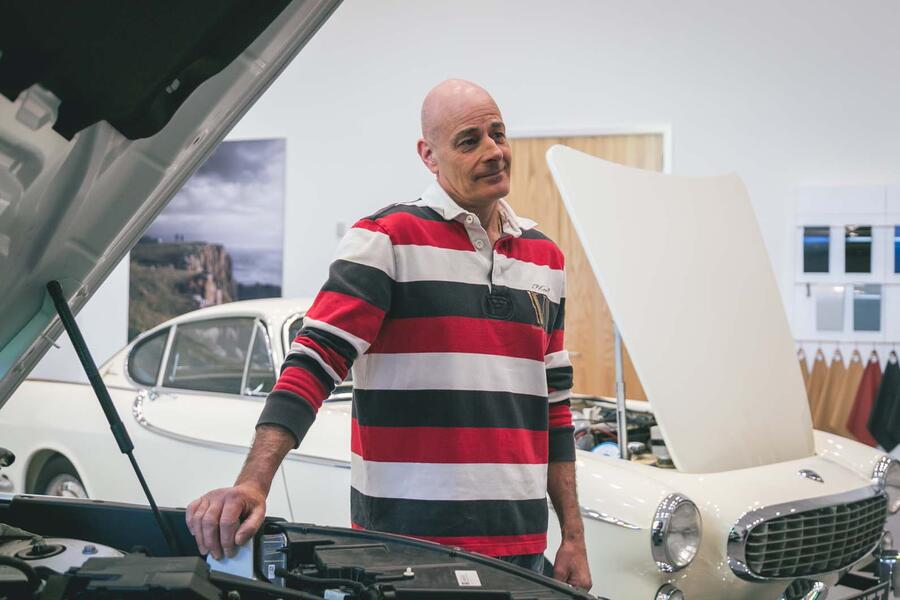 "If the dynamo wasn't charging you'd strip it down and replace the bushes. We were proper mechanics."
Listening patiently to Kershaw is Jason Ratcliffe, also a Volvo master tech (he works at Volvo Cars Warrington) but, remarkably, aged only 24. He resists the temptation to respond with his own 'when I were a lad' anecdotes, not only because he still is one but also because, in truth, both techs know the game has moved on and, in most ways, for the better.
"We're technicians now, not mechanics," Ratcliffe explains. "We have to be skilled in so many areas, from basic mechanics to complex electronics and computer processes. Back in the days of the P1800, a cloud of smoke, a loud rattle or a misfire were the signs that a car was in trouble, but with a modern one it's not that obvious.