This place isn't for the 'half a turn more left damper' types. Bovington Camp is where the Heavy Branch of the Machine Gun Corps acquainted itself with Somme-bound Mark I tanks during the First World War – the rhomboid monsters whose crew shared the cabin with a noxious 16-litre Daimler-Knight straight six.
On typical race tracks, in typical racing cars, and on more typical days, you might make a mental note of the corrugation on the way into a corner. Muddy, mogul-blighted Bovington is to that corrugation what getting kicked in the face is to an Indian head massage. As an arena for motorsport, its style is much more 'new dampers please'.
We're competing in round four of the six-event British Cross Country Championship. It's a weekend of cross-country rallying: sign-on and scrutineering on Friday, seven laps of a five-mile course on Saturday then a further five laps on Sunday. Lowest overall time wins. The course is so attritional that almost a third of the cars won't finish, and already I've doubts about the terrifically thuggish number 55 car: a hacked-up, jacked-up old Renault Clio with a mid-mounted Jaguar V8.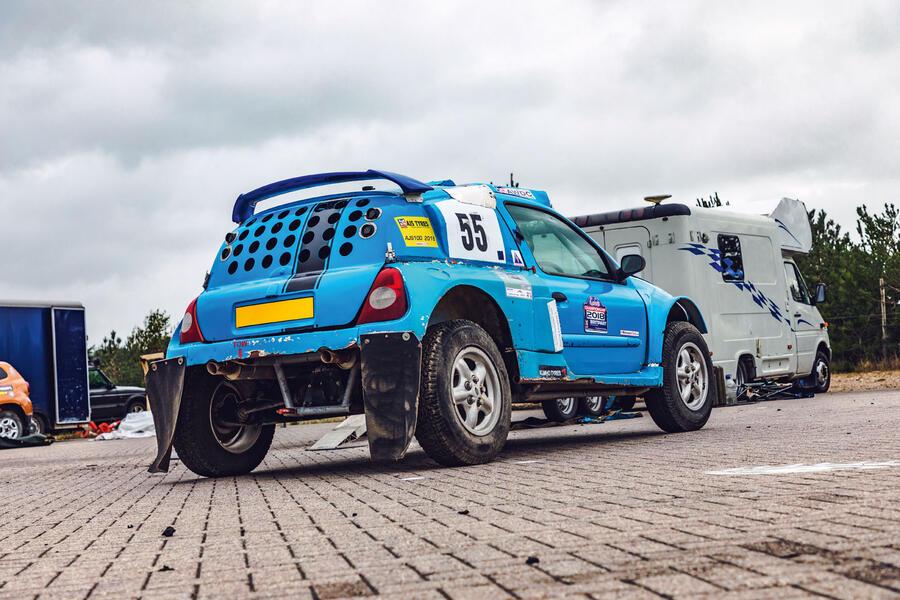 It isn't alone. At times the makeshift service park feels like the oil refinery in Mad Max 2. There are modified Defender pick-ups stripped almost to the bone and open-wheel Can-Am buggies whose 1.0-litre turbo engines spit the hyperactive, long-travel suspension over torn terrain like a daddy longlegs fired from a blowgun. People speak with some awe about the Lofthouse, a similar idea to the Can-Ams but with a 450bhp BMW S54 engine and just 1200kg to hold it back. You can buy a basic Lofthouse chassis for around £15,000 or they'll build you a turn-key version for quite a bit more. With several classes to compete in, though, it's possible to field a competitive BXCC car for as little as £5000. And now that traditional rallying is so expensive, that's a big part of the appeal.