Many people see the 1980s as a golden era of Formula 1. Those people are correct.
Holding a special place in many fans' hearts are the turbocharged 'monsters', and the Williams-Honda FW11 is a fine example of them. This handsome British chassis took the constructors' championship in 1986 and, in 'B' spec, both titles in 1987, following nine victories in a season of sparring between a Nigel Mansell at the peak of his powers and the mercurial reigning world champion, Nelson Piquet.
F1 2018: new cars picture special
Indeed, when grand prix race winner John Watson drove the FW11B for Autocar at Japan's classic Suzuka circuit on 7 December 1987, he did so with the objective of "reaching some sort of conclusion about what it takes to create a winning car" – one he described as having been "head and shoulders above the rest of the field".
Much of the FW11B's prowess was down to Honda's excellent RA167-E engine. This 1.5-litre V6 had two turbochargers and a redline of above 12,000rpm, allowing it to peak at circa 1000bhp (this was for qualifying; it was downtuned to 800bhp for race distances).
In a car weighing a mere 540kg, this afforded a 0-60mph time of 2.6sec and a 0-160mph time of 10sec; all in a car with a six-speed manual gearbox and rack-and-pinion steering. Brave stuff.
Fortunately, Northern Irishman Watson was an experienced racer, who had made his Formula 1 debut in 1973, came close to winning the title for McLaren (he was third in the 1982 drivers' championship) and contested his final race in 1985.
He began: "I had half expected it would be a case of light the blue touch paper and stand back. Once the engine had been warmed up and I had dealt with the very heavy, abrupt-acting clutch, the world championship-winning Formula 1 car had purred onto the track without a sign of reticence. It was almost docile. But now, back in the pits, the Honda engineer was turning up to the boost – from a getting-to-know-you 3bar to a grand prix-winning 4bar. A small jump, you may think, but in a car now capable of 200mph, a change guaranteed to cause fireworks. Or so I thought..."
Before he proceeded around the circuit, Watson had a caveat, in that he was "unable to make himself completely comfortable in the seemingly miniscule cockpit". "With the sort of cornering, accelerating and braking forces a present-day F1 car is capable of generating," he said, "it is vitally important for the driver to feel at one to get the most out of it.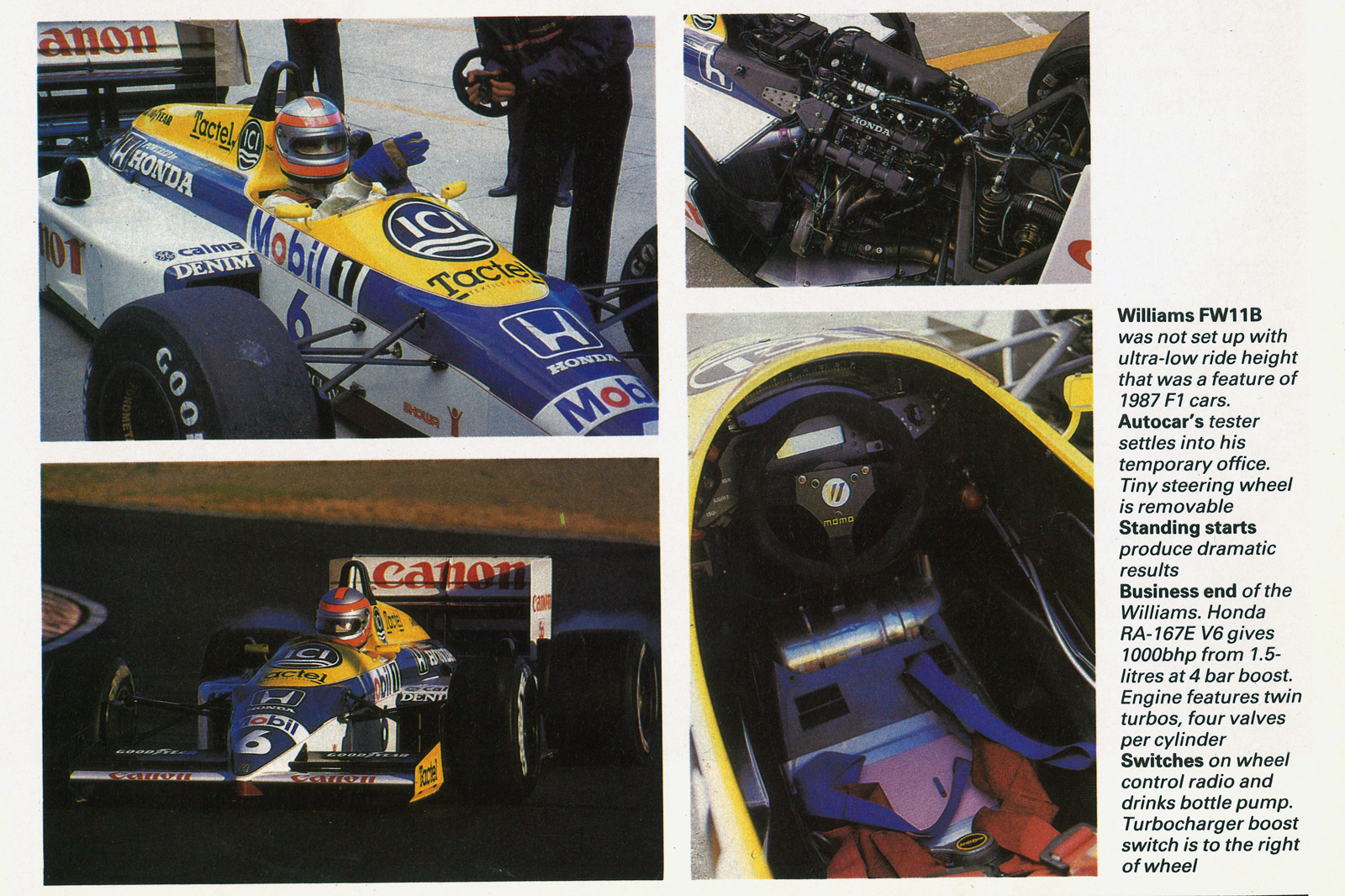 "That is really only possible with a tailor-made seat and all the essential controls set up exactly to suit his frame. In this case, my knees were too high up behind the instrument panel and the gear lever in the first-second plane was hitting my thigh. Being tall compared with today's grand prix drivers, I was also sitting an inch or two too high".