This spectacular image of Nico Rosberg in his Mercedes F1 W07 Hybrid was taken during Friday practice at the 2016 Japanese Grand Prix.
Captured at Suzuka's Degner Curve, it shows just how hard a Formula 1 car has to work when it is being driven flat out. But what exactly is going on here? To get a better understanding of this brief but breathtaking on-track moment, we asked Mercedes chief race engineer Andy Shovlin to explain.
1. Why is the tyre deforming like that? (rear left tyre)
"The peak load on the tyre at that point is nearly one tonne, due to the compression in the track," says Shovlin. "The high load lasts for 0.05sec, which is what is causing the standing wave on the left-hand-side tyre. Even in a flat-out 300km/h [186mph]corner like Suzuka's 130R, the loads aren't quite as severe as they are here, although Spa's Eau Rouge is another place on the calendar where we get this kind of load."
2. What can Rosberg feel at this point?
"He's taking this corner at about 230km/h [143mph] and is facing a 2g vertical impact, along with 3.5g horizontal. It's very short – about five metres of travel – so it'll be just like a bit of a bang to Nico.
"Once you come out of the compression, the car is stable, so he can get straight back on the power for another 1.5sec before the next corner."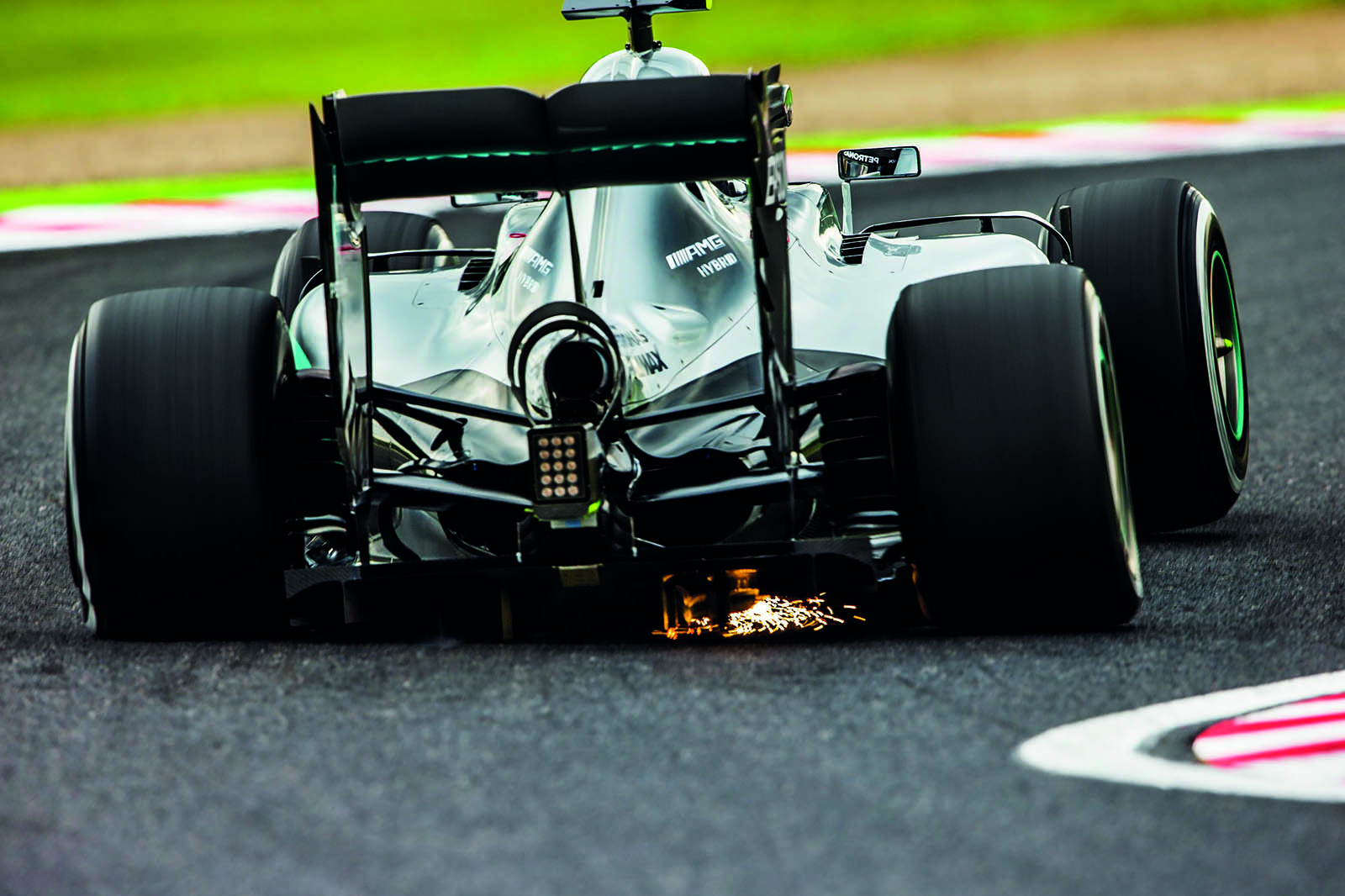 3. Why is the car bottoming out?
"The sparks are coming from under the car but also from the front wing and travelling down to the back.
"A combination of things is putting really hard load on the car to cause this. You've got the downforce and the fact that the car is cornering at speed and then you've got this bump in the track causing a spike in that load trace.
"The impact will vary from car to car, as will the lifting of the front wheel. With our car, the front inside wheel is lifted almost completely off the track, such are the loads.