GT. Two letters that evoke a special feeling and hold a sacred spot in the heart of passionate driving enthusiasts. Because they signify a unique breed of saloons and coupes that – for decades – have been the defining choice of discerning drivers looking to cross continents in comfort and style. The 'gran turismo'.
The origins of that Italian epithet date back to the 17th Century, when young British aristocrats did a 'Grand Tour' of Europe's art and architecture as a cultural rite of passage. In the 1950s, GTs became synonymous with a new breed of automotive trendsetter, recapturing this spirit of trans-continental adventure as they looked to drive ever-more effortlessly and in even-greater style to the French Riviera or the Italian Lakes.
Today, the Audi e-tron GT is the ultimate forward-thinking all-electric evocation of that 'gran turismo' ideal. So that's why we decided to take it on our own 'Grand Tour' – exploring the idea of what a modern GT really means in an all-electric age.
Giving the spirit of the 'Grand Tour' of old a modern twist, we decided to start our journey in the backdrop of Liverpool's stylish urban architecture, before heading across the Pennines to the scenic Kielder Forest, and the inspiring experience of Dark Sky stargazing. This is escaping in style.
Learn more about the Audi e-tron GT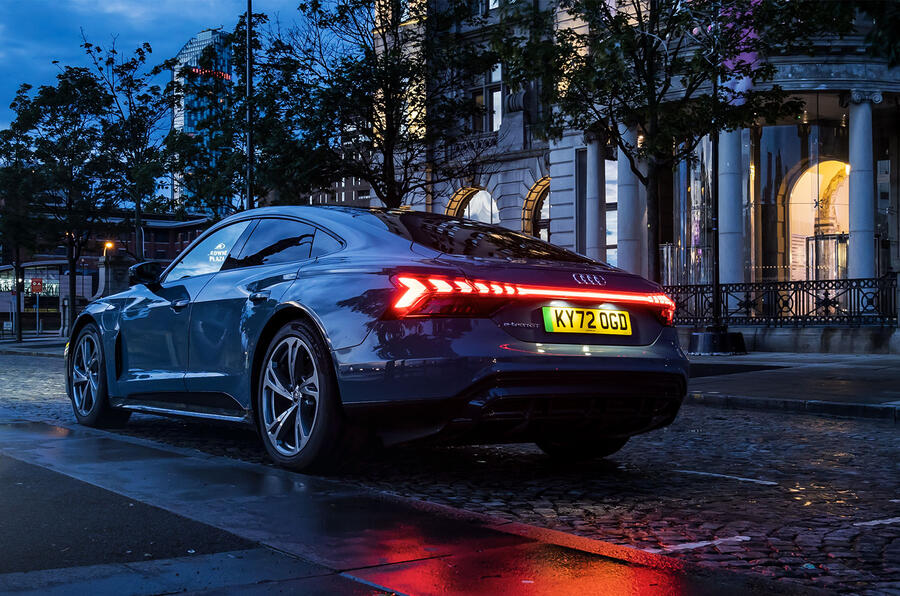 All charged up and ready to go
So, what are the core strands of 'gran turismo' DNA that the Audi e-tron GT has to live up to in order to determine if it's worthy of the badge? Well. put simply, a GT is a car in which you should arrive at your destination feeling better than when you left.
It should offer plenty of space for you, a friend (or two) and all your luggage. It should be refined, comfortable and potent enough to effortlessly devour miles of autoroute or motorway with ease, but it should also be invigorating to drive on epic flowing Alpine roads. Last, but definitely not least, it should turn heads every step of the way.