When it comes to finding the UK's perfect driving route, some say that Scotland offers the only answer. Others say the hills of the Brecon Beacons or the mountain roads of Snowdonia in Wales. But many forget the Pennines.
Boasting some of the finest flowing asphalt in the UK (and equally impressive views), these stunning roads which sweep their way across the scenic hills of England's spine offer the perfect backdrop on which to simply enjoy the experience of driving.
That's why we've brought the Audi e-tron GT quattro to the Pennines as part of our epic cross-UK 'Grand Tour': a quest to find out if Audi's sleek all-electric four-door coupé can truly live up to the credentials of its GT badge.
One of the defining strands of that 'gran turismo' DNA is that any GT worth its salt should stir the soul when you head off the straight and narrow. But is that still possible in an all-electric age? Well, these roads are the perfect GT playground, so let's find out.
Learn more about the Audi e-tron GT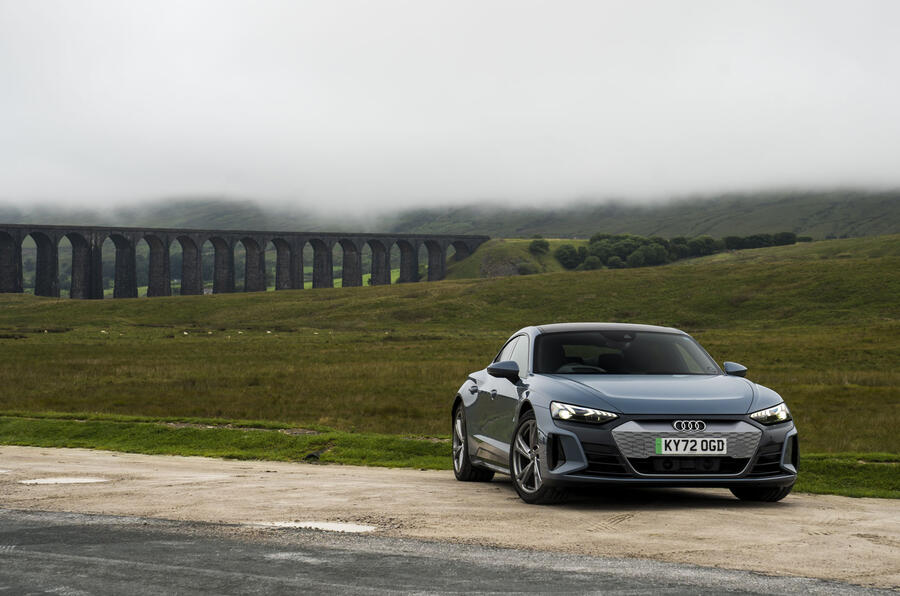 A smarter driver-focused interior
Skirting the Trough of Bowland, and heading past Ingleton, we make our way past the astonishing Ribblehead Viaduct on the smooth, flowing B6255.
It's the perfect intro to the route ahead. And while our Audi e-tron GT quattro may boast a pair of whisper-quiet electric motors instead of a whistling twin-turbo V6, it's already clear that every element of its design has been engineered to build on Audi's 40 years of quattro DNA and iconic sporty driving character.
It all starts where it matters most: in the driver's seat. Bucking the trend of using the opportunity offered by low-mounted battery packs to open up more space inside the car, Audi's designers crafted a more traditional 'monoposto' concept for the interior of the Audi e-tron GT, evoking the brand's most-inspiring performance models,