LATEST REPORT - scroll down for earlier reports
There's a stretch of road I like to venture down now and then in Hertfordshire that can really test a car's suspension.
It's a typical example of the neglected British B-road – as bumpy as an adolescent's face and cambers to the left and right with little consistency. Cars that are overly hard riding feel like they'll fall to pieces over this stretch, while those with a tendency to tramline will be tugged and pushed between the white lines like a ship in rough seas.
I've driven only a small handful of performance cars with a chassis polished enough to handle its challenging surface. Most have begged for smoother land, but a few, such as the Ferrari 488 GTB (in 'bumpy road' mode), McLaren 570S and Volkswagen Golf GTI, have surprised with unexpected suppleness. I should also mention the Porsche 944 cab I share with my old man, which works there thanks to a rubbery, yet sure-footed, ride.
This is my Clio's blog so you're probably expecting me to add the 182 to this list. Well, yes, I am. Kind of. I'll admit, the 182's ride, on its aftermarket-but-very-close-to-standard Eibach Proline springs and factory Cup shocks, can feel crashy – actually, make that very unrefined – at low speed, but wind it up and the setup begins to glide along, yielding a noteworthy level of composure and predictability.
It's for exactly this reason I'm still yet to order the Bilstein B14 coilovers I've been saving for since the dawn of man (see below reports). Maybe I'm getting old before my time, but I'm becoming increasingly fearful of losing the car's relatively comfortable ride. If the 182 rolled along that stretch of road like a conker on concrete, I'd drive it less. I know I would. So I've had a change of heart.
It's fair to say I've been inspired by a few good riding cars of late. My last long term test car, the Subaru BRZ, was the first to convince me that deft handling vehicles need not be harshly sprung. The latest was a less likely model, the Ford Fiesta ST-Line, which feels both agile and comfortable and comes in a package that has more in common with the 182 than you might first expect.
What is it that makes those cars so good to drive? I've determined that they both – but particularly the BRZ – have rigid structures that feel taut and firm, allowing for lower spring rates and more forgiving damping. I therefore believe the key to achieving my perfect fast road 182 (the target from report 1 of this blog) will be to stiffen everything apart from the springs and dampers themselves. That means uprated bushes, a front strut brace and a rear anti-roll bar, to name a few. I also have my eye on a faster steering rack.
What those of you who've been following the progress of this car may have now devised, is that I am barely any closer to the moving goal post that is my project finish line than I was last summer. But that's the life of a project car owner; you never correctly estimate the costs involved and you can bet you'll very much underestimate the time it'll take as well.
While I figure out where to next throw my hard earned cash I have at least got one fixed date in the calendar that demands I get the 182 to a semi-complete state: a track day. Yes, that's exactly the thing I said I wouldn't do with the Clio when I recommissioned it onto the road early last year. But the itch was too intense and my memories of last taking it on track (some four years ago) too positive to ignore.
So, yes, I'll be at Castle Comb in April, where I intend to give the well-worn Michelin Pilot Sport 3 tyres fitted to the car their final send off. I've promised myself I won't drive as hard as I used to on track and that the day will act purely as a chance to open the taps just a little bit. Thing is, the racesuit wearing devil on my shoulder thinks that sounds boring…
PREVIOUS REPORT
Weird, Clio 182 ownership, isn't it? One week you hate the car, the next you love it. It's how I've spent much of my time with the 182 and the past few months have been no different.
This week has been a good week. The car has moved on leaps and bounds since I last wrote about it, having undergone eye surgery to remove cataracts (aka restoration for its milky headlights), received a new carpet to cover the stripped boot and - this is the best bit - stopped flopping around on its front right.
If you haven't been following the progress of the 182's return to the road since the spring (see below reports), you won't know about my complaints for it leaning on its front right arch liner every time I take a left turn at moderate pace. The car has also felt slower to respond in left turns than rights, leading me to believe something was wrong with the suspension.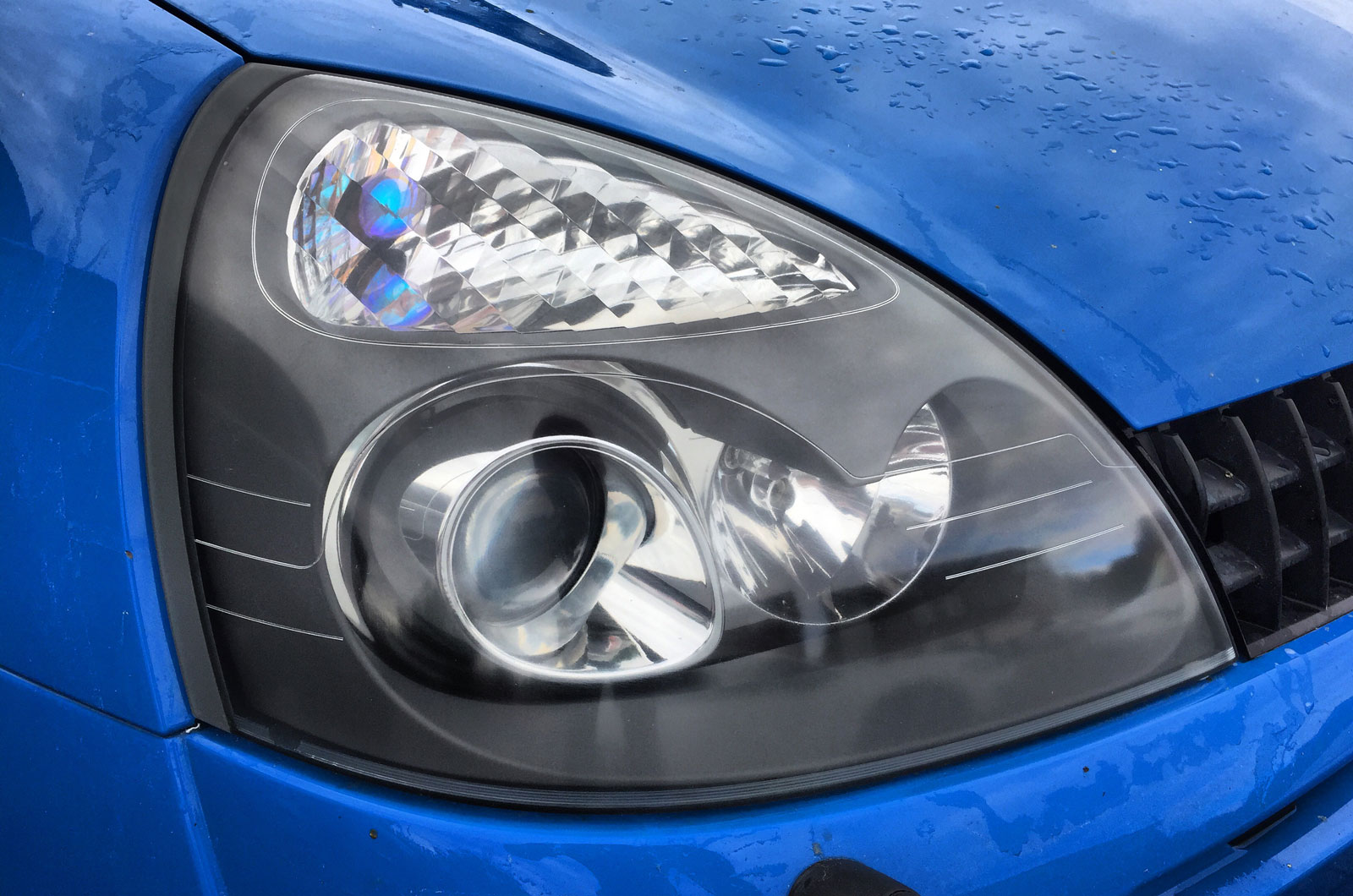 Good news is, it turns out I was wrong. I'm happy to report that the issue was far simpler than that - and that I am utterly useless at trying to diagnose car issues.
My 182's arch liner, while looking attached when parked, had managed to work its way loose when on the move. I'm not sure how, but new wear marks confirmed it was indeed moving and so needed to be held in place with additional support. Inspired by the race winners of Le Mans, I have fixed my car using cable ties and, low and behold, the scrubbing has stopped.
But what about the uneven response to steering? Well, that was geometry; as an amatuer racer, I really should have figured that out sooner. Having now visited a local garage and had the car set to factory alignment in exchange for a crate of beer, the car steers consistently without making noises. Yippee. The 182 is truly back, just in time for, erm, winter. Bugger.
Before I allow the car to have a few weeks off during the 'coldest winter on record' the tabloids will inevitably predict, I have decided to address all of the other minor issues I can, starting with the rattly interior boot panel.
Now the back is mostly stripped-out, the rattles this panel (the one that clips onto the inside of the boot door) project are very clear and very obvious when the car is idling. It's akin to having a woodpecker on speed stuck in the boot. Thankfully, this tapping can be silenced by attaching some sticky foam to the inside so it presses against the metal. It's the sort of foam-tape Renault fitted from factory but I used one of far higher quality that I purchased from, ahem, Poundland.
Rattle gone and with the car feeling like it's back on its toes with its eyes now fully open, the 182 has been a joy to use. I've covered 400 miles in the past month, which is considerably more than I'd covered in the previous 12 months. All is well.
Except it's not, is it? Because this is an old French hot hatch and the bloody instrument cluster service light and airbag warning lights have switched on. Argh. The fuse attached to the airbag plug (the one that's missing in the steering wheel) has blown and I don't know why.
I still love this car. I still love this car. I still...
PREVIOUS REPORTS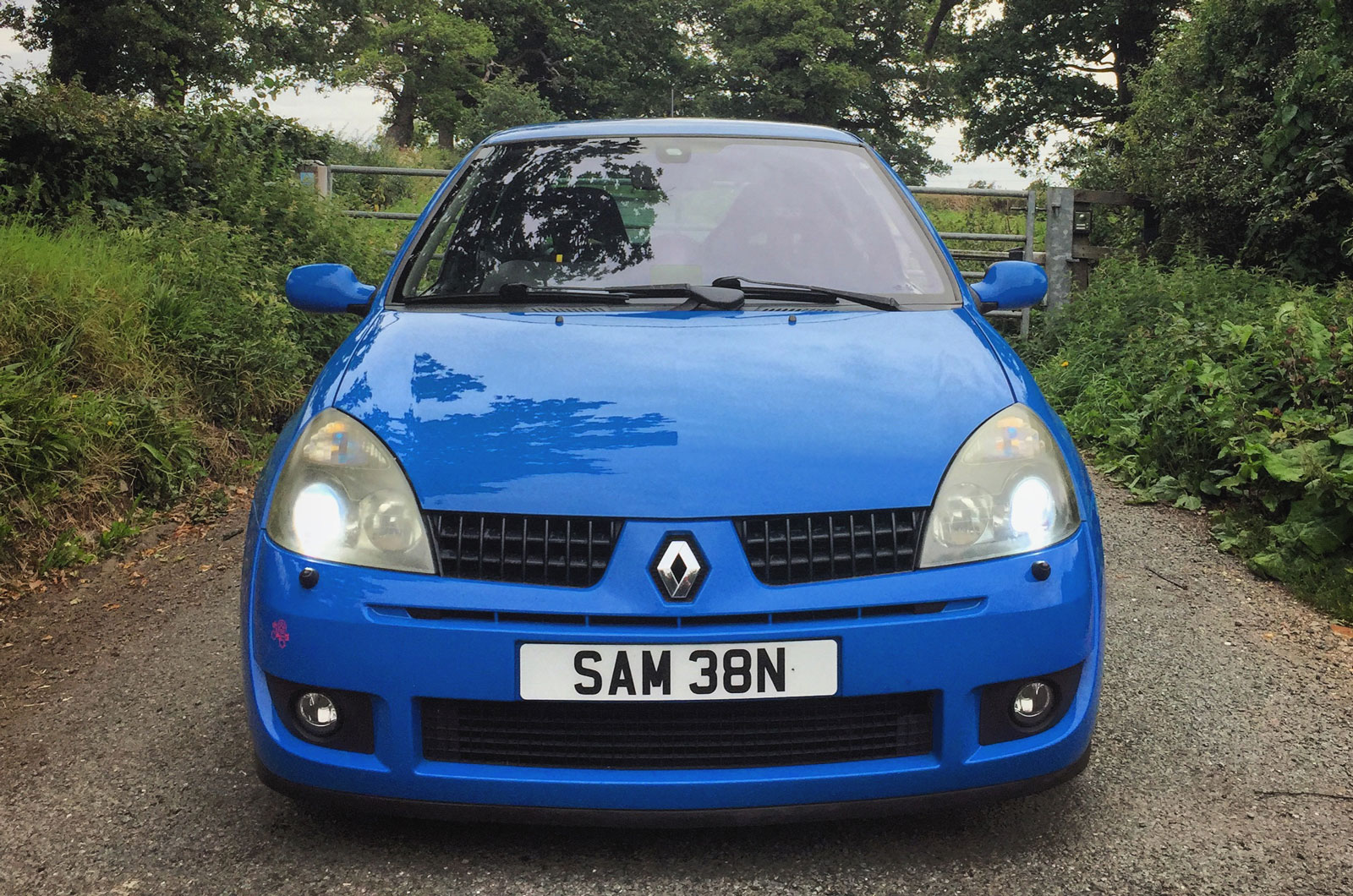 Rest easy in the knowledge that the arrangement of my facial features is significantly less likely to be disrupted from here on because, rejoice, the harnesses are in.
The pair of blue harnesses you see here should, in theory, prevent my delicate beak from making contact with the racing steering wheel it faces in my Clio 182 because they were custom-made by Corbeau less than a year ago.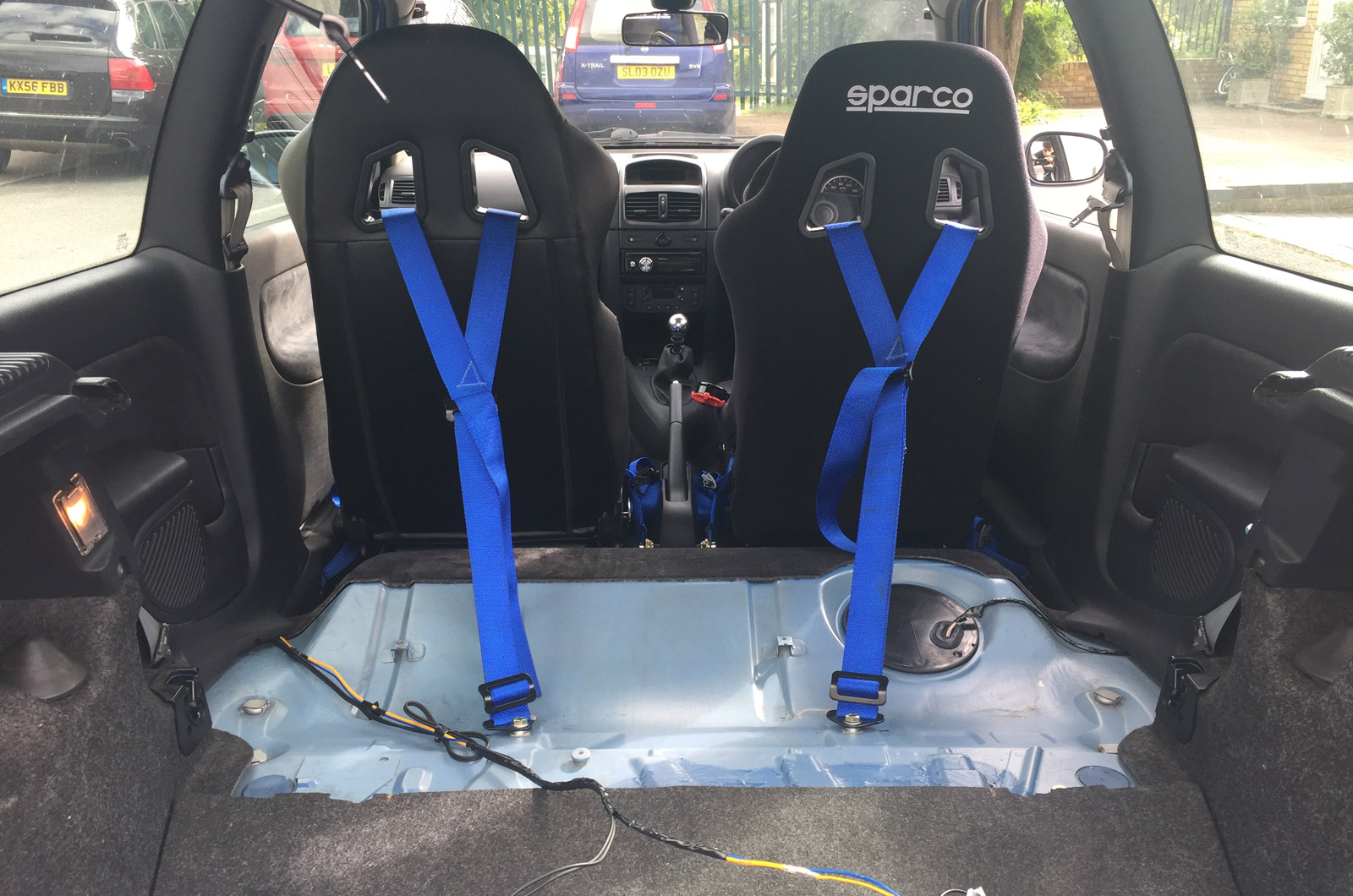 As you may have guessed, that means they are not new, but rather used, having begun life in the Clio 172 Cup that, until its recent departure, featured on the fleet of our sister site, PistonHeads.
In all honesty, before coming across these belts I had my heart set on a pair of black harnesses, the discreetness of which I hoped would minimise the 'boy racer' look. But the offer for the blue Corbeaus was too good to refuse; plus, it's nigh-on impossible to find a three-point harness with a proper racing-spec buckle, as opposed to a road-spec clip – which didn't look motorsport enough to me. Now they're in, I'm very happy.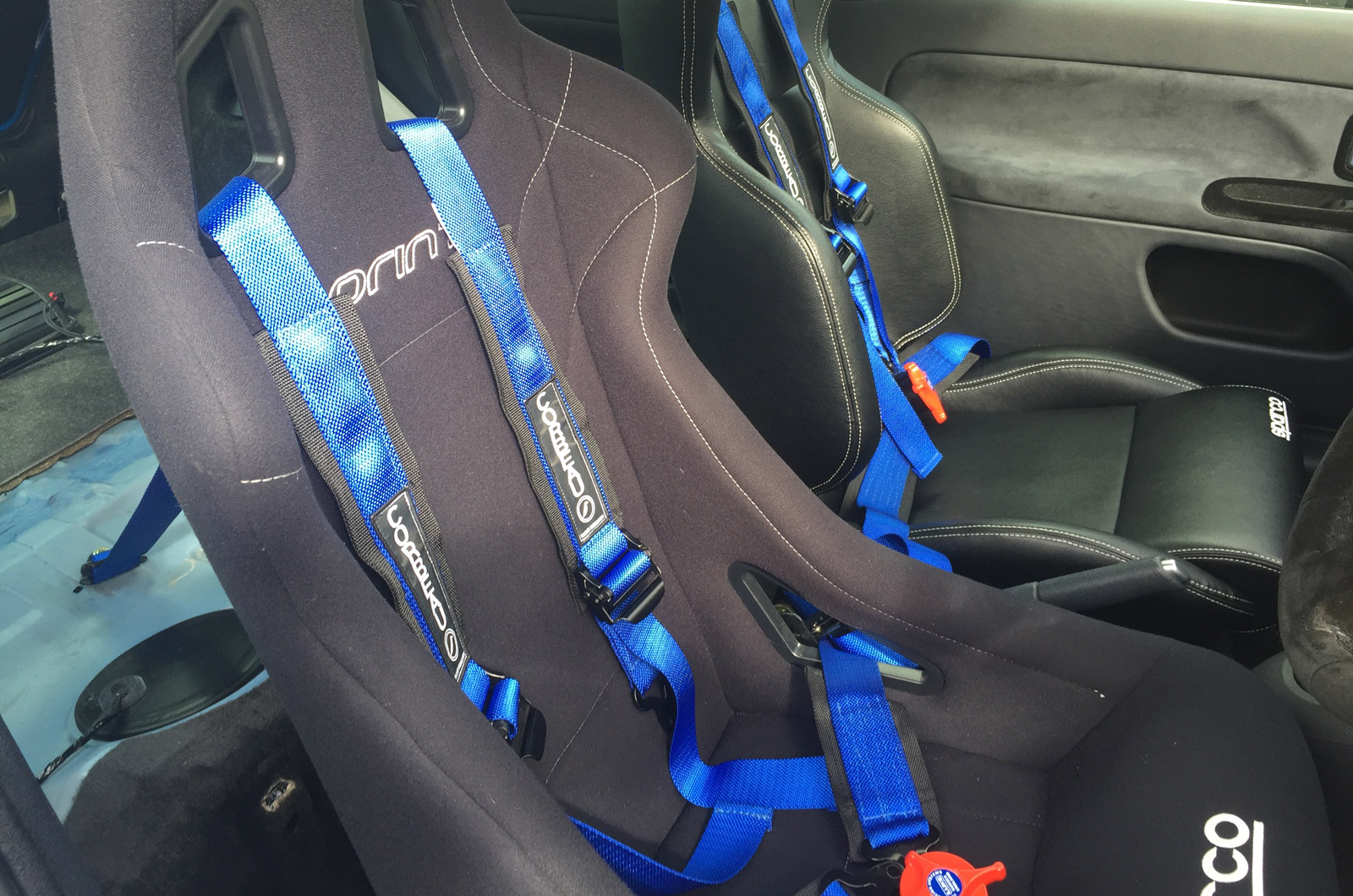 For those wondering, I've bolted the back strap of each harness to the floor through the hole the original rear passenger belt clips were mounted. The two lap straps are connected to the holes for the original clip and belt system, so all the mounting points are strong and safe, and it means I haven't had to drill through the floor.
Having now been for a drive with the new harnesses on, I can confirm they really do add to the whole experience. No longer do I just buckle up and drive away, which is boring. Instead, I need two minutes to fiddle with the buckle and connect the four points incorrectly, and a further five minutes to explain to my passenger why I have fitted a significantly less practical belt system to a hatchback worth less than a posh handbag.
Of course, the real reason is safety, but there's also no denying that being tightly strapped into the seat makes driving the Clio feel far more natural. It's true what they say about feeling at one with a car, in that your inability to move about in the seat enhances your alertness to what's going on beneath you. On track, I genuinely think lap times can be improved with the fitment of harnesses, if they're done up correctly.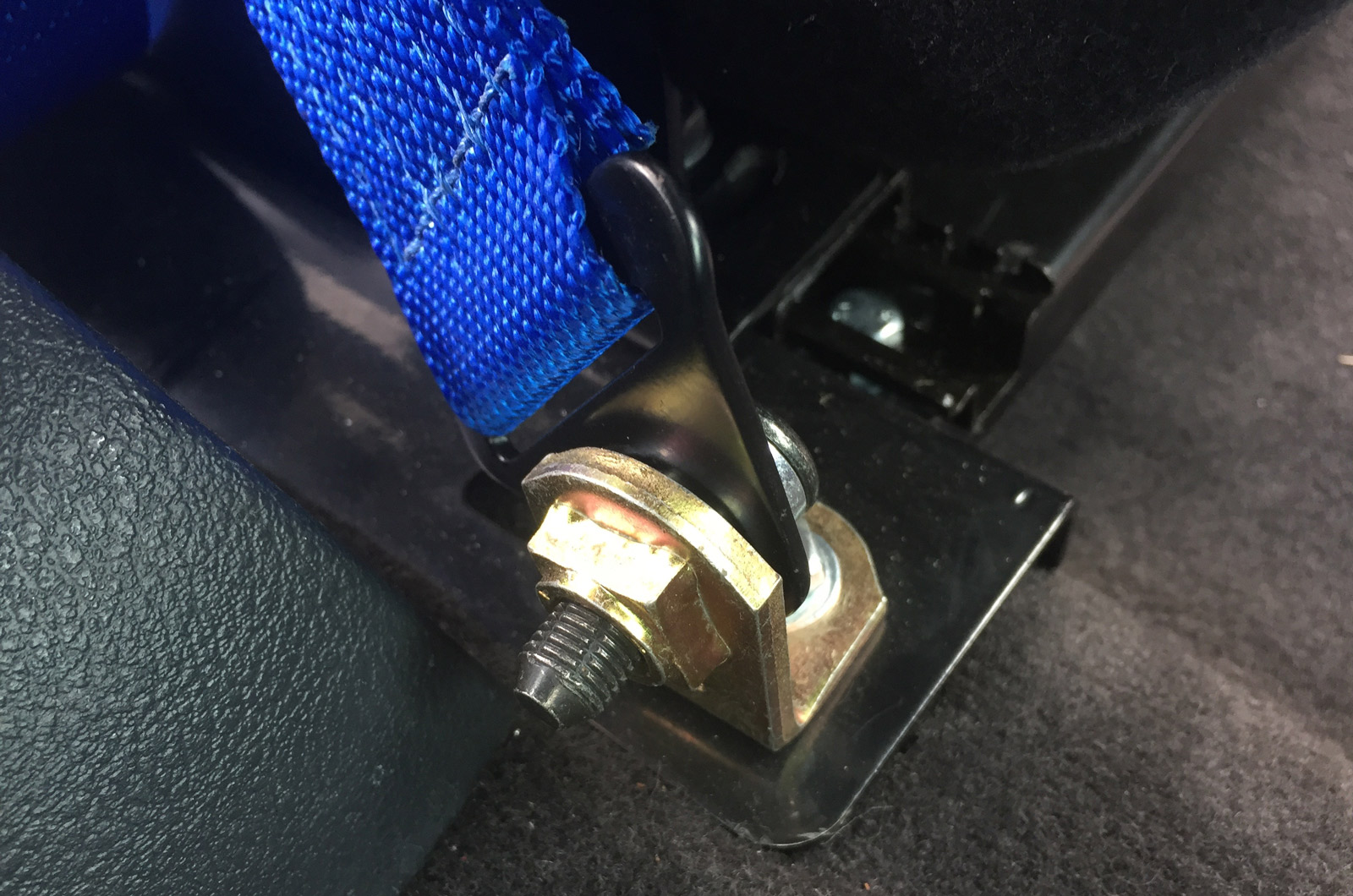 So what's next? I'm still in the painfully slow process of saving up for those Bilstein B14 coilovers, which I mentioned in an earlier report (see below) but hope to have them ordered and supplied before the end of October. In the meantime, I plan to tidy up the rear section of the cabin with a few minor additions, including a carpet and also a net, like the one fitted to the back of the Mégane Trophy R (click here to see what I mean).
Although that plan has hit a roadblock before it got going because a search on Renault's parts site showed that said net, which is literally just a few bits of sewn-together fabric, costs £180. One hundred and eighty. Pounds. Seriously.
Unsurprisingly, I'm now trying to think up a way of making one myself, DIY style. How, with zero textiles experience to my name, I plan to do that, I have yet to figure out.
PREVIOUS REPORTS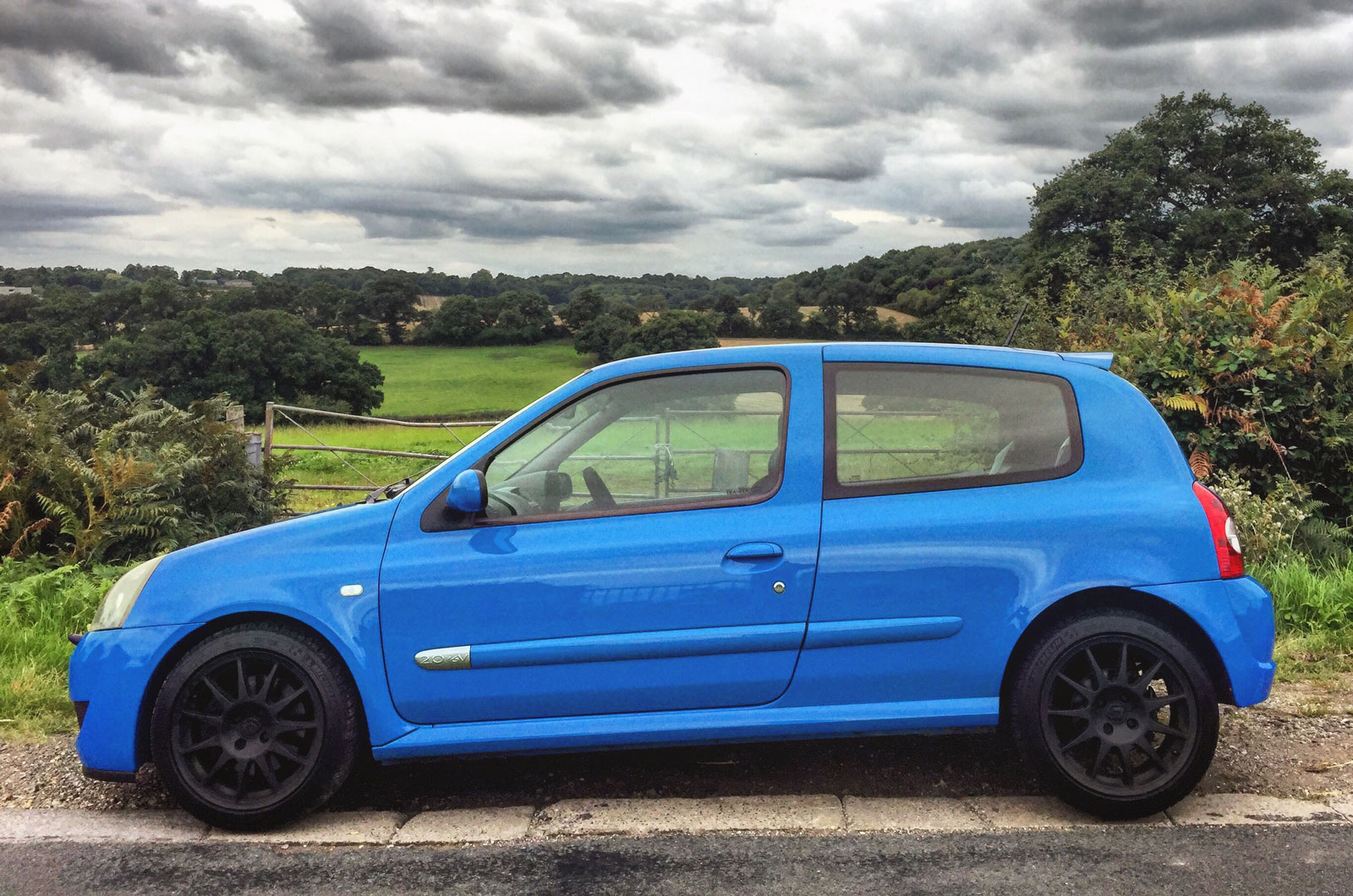 It's all too easy to get spoiled with low-cost hand car washes in this job. With cars coming and going so quickly, there's little (read: no) motivation to clean a car yourself. That is, until you swap the keys of a press car for that of your own.
I spent much of Sunday morning shampooing, waxing and vacuuming the Clio because, to be frank, it was looking rather sorry for itself. This means that nothing technical has changed since last week's update (scroll down for previous reports), unless you count the addition of new Renaultsport stickers, fashioned in the style of the logo that was used at the time of the 182's production, as a boost to engineering (I do).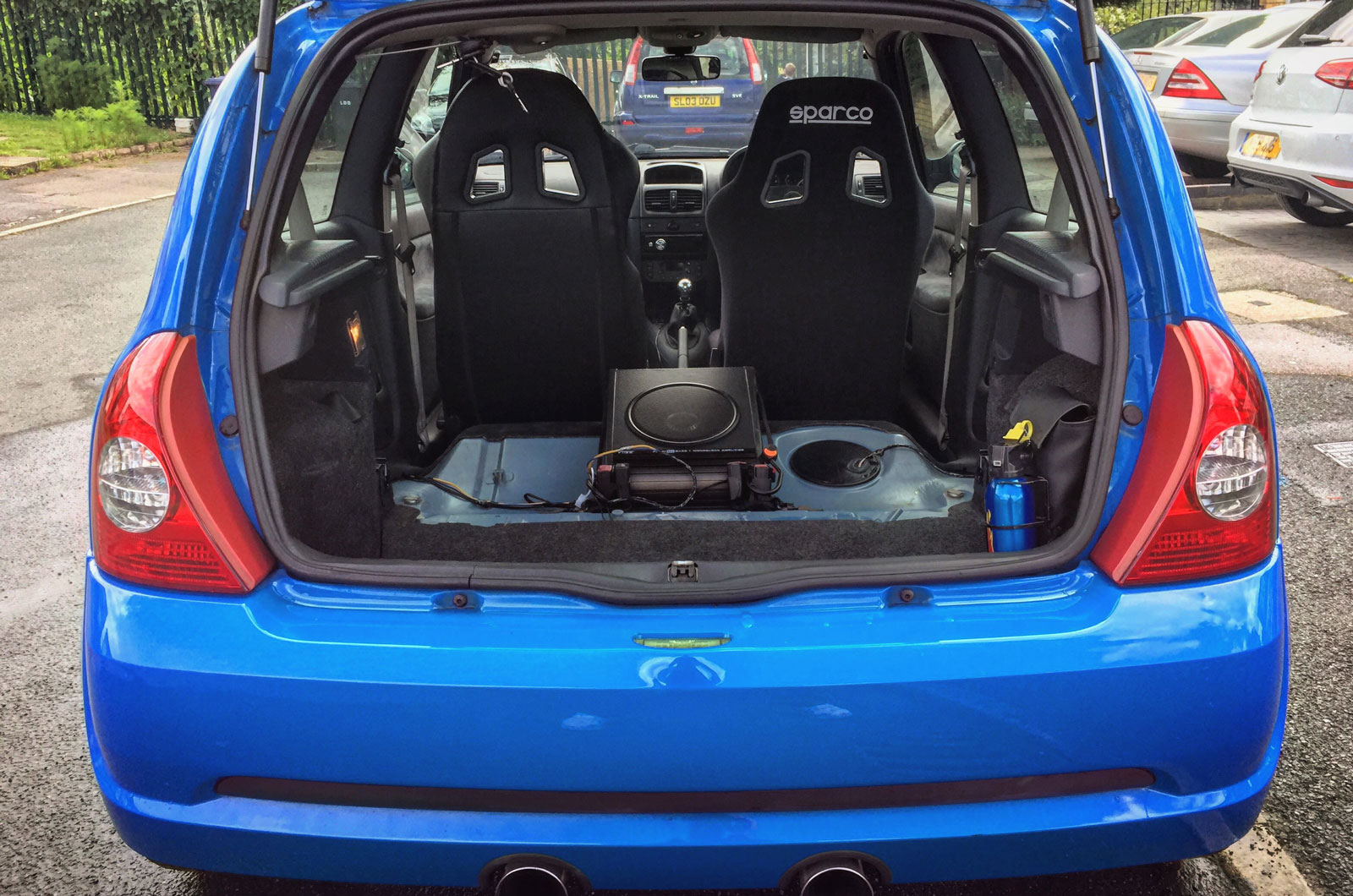 It does at least mean that for this week's update I can supply you with a new batch of images, detailing the changes to the car's cabin both front and rear.
Thankfully, the iPhone snaps aren't of high enough resolution for the bodywork stone chips to show up. On close inspection, these miniscule blemishes appear one by one in the same way that stars do as your eyes adjust to the night sky - except my reaction isn't one of awe...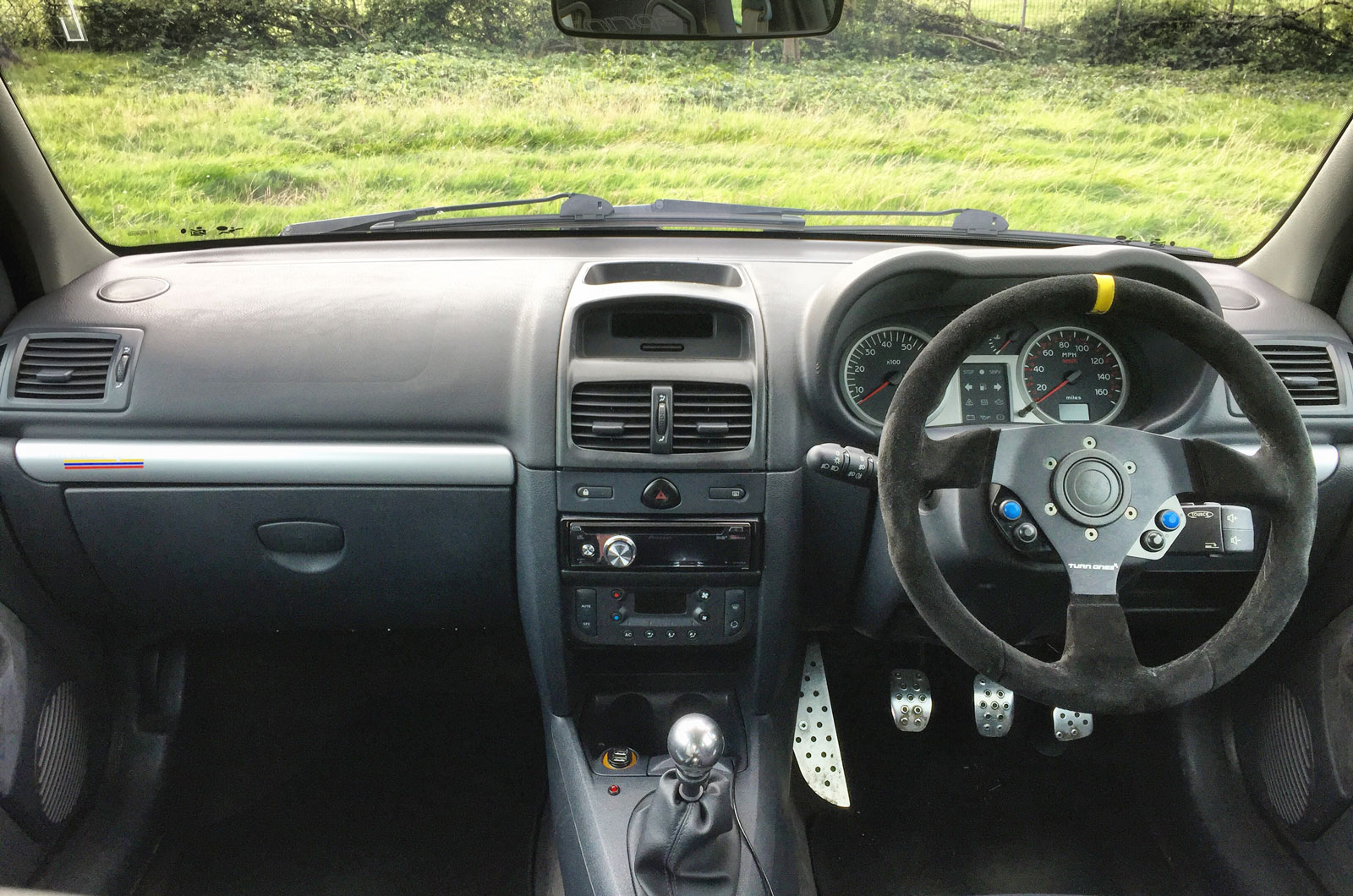 In other news, the car's ageing set of Michelin Pilot Sport 3 tyres, which have impressively survived two track days (the first of which was back in 2012 and can be seen in the video below) and 10,000 miles of road use, are soon to be replaced by a set of Dunlop SP SportMaxxs. I'm waiting for the Bilstein B14 coilovers mentioned in the previous report, as well as a wheel refurb to silver, before I fit them.
PREVIOUS REPORTS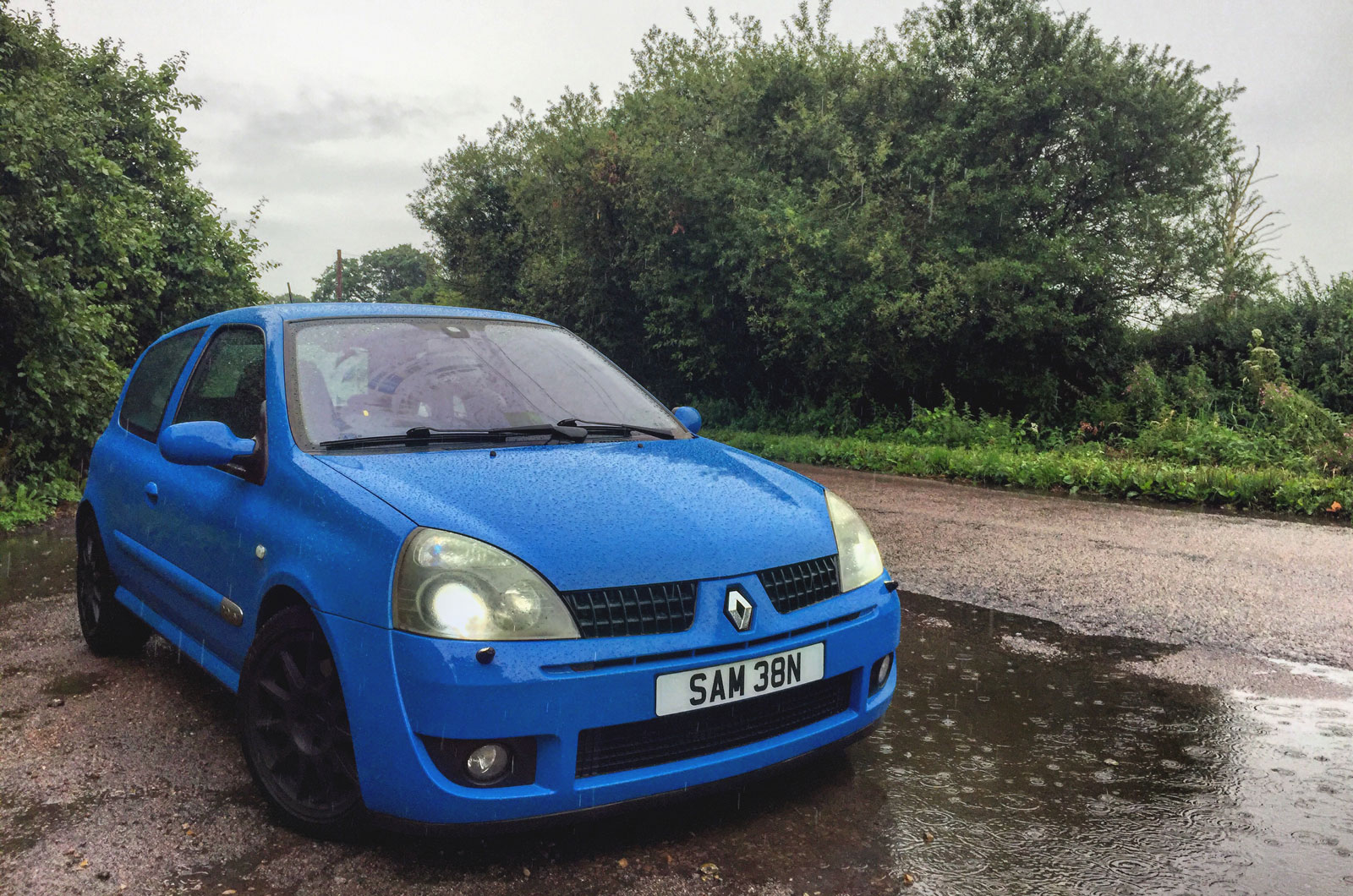 Some of you have questioned why I fitted a new racing steering wheel to my Renaultsport Clio 182 before sorting the car's more pressing issues, which came in the form of a soft front shock absorber and weak brakes. Fair point.
I can explain the delay in fixing the former easily – I'm saving for a set of Bilstein B14 coilovers because I figured that if I'm going to spend time fixing the suspension, I might as well upgrade it. So the steering wheel upgrade is something to keep the ball rolling while I add pennies to the pile for a more significant modification.
My reason for not addressing the weak-feeling brakes, however, is not so simple to explain. In fact, I'm still not entirely sure why I'm in this situation, but the truth is, the brakes seem to have fixed themselves. I have no idea how, but when you own an old French car you learn never to question things like that.
I can only guess that in the weeks since the car was returned to the road earlier this summer, its more regular use has helped clean off a glazing on the Ferodo DS2500 pads or the Brembo High Carbon discs. Or perhaps a kind stranger worked on my car in secret. Either way, my 'to fix' list has decreased to just one item.
Video: Driving the 456bhp Renault Zoe e-sport flat-out on track
The set of Bilstein B14 coilovers I'm saving for will set me back more than, breathe deeply, £500, so it's taking quite a while to prepare for this hefty financial burden (I'm on a journalist's salary, after all). But in order to keep that modification ball rolling in the meantime, I've removed the back seats from the car.
I didn't go through the trouble of weighing the seats, but I'd confidentially estimate that the whole bench arrangement adds less than 30kg to the car's mass, meaning the effects of its removal will be negligible. But no bottom has perched on the rear bench since 2014 so there's little point in them being there. And 30kg is 30kg.
Anyway, the seat removal has brought some other indirect improvements, such as improved space for a harness, the fitting of which will be my next port of call. After some interweb investigating I've found that bolting a harness to the Isofix bar holes in the car's floor, rather than the rear passenger seatbelt holes ahead of them, will extend the belts further back. This, I'm told, will ensure they're stretched out far enough to not break my spine in an accident – which is a genuine risk for badly placed belts and possibly worse than the prospect of an inverted face caused by headbutting the steering wheel in an accident. 
Additionally, the barer interior has influenced the exhaust's perceivable tone. Now that its sound waves are not vibrating through part leather furniture, rather straight through the floor and into my ears, it sounds a tad louder and much raspier. This makes the whole experience of driving quickly that more engaging.
As you'll see with this latest update, progress for the 182 project remains fairly slow, but with each step the Clio is edging towards its ultimate form of a track-inspired fast road hot hatch. Most importantly, with every adjustment, it gets that much better to drive.
PREVIOUS REPORTS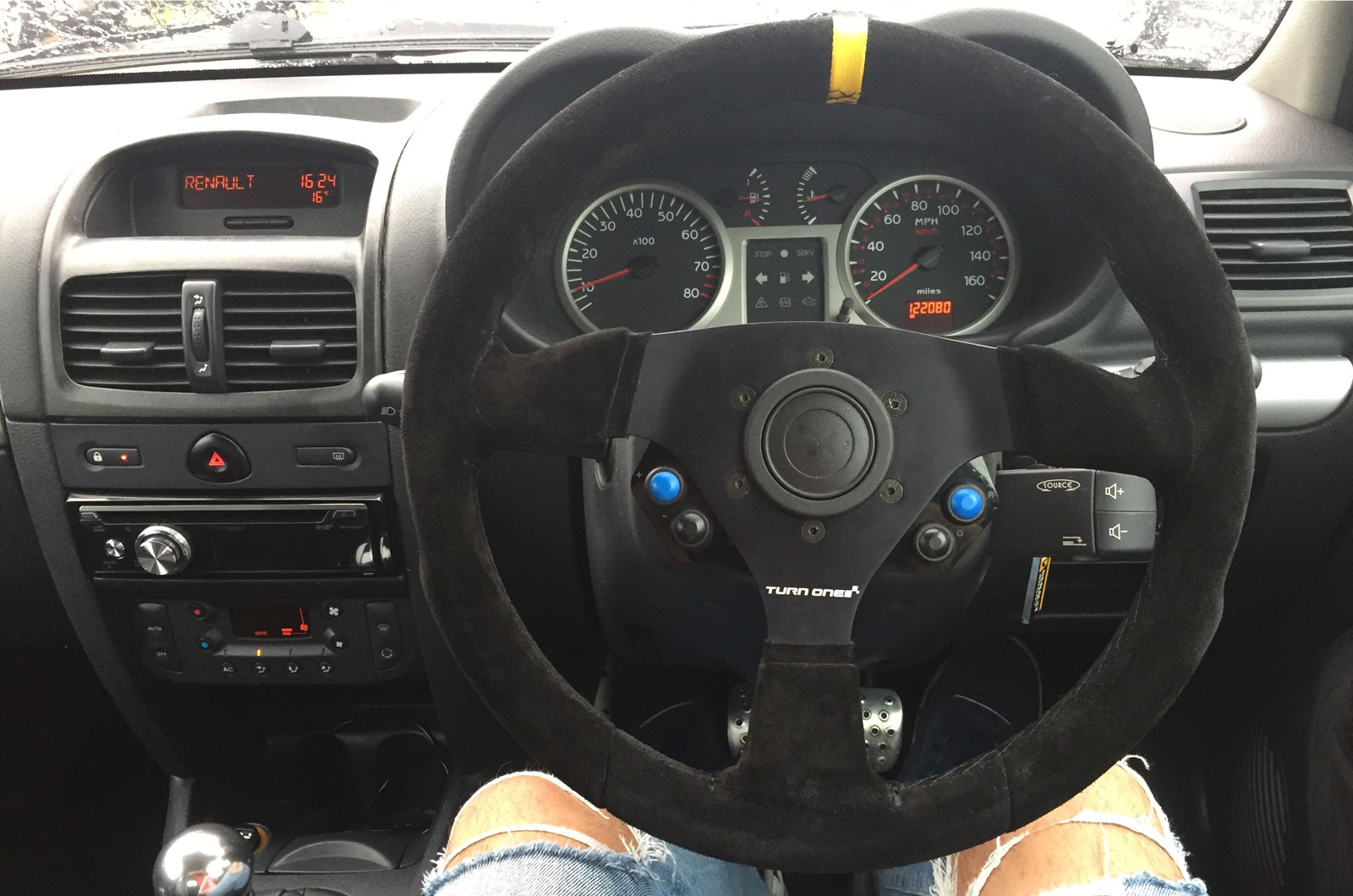 My new racing steering wheel is 330mm in diameter, wrapped in suede and can be reached with a slight bend in the elbows. It is the single best modification I have made to the Clio yet.
Those who've read earlier blogs may know that this steering wheel is the latest addition to my Renaultsport Clio 182 since it was revived in the spring after a year off the road. It's going through a mild transformation into a, breathe in, 'track car-inspired fast road hot hatch that's still fairly usable on a day-to-day basis'. My latest fitment of an Oreca-branded wheel has removed the horrible, bus-like 370mm standard helm, which made a car that weighs little more than a tonne feel cumbersome to steer.
Now it feels more sprightly and reactive – through illusion, of course, because I've not changed anything chassis-wise – and this ultimately translates into more fun. The addition of an OMP boss has also edged the wheel closer to my chest by a couple of centimetres, meaning I can get more comfortable in the bucket seat to create a position that makes the standard one feel, by comparison, like sitting on a bar stool.
For those wondering, the parts, including the airbag resistor to switch off the warning light triggered by the dearly departed airbag, were supplied and fitted at Renault Sport specialist K-Tec Racing in Dorset. The service was top notch – the whole thing took just over an hour to sort and they slotted me into a last minute booking just three days earlier. They also fitted the sleeve with cruise control buttons you can see in the picture, although this was sourced from Volantech (click here to view the brand's Facebook page). 
My three-hour lug back to London from K-Tec gave me plenty of time to confirm that this sleeve is a fantastic and worthwhile addition. It works perfectly and I think it looks rather cool too – a bit like the buttons on a racing car. Some people choose to ditch the cruise buttons altogether, but I'm someone who genuinely uses the system on almost every motorway journey. It's the main contributor to me being able to sit steady at dead on 70mph, where the car happily averages a trip computer-indicated 41.5mpg. So the buttons were always going to stay in my car.
Now that the first step in the car's track-inspired transformation is done, I can look to the next one – a harness. Like a true car nut I was straight back onto the internet within five minutes of the wheel having been fitted and I'm quite tempted by the Safety Devices one, but prices start at about, gulp, £129.
I'm also still mulling over where to mount the harness from – the forums suggest bolting them to the rear seatbelt mounts (with the rear seats out) might be too low of an angle, which is bad, apparently, for safety. But fitting a half roll cage to attach it to is way, way beyond my budget at this moment. Plus, since I won't be taking the Clio onto track (she's 122,000 miles-old and has done her fair share of track stints to deserve circuit retirement), it'd probably be a pointless addition.
Clearly, more mulling time is needed. But first, I'm going for another drive.
Read more:
Life with a used Renaultsport Clio 182 - part 4
Life with a used Renaultsport Clio 182 - part 3
Life with a used Renaultsport Clio 182 - part 2
Life with a used Renaultsport Clio 182 - part 1