The Ferrari 488 GTB is a very fast car. You know that. We've written those words – a lot. But I'm afraid we won't be writing them quite so often in future.
I've only recently discovered it but, as a result of a decision taken entirely by Ferrari, our road test benchmark figures on the 488 may be a little bit, well, flattering. So I'm putting them in the naughty corner; not striking the data through entirely, because I think that would be a disproportionate response. I'm just resolving, here and now, never to use them again as a fair basis for comparison – and 'fair' is what everyone expects us road testers to always aspire to be.
Here's why. When Ferrari supplied the 488 GTB for our full road test on the car in 2016, it supplied a left-hand-drive car from the factory in Italy for our benchmark figuring session. Nothing untoward there: it has been our modus operandi for years. We're only too happy to allow any manufacturer to ensure a test car is fighting fit and in a representative condition before it hands the car over to us, because the way we test is demanding. It's when those cars are made unrepresentative that we have a problem.
And, this time, the Ferrari in question had tyres that, I believe, it shouldn't have been shod with: Michelin Pilot Sport Cup 2s. The reason I know this is because it was written down on the day of the test. Below is a screenshot of the spreadsheet on which the information was recorded.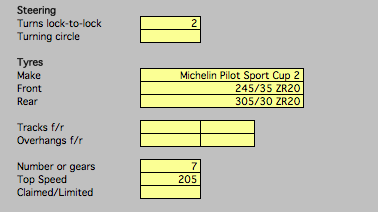 I wasn't actually there at the time, otherwise it probably would have been me doing the testing and checking. And because I wasn't there, our road test of the McLaren 720S earlier this year was my first chance to review the Ferrari's test data in any detail. I was surprised to see the Ferrari test car had been on Cup tyres because, well, you would be. They're usually reserved for Maranello's 'special series' cars: the Scuderias, Speciales and Tour de Frances we've come to know and love. Cup tyres probably cut a couple of seconds per lap around most tracks from normal performance road tyres.
So I rang Ferrari and asked for an explanation. I was told that the car we tested was the one that went around all of the big European magazines' performance tests that summer. "And because we knew you were going to drive it on track," they went on, "we prepared it accordingly. Cup tyres were part of that preparation. We'd recommend any customer taking his 488 on a track to use them." Sounds fair enough, doesn't it?
Except, when you dig a bit deeper, not so much. "So the Cup tyre's an official option for the 488, then?" I asked. Apparently not. Ferrari won't supply a 488 on Cup tyres from the factory, I'm told, and would officially discourage people from fitting such tyres to a 488 in an attempt to make some sort of do-it-yourself 488 'Clubsport'. Hang on, though: didn't you just say you'd expressly advise that a customer did fit those very tyres for track use? Well, yes. But no, not really.