Seat has revealed a two-seat electric vehicle called the Minimo, which is the car maker's vision of how people will move around cities in the future.
Despite the car's futuristic, quirky looks, it didn't take long for the lovely people of the internet to pipe up with claims that, design-wise, the Minimo is a rip-off of the Renault Twizy.
Now, we at Autocar aren't blind to the likeness. They look similar, are a similar size, both have two seats, both have the same electric range and both were created purely for use in the city.
But the Twizy is almost 10 years old, so surely there must be some differences?
We posed the question to Seat's design boss, Alejandro Mesonero-Romanos, who was naturally quick to respond.
Talking about the Twizy, he said: "It's the only car of reference because of its size and two seats. The similarities stop there.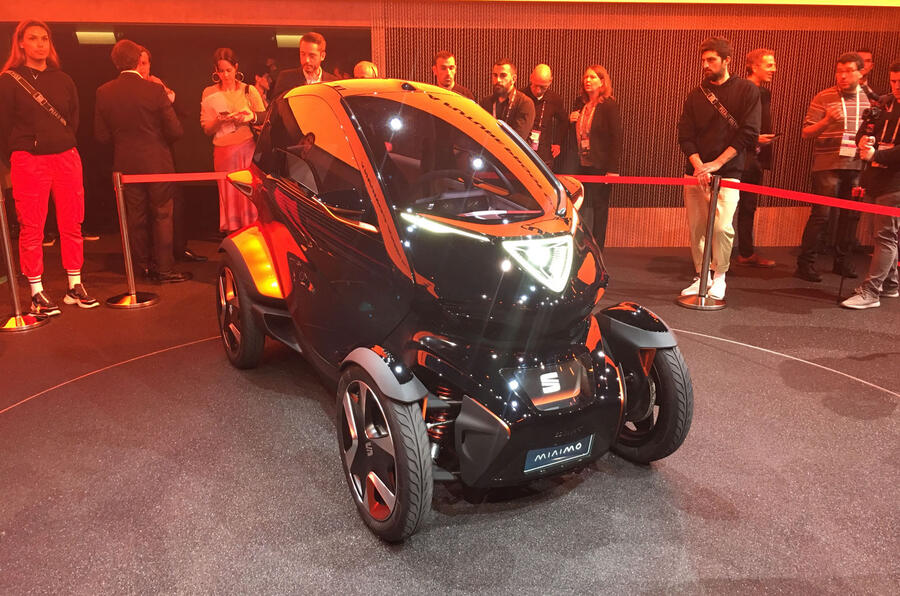 "In a Minimo, you don't get wet, you can drive in a suit. And the Minimo moves all the time thanks to the battery swap." That's a reference to the Minimo's four battery modules, which Seat says can be easily swapped. The Twizy features plug-in charging.
Mesonero-Romanos also said the Minimo would offer better safety, which reflects a decade of progress in automotive safety.
Moving on to design, he said: "We did the design in a different way. The Minimo is surrounded by glass. As people will use it as a kind of Uber or taxi, there is a lot of visibility if you sit in the back."
Okay, there's an element of 'he would say that, wouldn't he?' to Mesonero-Romanos's comments. But Seat can point to the Minimo being designed for level four autonomous driving and that the vehicle will exist as a car-sharing service as key points of difference.
So now we know: the Minimo is absolutely, definitely, not just like the Twizy. Although we can see the resemblance…
Read more